Cleaning up in Golden
The partners at VP Waste Solutions make Golden, B.C., a cleaner, safer, better place to live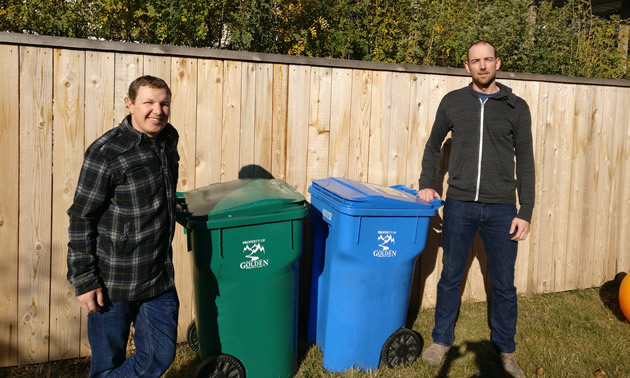 Back in 2006, waste management in Golden, B.C., was a messy business. At that time, the system was such that people deposited their bags of garbage on street corners for pickup, and those bags were often torn apart by birds and other scavengers. Parker Vaile and Jordan Peterson knew they could provide a better service for the town, and they founded VP Waste Solutions Ltd. to improve and streamline that inefficient system.
"It went from everyone putting a bag out at the end of the street to everyone having a blue and a green can," said Vaile. "And we do full-scale recycling as well as garbage collection—that's a pretty big change."
"Safety is a big factor in waste collection and recycling," said Peterson. "We've always worked closely with the town and with industry and with WildSafeBC, so that we can find ways to keep us efficient and at the same time meet the requirements of WildSafe and being bear-smart."
Just for the love of it
Along with their full-time work, the partners are both family men, yet they still find time to volunteer in the community. Vaile is a volunteer fire chief and Peterson is active in Golden Search & Rescue. VP Waste donates to just about every cause that requests its help, and in particular the women's centre, Kicking Horse Culture and the Golden Food Bank can count on the partners support.
"We moved to Golden because we fell in love with the community," Peterson said, "and it's important to have these services. If businesses don't pitch in, those programs won't exist. It seems like Golden is one of those communities where almost every business pitches in in some manner or another."
"I think it's also that we're a little bit isolated here, and if you don't step up to support those programs and groups, they will disappear," said Vaile. "I think the business owners get that."
"Being a garbage company is not overly glamorous, and I wouldn't consider it overly influential," said Peterson. "I would hope that Parker and I, as business owners, influence people because not only have we started a business from nothing 10 years ago, we did it in order to be able to live in a community that we wanted to live in."