Caffeine meets adventure at the Wandering Fern Café
Jamie Froats travels to her clients with a full-service espresso bar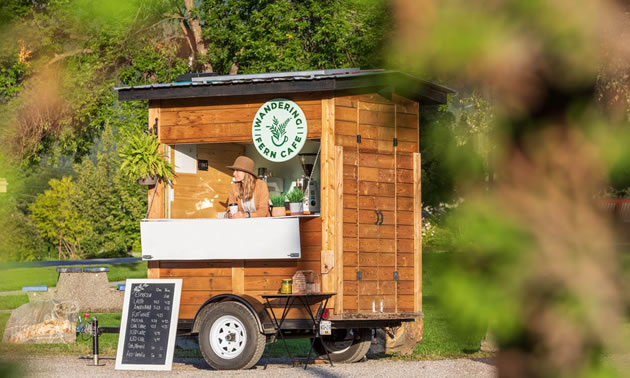 "I got the idea for a pop-up café while travelling," said Jamie Froats of Golden. "I was a barista for many years, and I always sought out the best or most unique coffee I could find wherever I travelled.
"There are some really cool cafés in Central America I discovered, and there are a ton of little independent drive-thru cafés in Montana. I feel like I kind of moulded those styles together to come up with the feel I wanted to put out there for my customers."
Welcome to the Wandering Fern Café. "It's not just great coffee we're serving but also really good vibes," said Froats.
Froats will travel anywhere within the Golden area with her vintage trailer to serve up a funky, fun and memorable experience—a full-service espresso bar.
Specialty coffees and more
The café offers drinks for adults and kids, such as:
Americanos
flat whites
hot chocolate
iced latte
iced tea
non-caffeinated teas
steamers
Steamers are steamed milk with a flavour shot, "which kids love," said Froats.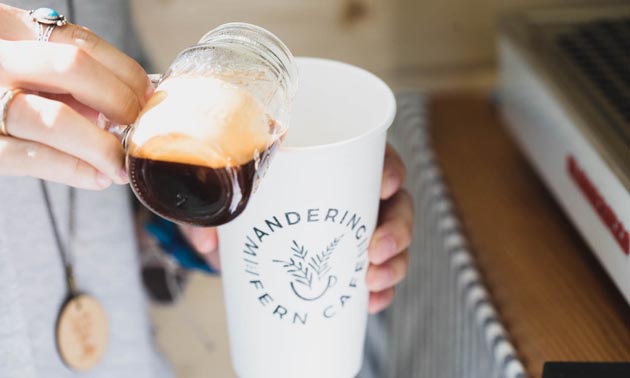 The business is year-round but the trailer's operating permit is valid from May to October, and the trailer is not winterized. The rest of the time Froats works out of her home and does the occasional pop-up at local stores and indoor farmers markets.
New for this coming season will be baked goods. "I'm hopefully going to be working with a local baker to provide fresh bakery items every morning like croissants, cinnamon buns and cookies."
Wandering Fern is green
"I am very eco-conscious and I found reducing our ecological footprint to be one of the hardest things with starting a new business," Froats said. "Everything that is eco-friendly is at least double the price, which is unfortunately hard when you're just getting started."
The mobile café has solar panels on its roof to run some of the equipment. Here are some of the other ways the business reduces its ecological footprint:
fair-trade organic coffee beans
recyclable cups, paper straws and wooden spoons
coffee grounds are composted in local gardens
branded reusable mugs for sale
customers with their own mugs get a discount
"My goal moving forward is to have fully compostable cups and lids and continue to seek more sustainable options," Froats said.
Where to find the award-winning wanderer
Froats can be found in pop-up locations in the Golden area as well as catering meetings and events, such as the Camper Jam and the Golden Stompdown.
"Business has been better than I expected, to be honest, though my cash flow may not show that," Froats laughed. "I was so appreciative and overwhelmed by how much the community accepted my new business and supported me this past year."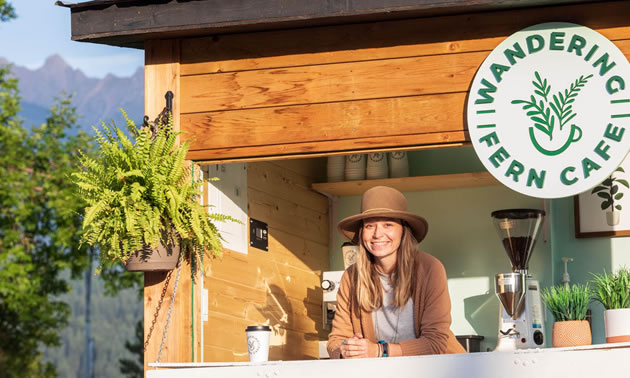 The Wandering Fern Café was honoured with one of the three New Business of the Year awards given out last fall by the Kicking Horse Chamber of Commerce at its Community Excellence Awards gala.
"The two other winners are also young female entrepreneurs, which was so awesome," Froats said. "It's amazing to see all the women-owned businesses that have been popping up the past few years and are thriving!"
"I feel very fortunate to be part of such a rad group of like-minded women and live in this amazing little mountain town. Golden truly is a gem and I'm so happy I get to base my business out of it!"