A pop-up café and helicopter elopements were commended at the Kicking Horse Chamber
One-of-a-kind, highly successful and generous businesses were on top in Golden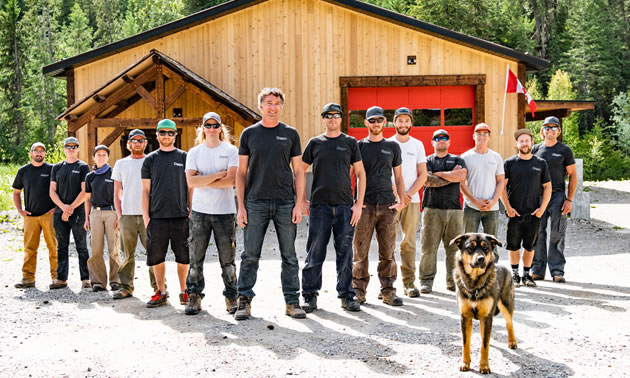 Kudos to the Kicking Horse Chamber of Commerce for naming its annual awards the Community Excellence Awards instead of the standard Business Excellence Awards. The awards are appropriately "community" awards because businesses and non-profit community groups are recognized. Thus, the awards celebrate the wholeness of the community and not just the businesses.
And the chamber sure did recognize a big swath of Golden as they handed out a whopping 16 awards at its annual Community Excellence Awards ceremony on November 9, 2019.
And there's more! The chamber also gave out an award category that no other Kootenay chamber has given out: Marketing Campaign of the Year!
Congratulations to the following winners:
Business Person of the Year: Scott Weir (Owner of Kicking Horse Janitorial)

As winner of the Business Person of the Year, Scott Weir has a great tagline for Kicking Horse Janitorial: "We clean so you don't have to."
Kicking Horse Janitorial provides high-quality janitorial services to workplaces including floor waxing, buffing and carpet cleaning. They use environmentally superior products and are constantly testing and researching new cleaning methods.

Young Entrepreneur of the Year: Elora Braden (Owner of Elora May Creative Studios and Up and Away Heli Elopements)

Young Entrepreneur of the Year is Elora Braden, who describes herself as "a wild-hearted filmmaker living in the mountains."
With two entwined businesses, she provides wedding and elopement filmography, helicopters included! It's her excuse to follow love stories. "I'm a filmmaker hooked on documenting the magical, treasure-always moments," she admits on her website.

New Business of the Year: Bona Fide

The business climate must be positive in Golden as the Chamber gave three awards for New Business of the Year.

The first one went to Bona Fide, which opened in June 2019. The shop carries clothing, jewelry, beauty products and home items geared towards the female population—and the men who are shopping for them.
Owner Morgan Jmaiff has always known she was going to be an entrepreneur, and she believes that living in a small town doesn't mean you can't satisfy your retail cravings.

New Business of the Year: Thread the Needle

The second New Business of the Year award went to Thread the Needle. Owner Noemie Roy, a professionally trained seamstress, provides Golden and the surrounding area with professional sewing repairs of outdoor clothing and equipment, including tents, tarps, packs and sleeping bags.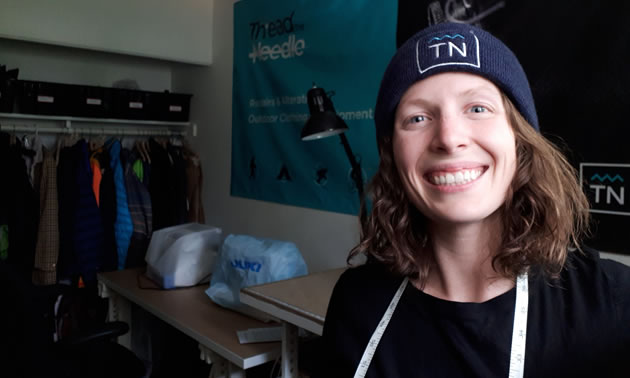 Roy's green business gives a second life to outdoor gear, thus reducing consumer waste. She even offers emergency repairs in less than 24 hours.
Roy has first-hand knowledge of needing emergency repairs on the road on a 7,000-kilometre bike trip across Canada with her father.

New Business of the Year: Wandering Fern Café

Here's another great idea—caffeine meets adventure!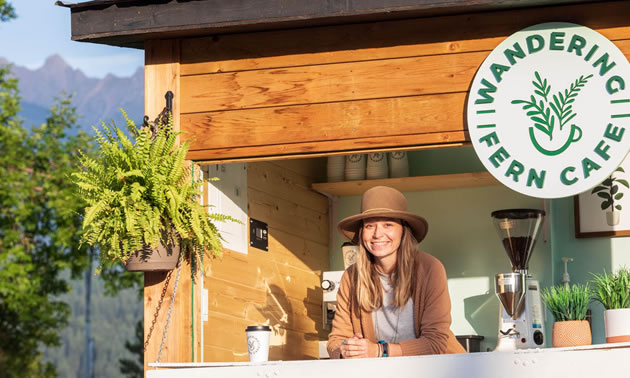 A pop-up mobile café, Wandering Fern Café is the third winner of New Business of the Year. Owner Jamie Froats will travel anywhere within the Golden area to serve up a funky, fun and memorable experience. From a vintage trailer, Froats sets up a full-service espresso bar.
This business decreases its ecological footprint by using solar panels and serving its high-quality coffee in biodegradable cups.

Customer Service Excellence: Save-On-Foods

Known for going the extra mile, Save-on-Foods in Golden won Customer Service Excellence.
Did you know the president of Save-on-Foods, Darrell Jones, is a Kootenay kid? He started by bagging groceries after school in Cranbrook in 1976. Now Darrell's Deals are part of the company culture.

Retailer Excellence: Darkside Snow Skate Life

A ski and snowboard shop, Darkside Snow Skate Life won Retailer Excellence. Simply put, they love snow. Here's an explanation from their FaceBook page:

"We live what we love. As a result, it should be noted that our hours depend directly on our mood, weather conditions, & any other variables that may occur at any given time. We apologize in advance for any inconvenience. Your business & loyalty are greatly appreciated. #LetItSnow."

Professional Services Excellence: Golden Dental Centre

The Golden Dental Centre won Professional Services Excellence. Owner Dr. Shane Van Biezen and his staff offer a wide range of dental services and are always accepting new patients. Their goal is for you to have a super healthy and happy smile.
In Dr. Van Biezen's spare time, he enjoys volunteering, most recently travelling to Central America with the Change for Children organization to provide dental care to children in need.

Trade Services Excellence: Zimmerman Construction

Michael Zimmerman's company won the Trade Services Excellence award. Golden born and raised, he knows what this town is all about. "We are mountain locals living the dream in Golden," he said.
In 2008, Michael started Zimmerman Construction with a highly skilled crew of carpenters and apprentices who deliver quality custom homes. Building between four and eight homes a year, they offer complete project management services. Michael believes a skilled crew like his is the most important part of a successful build. "Our goal is for clients to be so satisfied with their new home that they wouldn't change a thing," he said.
Arts & Culture Excellence: Jayne Baun (Owner of Baun Bon)

Jayne Baun not only won the chamber's Arts & Culture Excellence award but she was also one of Kootenay Business's Influential Women in Business for 2019.
Baun's art is unique and varies from pop culture to iconic local landscapes. Most significantly, she's been able to turn her passion and talent into a successful business. Her artwork is sold via Shopify.

Hospitality & Tourism Excellence: Golden Golf Club

We can't just think about winter sports for the chamber awards. Hence, the Golden Golf Club won the Hospitality & Tourism Excellence award.
This 18-hole championship course is one of the finest places to play golf in the Canadian Rockies, having been voted the #10 public access golf course in B.C. in 2019.
The Golden Golf Club has spectacular mountain vistas from every hole. Golfers can take advantage of special deals and packages as well as an RV park.

Employer of the Year: Golden Optometric Clinic

The Golden Optometric Clinic won Employer of the Year. Owner Dr. Rebecca Kolbenson must be doing something right. The staff would enjoy the smiles of their clients as they perform good work and good deeds.
As Kolbenson said in an interview with Kootenay Business a few years ago, "We have been known to deliver glasses to people's houses and contact lenses to the rink when people are in a pinch. We will stop in at the long-term-care home and clean glasses, change nose pads, tighten screws and do any repairs that are needed."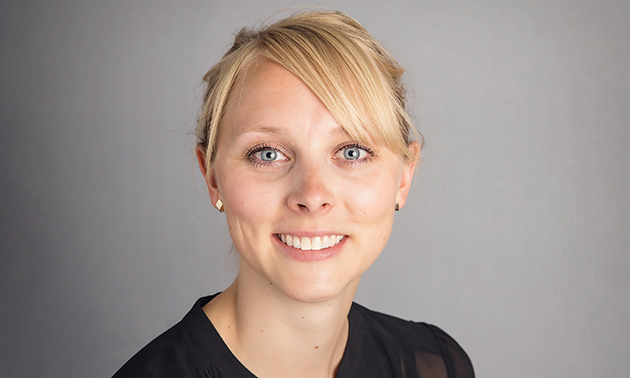 The staff also travels to provide eye care to people in less fortunate places, with a trip to India coming up this year.

Marketing Campaign of the Year: Whitetooth Brewery

"Beers to toast your ultimate moments" is Whitetooth Brewery's slogan. The Golden brewery won a one-of-a-kind award from the Kicking Horse Chamber—Marketing Campaign of the Year. No other Kootenay chamber gives out this award.
Whitetooth's website states, "Our goal is to combine the best experiences that our expansive mountain playground has to offer with the perfect beverage afterwards." And the small-batch beer names and gorgeous labels continue the brand image with beers like Blower Pow, Icefields, Speed Metal and Thread the Needle.
Enjoy the Belgian-inspired and West Coast-influenced beers in their tasting room, open daily.

Not-For-Profit of the Year: Little Mittens Animal Rescue Association

Little Mittens Animal Rescue Association won the award for Not-For-Profit of the Year. The association runs adoption and foster programs for cats, dogs and rabbits. Run by staff and volunteers, the group has members who are certified in wildlife rescue and rehabilitation.
Their goal is to rescue, rehabilitate and release or rehome domestic pets and wildlife. They also work to reduce the loss of wildlife—especially birds—in the Golden area. That includes working to reduce the population of stray and feral cats.

Inclusive Workplace of the Year: St. Paul's Thrift Shop

Winning Inclusive Workplace of the Year, St. Paul's Thrift Shop has a big heart! It's a great little thrift shop in Golden where you can find name brand items at the lowest prices around.
Affiliated with the St. Paul's Anglican Church, the shop gives back to the community in so many ways, including hosting fundraisers for other organizations.

Mayor's Award of Excellence: Golden Women's Resource Centre
Finally, the Golden Women's Resource Centre received the Mayor's Award of Excellence. The centre is a sanctuary/safe haven for women. It's run by the Golden Women's Centre Society, a registered non-profit charity, dedicated to the safety and empowerment of women.
Services include a 24-hour crisis line for women and children fleeing violence as well as other outreach and education services.