An artisan vinegar maker in Fernie, B.C., is part of the slow food and slow travel movements
Robertson Estate Wine Vinegar has fermentation fanatic Patrick Robertson at the helm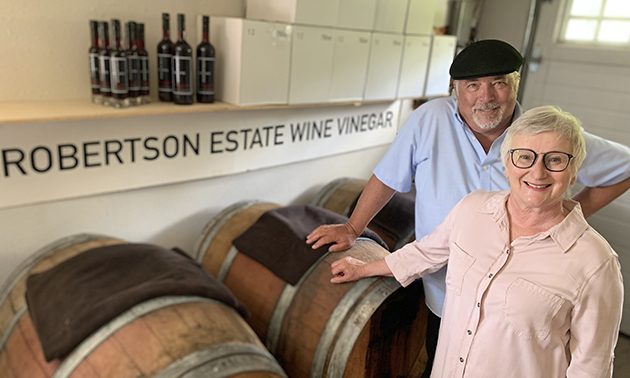 Patrick Robertson is a fermentation fanatic. Not only does he have a bachelor of science degree in Microbiology - Industrial Fermentation, but he started two businesses based on the fermentation process.
He and his wife, Loie, started Robertson Estate Wine Vinegar in Fernie, B.C., in 2004 and began selling in 2005. Previously, he started and then sold the Fernie Brewing Company.
His product isn't any ordinary vinegar—it's an artisan vinegar of top-notch quality. Made from Cabernet Sauvignon, his vinegar is "a vibrant vinegar that makes your vinaigrettes, pan sauces, and savoury and sweet reductions pop with flavour."
The vinegar pleases the palate of top chefs and advanced home cooks, although Robertson admits the problem of getting the word out to them.
But this labor of love of fermentation is much more than a paycheque to the Robertsons.
"It is not a job but a way of life," he said. "Our business suits our lifestyle, which revolves around the slow food and travel movement."
KootenayBiz was surprised to find this artisan fermenter and world traveller right under our noses in Fernie. It was time to finally interview Patrick Robertson and hear his journey from beer to vinegar to "retired" bon vivant.
What sparked the fire to begin your business ventures?
My wife and I moved to Fernie in 1981—40 years ago—out of university.
I started the Fernie Brewing Company in 1998 and sold it in 2003. I took on a partner in 2002 and sold it to him.
I started the Fernie Brewing Company for three reasons. In 1998 I published a history book on Fernie called Fernie - The Early Years. While I was researching that book, it was apparent that the town people of Fernie were still upset that the Fernie Brewing Company was bought out and closed down some years past. I wanted to bring the brewing company back to Fernie.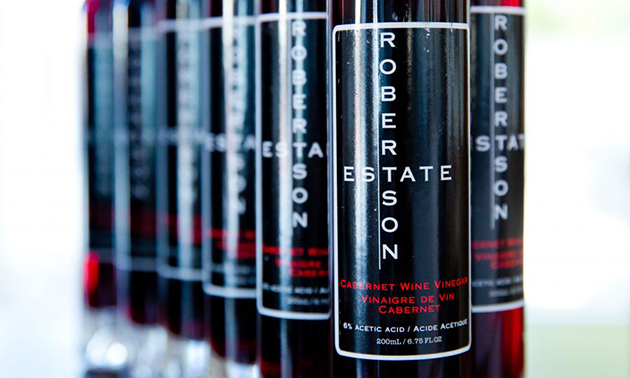 I thought it would be a good time as craft brewers, called microbreweries at that time, were just starting up and that was the second reason.
The third reason was that the interprovincial tariffs laws had changed and you could now sell beer in provinces where you did not have a brewery. I felt that this would really open up the market for craft breweries, which it did.
After I sold the Fernie Brewing Company in 2003, I still wanted to do a food and beverage business that centred around fermentation. I have a B.Sc. degree in Microbiology - Industrial Fermentation.
Why is your artisan vinegar the best?
The long slow conversion retains the bouquet and flavour of the Cabernet Sauvignon grape. It creates a full-bodied, nutrient-rich vinegar that elevates the taste of any recipe that calls for red wine vinegar.
The aging in oak smooths the raw edge of the young vinegar. In particular, French oak imparts a sweet vanilla tannin taste to the vinegar. The most highly sought after barrels in the world are French oak barrels. French oak barrel staves are shaped using hand awls that expose the grain of the oak to the vinegar. They impart a very different taste than American or Hungarian Oak barrels, the other two prominent oak barrels.
The highest quality oak used is white oak. There are only a few areas of France where oak for barrels is grown. They have to think a century into the future for the management of their forests.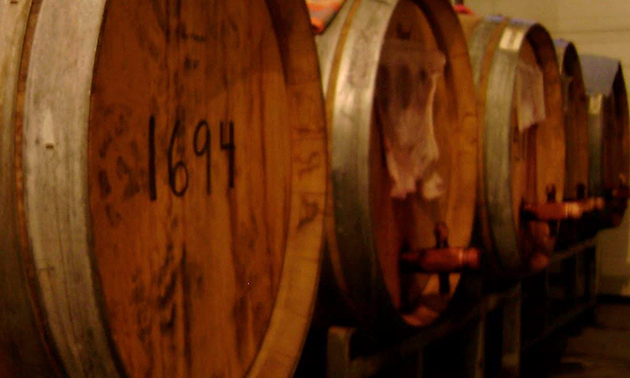 Where do you source your wine from?
We buy juice out of the Okanagan and make the wine ourselves, thereby controlling the whole process. We do not have to use any additives in our wines as the young wine is used in the vinegar conversion, and I do not have to stabilize for shelf life by killing the microbes. Our vinegar is a living food product full of probiotics.
Where do you sell your vinegar?
Most of our vinegar is sold to professional chefs at restaurants with seasonal changing menus that are committed to using local ingredients—places like River Cafe in Calgary or Island Lake Lodge in Fernie. I have a number of chefs around North America who love our vinegar and I drop ship a case to them when they order.
We do have retail stores in the Kootenays that carry our product: Sweet Gestures in Cranbrook, the Trading Post in Invermere, Le Grand Fromage in Fernie and Nelson, Culinary Conspiracy in Nelson, Truscott Farms and Alpine Cheese in Creston, and Independant in Fernie.
What are your favourite recipes that use your vinegar?
Classic vinaigrette and poulet au vinaigre.
You must really try our vinegar drink (Beverages). This is an updated version of Posca, the drink of Roman soldiers. It's an ancient drink that was popular until the advent of soda pop.
How do you incorporate sustainability into your business?
I use an artisan business model where my product is limited in volume. Everything is done by hand, from making the wine to bottling and labelling. There are no industrial processes like filtration or pasteurization or even pumps that can bruise the vinegar.