How to make your community more resilient to climate change: Tips from a community planner
Jeff Zukiwsky of Fernie, B.C., said communities impacted by fires or floods are more likely to start climate risk planning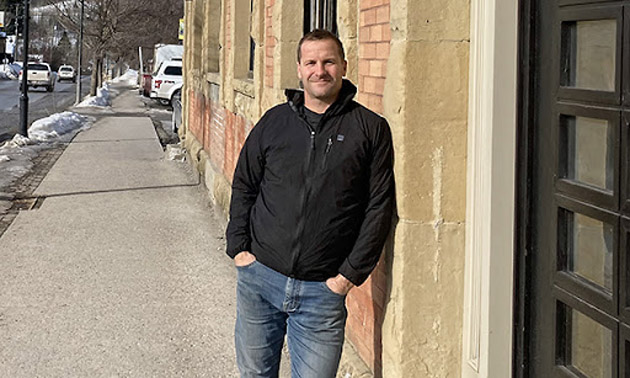 A blistering heat dome, a torrential atmospheric river, a bad wildfire season and historic droughts. After many extreme weather events in 2021, communities in British Columbia are now all too aware of the risks of climate change and should be planning for future, inevitable ones.
"Having previously been impacted by a major event is a driver of climate mitigation planning," said Jeff Zukiwsky, director of climate adaptation and resilience for All One Sky Foundation (AOS). "Communities that have been impacted by major floods, fires or droughts are more likely to engage in the planning process."
And there's another factor that distinguishes community's that plan versus those that don't:
"Communities that engage have one or more people, such as staff or a council member, who are passionate about climate resilience," said Zukiwsky.
Planning for climate change will not only help your community reduce economic, social and environmental impacts but will save money. There are many simple, cost-effective local actions your community can implement.
That's why KootenayBiz decided to interview Zukiwsky, a thought leader with vast qualifications and climate optimism. He has a master's degree in Environmental Management for Simon Fraser University and is a registered professional planner (RPP).
"I've worked with most of the Columbia Basin communities when I was a contractor working for the Columbia Basin Trust on their Community Climate Adaptation Programs between 2008 and 2020," he said. "Between 2012 and 2017, as a CBT contractor, my job was to help communities in the Kootenays develop and implement climate adaptation plans."
Zukiwsky has worked for AOS for 10 years. All One Sky Foundation is a not-for-profit, charitable organization founded in 2010. It works across Canada and internationally to help vulnerable populations at the crossroads of energy and climate change.
Zukiwsky lives in Fernie, B.C., and is optimistic about our planet's future.
"Humans are smart but change takes time," he said.
How communities can do climate change planning
Zukiwsky's number one recommendation to communities is simple and straightforward.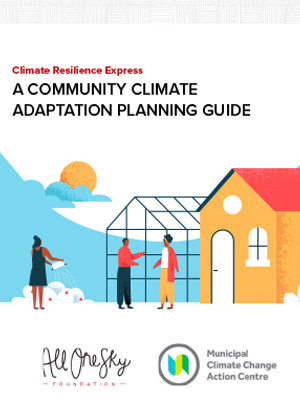 "Consider the climate of the future in every decision your community makes," he said.
And how is that advice best carried out? By creating a community climate adaptation plan. A climate adaptation action plan documents the actions a community plans to implement in order to manage priority risks and opportunities posed by climate change.
"We just published a guidebook that provides a simple process for doing climate change planning," Zukiwsky said.
Called A Community Climate Planning Adaptation Planning Guide, the 24-page document presents a four-step process that can be tailored to your community's size, needs, resources and timeline.
Examples of specific action steps for climate change planning
Zukiwsky offered some examples of how communities should be planning for climate risks:
1. Water, water everywhere
"Increases in extreme rainfall are one of the more significant impacts of climate change," Zukiwsky explained.
"Communities should map their flood risks and use that to inform future land use planning and decisions. Account for projected increases in extreme rainfall, changes in seasonal precipitation and changes to glaciers and the snowpack that might alter the timing and volume or river and stream flows. It is the small creeks, rather than larger river systems, that are most sensitive to extreme rainfall."
2. Infrastructure
"When you build roads, consider asphalt mixes that will be suitable for projected temperature increases," Zukiwsky said.
"Construct homes and buildings out of climate-resilient materials, such as hail- and wind-resistant roofing and siding, with high-insulation value to protect from extreme heat."
3. Green infrastructure
"Plant trees that will thrive in the climate that is projected in the future," said Zukiwsky.
Use nature-based infrastructure such as green roofs, rain gardens, permeable pavement, urban street trees, bioswales, and restored wetlands and riparian buffers.
4. Economic development
"Most communities in our region rely on tourism, agriculture and forestry," Zukiwsky said. "These economic sectors are very sensitive to climate changes. Communities should consider climate change in their economic development planning."
For example, how will warmer winters affect communities that rely on winter recreation? How will droughts and heat waves impact agricultural yields?
Limiting factors to effective climate-risk planning
Community climate change planning might seem overwhelming and expensive to carry out. But Zukiwsky has advice to address those concerns.
"The planning process is simple, and communities already plan for these events through existing emergency management and risk management plans," he said. "The big challenge is actually doing something about it and implementing the plan.
"In rural communities, capacity is the number one impediment. Communities just don't have the staff time or resources to go through a planning process, and then to implement the plan."
And as for the cost, Zukiwsky has more advice.
"It can be expensive, but there are also many simple, cheap, cost-effective actions that communities can do to prepare," he said. "Communities should consider the full range of potential solutions to manage climate change risk and prioritize actions that have the most benefits at the lowest cost."
The lack of community capacity also impacts the data collection that communities should be doing to track their climate-impact progress. According to Zukiwsky:
"In an ideal world, communities should be tracking:
Local changes in weather/climate
Local environmental changes and impacts
The effectiveness of actions taken
But again, there are few communities in our region that have the capacity to do that without significant external support."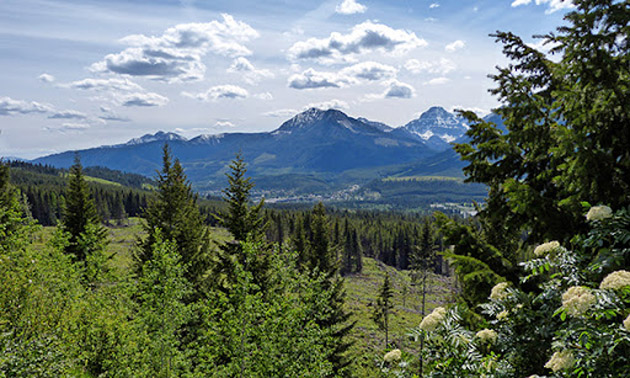 A Kootenay example: The District of Elkford's climate adaptation plan
The District of Elkford was the first community in Canada to develop a climate adaptation plan in 2008, and Zukiwsky was leading that process through his work with Columbia Basin Trust.
The plan was developed concurrently with a revision to Elkford's Official Community Plan (OCP), showing the importance of integrating adaptation into a community's existing planning policy and regulations.
Consideration of climate change in all decision making is one of their OCP's 11 guiding principles. As one example, the OCP creates a Wildfire Protection Zone and requires developers to submit fire hazard and risk assessments conducted by certified professionals prior to a development permit being issued.
Critical components of Elkford's success included a one-day facilitated workshop with municipal staff, councilors and the mayor as well as a Community Advisory Committee, which provided guidance and ensured community priorities were reflected throughout the process.
"Elkford has been the subject of many case studies, both nationally and internationally," Zukiwsky said.
Elkford's success demonstrates how a small community with limited capacity can efficiently address adaptation through existing planning processes, he said. The process of assessing risk and incorporating the findings into the OCP took about one year and cost just over $31,000 (plus significant volunteer time).
Climate champions wanted
Zukiwsky has a prescient conclusion:
"As a climate change planner, I hope to be out of work at some point in the next few decades," he said. "That is, communities should be considering climate changes in everything they do and every decision they make. There should no longer be a need for communities to have a 'plan.' "