Simply Raw in Creston brings healthy fast-food options to the community
Buddha bowls, cold-pressed juice and freshly-made smoothies are all on the menu at Creston's newest grab-and-go eatery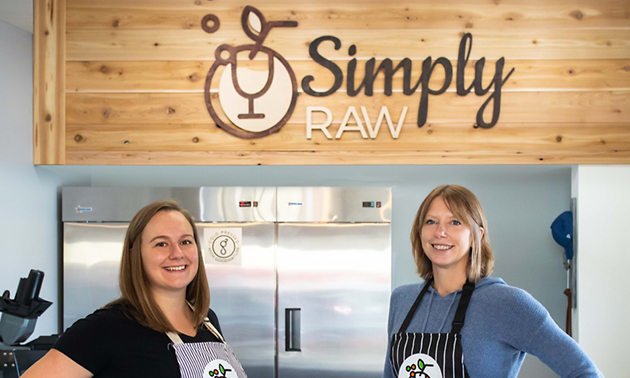 The opportunity to bring healthier options to Creston's fast-food scene is the inspiration behind the community's newest grab-and-go eatery, Simply Raw. The new cold-pressed juice and raw snack bar is located in the successful Fly in the Fibre coffee and gift shop, owned by Melanie Joy and her husband. Ali Hadikin, a former Creston resident who recently moved back to the Creston Valley from Calgary, is the acting manager for Simply Raw.
The new spot has been open only a few short weeks and it's already proven popular. What kinds of items are on the menu? Aside from fresh cold-pressed juice and smoothies, Ali told us, "We have salads available as well as granola bars, protein bites and keto bites. We plan to start working on soups and rice wraps soon too."
Asked if Melanie helps with the daily operation of Simply Raw in addition to running her first business, she said, "Our kitchen is definitely Ali's domain! I am there as her support and I make the smoothies so she has time to create our other delicious recipes."
KootenayBiz managed to catch up with these busy ladies to get the scoop on this exciting new venture.
What's behind the decision to open a juice bar in your existing store, Fly in the Fibre?
Melanie: We had a large seating area in the back of our store but due to COVID it was unused for over a year. We decided we needed something else to add to our business that would not only diversify what we currently offered but also fill a niche in Creston. We had a few ideas in mind but we finally settled on providing healthy snacks and smoothies.
Are your fruits and vegetables sourced locally? Do you have any collaborations with local farmers or growers?
Ali: We are definitely doing our best to use as many local products as we can. We're currently using Ki Mana Acres, Wloka Farms and Swan Valley Honey. We're also just starting to chat with Sanctuary Lavender Farm to source some local lavender for an upcoming calming smoothie idea. (Ki Mana Acres is part of Creston's strong agricultural community—read their story here.)
Has there been a lot of interest from locals in this new business? Any specific products that people have requested?
Ali: Yes! So far we've had quite a lot of support, especially as our menu starts to grow. Everyone seems excited to have healthy to-go options in town. Nothing in particular has been requested yet, but we are keeping in mind dietary restrictions such as vegan, keto and gluten-free.
How's business at Fly in the Fibre?
Melanie: Fly in the Fibre has matured into a successful business. We are into our fifth year and we feel fully established in the Creston Valley. We have some fantastic customers that were a strong support during the tough days of COVID. We really felt the community pull together to help their local businesses. Fly in the Fibre has evolved and we are not the store we started with. As with anything in business, we adjust as the world changes. I am looking forward to seeing where else we go. (Read our story about Fly in the Fibre here.)
What are the challenges of running two businesses?
Melanie: Starting another business is like having another child—something else to worry about. There has been an increase in worry and a decrease in time. I have great staff and a supportive community, and we are thoroughly enjoying our expansion.
Is there anything else you'd like to share with our readers?
Ali: We're really excited to have this opportunity to share healthy options with the community as we are on our own health journeys. With the new gym opening in town and the beginning of our store, we feel like there is a community all supporting one another in their health goals.
Melanie: We do free deliveries if you are working in the downtown area of Creston. We also work with people's dietary needs and allergies—we just need a heads-up. We have big plans and ideas on what we will be offering so keep an eye on our social media pages as well as our website.