Ki Mana Acres Farm found its niche in pasture-raised meat in the Kootenays
Kieran and Jenna Poznikoff are first-generation farmers with ecological values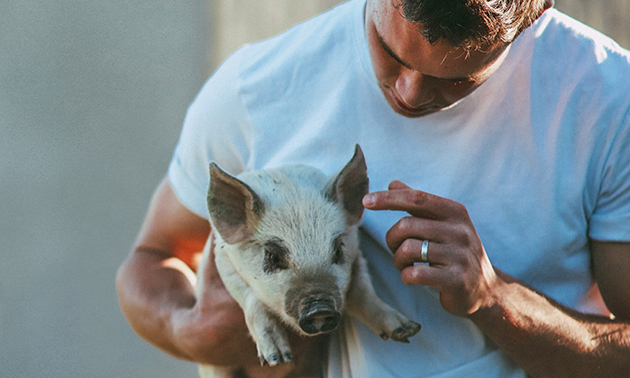 You know someone has chosen their right path in life when they say, "The best thing [about farming] is waking up to a fresh litter of piglets in the morning."
Kieran Poznikoff found his calling as a farmer when he took a big trip around the world with the goal of figuring out what he wanted to do with his life. He participated in Workaway, an international program that allows travelers to pay for their room and food by helping their host with household work needs, projects or odd jobs.
"I caught the farming bug there," he said.
Kieran worked on various farms in his travels, and while working on each one he'd dream up designs for his future farm.
Now he and his wife, Jenna, run the Ki Mana Acres Farm in Lister, B.C., which is southeast of Creston.
The unique name of his farm was inspired by his last Workaway, a three-month stay in Hawaii. The Hawaiian word "mana" is about strength, power and everything working in unison. The "Ki" part of his farm name is short for Kieran.
These young farmers—he is 24 years old and she is 21—are already making an impression, as they were recognized and honoured in the Creston Valley Chamber of Commerce's 2021 Business Excellence Awards in the category of Best Agricultural Business.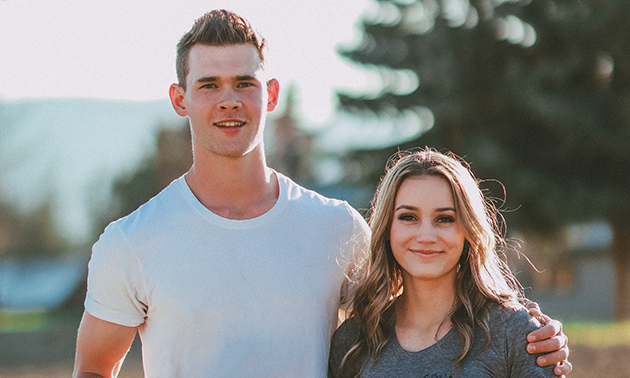 Kieran is Creston born and raised, but he's a first generation farmer.
"I loved animals as a kid and playing in the dirt," he said. He has concluded that your five-year-old self is smarter than you think.
The hard-working couple leased farmland for the first three years—along with having side jobs. Kieran said he put in "a lot of 16-hour days." The Poznikoffs were able to buy the Lister farm in January of this year. They started as market gardeners but that's a competitive field in Creston.
"I realized I needed to specialize in something," Kieran said.
In their second season, they added microgreens, and in their third season they added multiple animals: laying hens, meat birds and pigs. Now in their fourth season, they've added turkeys and beef cows, both of which will be available for the first time this fall.
Ki Mana's agricultural niche
The Ki Mana Acres Farm is thriving with its meat production. This year, it has a laying flock of 300 chickens; 1,500 pasture-raised chicken meat birds; 150 hogs (that includes 100 piglets); 150 turkeys; and 11 cattle.
Kieran likes his herd of Angus/Galloway cows. He said the Angus genetics help the cows grow well, and the Galloway part generates a marble finish on grass so he doesn't need to finish the animals on grain. These grass-fed and -finished beef will be available in September. The farm gets its abattoir services in Creston.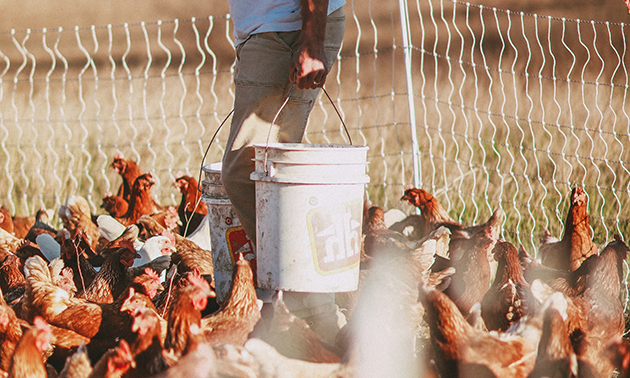 "Our business model with our meat enterprises was we wanted to do a bit of everything," Kieran said.
Last year, the farm started offering "protein bundles," which are value packs of a variety of meats.
Their farm in Lister has clay-based soils, which hold water well and have a good mineral content. This is a key factor in Kieran's approach as he practises regenerative farming, which includes sustainable agriculture techniques such as water conservation, strengthening the health and vitality of farm soil, and rotational grazing. Thus, Kieran constantly moves his animals to fresh pasture to spread their manure around. Then he lets a section of land rest and regrow.
"We're building soil and growing healthy animals," he said.
High demand for the farm's products
Kieran said the demand for their wholesome food is strong.
"We can't supply enough right now," he said.
Hence, the farmers are outgrowing their farm. Currently, their own farm is eight hectares but they lease additional farmland for pasture and they are looking to lease even more.
Many of their farm products can be purchased at the farmgate or by a subscription model. In the near future, the farmers plan to start a CSA model of product delivery with a monthly box of meat, eggs and microgreens.
Additionally, when Kootenay Meadows ships its milk around the region, they also deliver Ki Mana's lettuce greens. Thus, the greens are in 13 stores around the Kootenays, from Nelson to Invermere.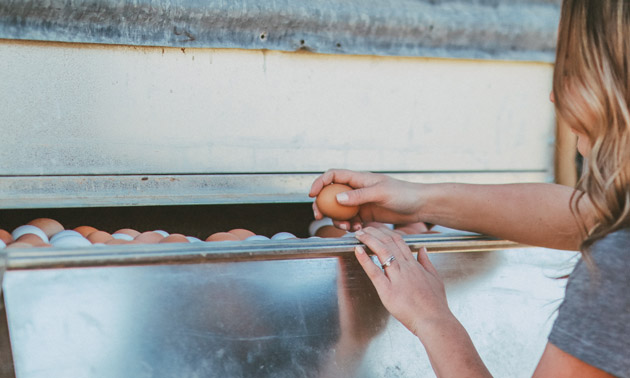 Part of the strong Creston agricultural community
Kieran said they've received "amazing support" from local farmers and made many good friends among them.
"They drop by and give advice," said Kieran. "They're excited to see a young guy going at it and to see what I'm doing."
Asked about winning the Business Excellence Award, Kieran said, "It was kind of a shock. We took a few big leaps this year and they paid off."
That included a big presence on social media. For example, their protein bundles are sold through Facebook. And their website is certainly attractive and well done. Kieran said, "I figured it out on the go."
The new—and young—face of farmers is wholeheartedly welcomed by Kootenay residents and visitors with open arms, mouths and wallets.