Fly in the Fibre offers the comforts of coffee and crafts
Creston has the perfect place for local creators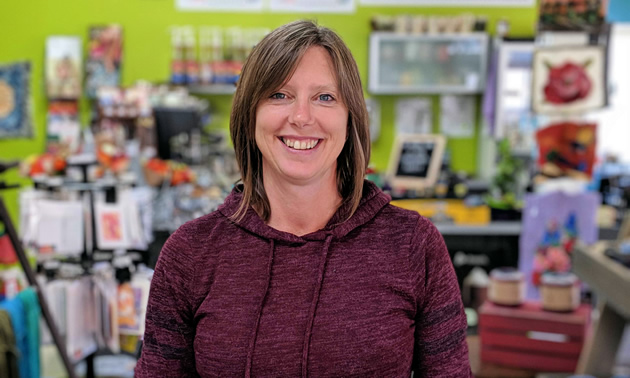 Melanie Joy owns Fly in the Fibre, a small yarn, fibre, coffee, gift and local art store located in the beautiful Creston Valley. She and her husband are committed to providing quality yarns and supporting local creators, brewing great coffee and having a cozy place for people to gather. The two took over the space approximately 2.5 years ago, and have enjoyed their startup as they are continuously learning and exploring what will lead them to long term success as business owners.
Fly in the Fibre is one of our Winners at a Glance. Joy answered a couple of questions for us about her business's success.
What was your first job and what did you learn from it?
My first job was as a dishwasher at Selkirk Snowcat Skiing in Meadow Creek. It was only Friday nights to relieve the permanent staff. To get there, we had to ride snowmobiles up to the lodge. We had one staff day of the season where we were able to access the slopes for some powder skiing. It was a wonderful start into the working world. I learned with following jobs just how lucky I was to have that as my first job.
What's your favourite product/service you offer your clients and why?
My favourite product we sell is whatever it is that makes my customers happy. Whenever a customer connects with that product—whether it is local art, coffee or yarn—and they leave with a smile . . . that's my favourite.
What aspect of running your business has surprised you the most?
I was surprised at how difficult it is to find products made in Canada. I like local commissioned products because I know who made it, how it was made, and I get to be a supporter of our local economy. I try to source quality products made in Canada for the same reason, but it can be difficult to find those suppliers.
What is the best book you've read in the past six months?
I've recently read the Underground Railroad by Colson Whitehead. It's a well-written book set in the 19th century about two slaves escaping a plantation in Georgia—well deserving of the awards it has won.
What is your number one passion outside of work?
Are there hours outside of work? Ha ha. I do have a job that allows me to be a part of all that I am passionate about: fibre, creativity, art, crafting, and people who love these things as much as I do. I do live in the Kootenays, though, so my favourite place to be is outside camping in our great outdoors. All I need is a fly rod and a book and I am a happy girl.
For more about Fly in the Fibre, visit its website.