Shop Local in Creston
Here's a list of local businesses worth supporting in Creston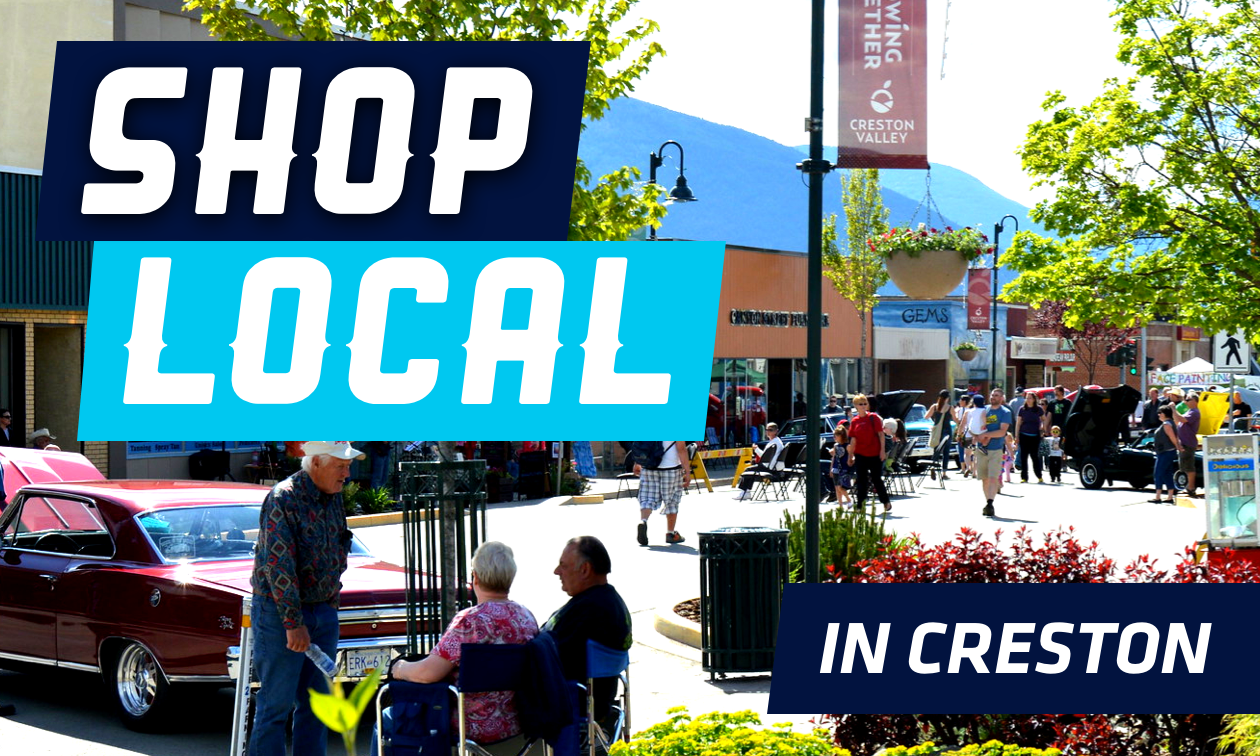 Creston residents are looking to support small businesses. The ability to shop local brings a multitude of benefits: convenience, a boost to our local economy, better and more personalized customer service.
We've compiled a list of local businesses worth recognizing in Creston. We've organized the catalog by city first and then arranged each location into three categories: Retail, Takeout / Delivery and Services.
Have you had a good Shop Local experience? Please fill out this form and help us recognize and continue to support these deserving small businesses.
We also have a Shop Local in the East Kootenay list of businesses.
Show your support for local businesses online by using the #ShopLocal, #KootenayStrong and #ThinkLocalFirst hashtags.
We here at KPI Media are providing business news on Kootenay Business. For sales and other inquiries, email KPI Media.
Shop Local in Creston:
Retail stores in Creston:
Creston Card & Stationery: Stationery, toys, art and craft supplies. Updates on Creston Card & Stationery website
Lark Coffee Roasters: Coffee shop. Updates on Lark Coffee Roasters Facebook page.
Hound N Mouser: Pet store. Updates on Hound N Mouser Facebook page.
Tigz Designs / Tigz TEA HUT Experience: Gift basket store. Updates on Tigz Designs website
Canyon Street Furniture: Furniture store. Updates on Canyon Street Furniture Facebook page.
Morris Flowers: Garden Centre. Updates on Morris Flowers Facebook page.
Pyramid Building Supplies: Lumber store. Updates on Pyramid Building Supplies Facebook page.
Red Bird Estate Winery: Updates on Red Bird Estate Winery Facebook page.
Treasure Life Flour Mills: Baking goods. Updates on Treasure Life Flour Mills Facebook page
Takeout / Delivery restaurants in Creston:
Demetre's Catering: Caterer. Updates on Demetre's Catering Facebook page.
Jimmy's Pub & Grill: Restaurant. Updates on Jimmy's Pub & Grill Facebook page.
Kootenay Natural Meats: Butchery. Updates on Kootenay Natural Meats Facebook page.
Memories of India: Indian restaurant. Updates on Memories of India Facebook page.
Rick's Iron Kettle Restaurant: Updates on Rick's Iron Kettle Restaurant Facebook page.
Silver Spoon: Restaurant. Updates on Silver Spoon Facebook page.
Service businesses in Creston:
KPI Media: Providing business news via Kootenay Business. For sales and other inquiries, email KPI Media.
Downtowner Motor Inn: Hotel. Updates on Downtowner Motor Inn website
Pair-a-Dice RV Park: Campground. Full service campsites are open for monthly, weekly and daily stays. Updates on Pair-a-Dice RV Park Facebook page.
Is your business missing from our Shop Local list?
Local business owners in Creston, if you don't see your business included on this page and you are currently in operation, please fill out this form.