Lark Coffee Roasters in Creston has a hot ticket roaster at the helm
Lark coffee is not just for early risers but for all who have a palate for great coffee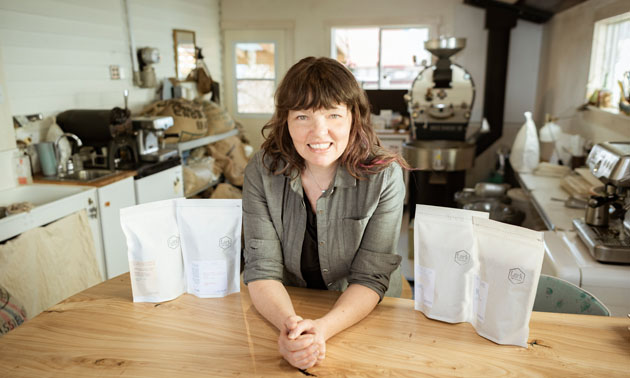 "My favourite moment is when people take a sip and get a look of surprised delight," said Ilana Cameron. "It's the look when flavour takes people to places they hadn't expected.
"I've had people at the Creston Farmers Market walk away with their coffee only to come back in a minute or two, grinning from ear to ear to tell me it was the best coffee of their life. I'm never sure exactly what to say except 'thank you' and to tell them how happy I am that they are happy."
Such is the joy of someone who roasts coffee. Cameron, owner of Lark Coffee Roasters in Creston, came up with the idea in 2015 after one cup of coffee.
"I was on tour with my band, The Oars, in Victoria when I drank a cappuccino at Habit Coffee that changed the trajectory of my life forever," she said.
During training through an entrepreneurship program with Kootenay Employment Services in Creston, Cameron got the top prize at their barnraiser event when she pitched her idea for the first time.
After going through at least 100 different names, Cameron chose Lark Coffee Roasters.
"I wanted a name that was connected to where I live," she said. "Having a bird in the name made sense because of how important birds are to this valley. For me, Lark is about joy and being delighted, and that fit with how I feel about roasting and sharing coffee with people."
Finding your tribe (or coffeephiles)
As part of her entrepreneurial LEAP program, Cameron attended an international coffee conference in 2015.
"I was welcomed so graciously by the people I met at the conference," she said. "The coffee community connects the whole world and is full of interesting and curious people who love to share their knowledge so that we can all make better coffee together. Being one small part of that is why I love what I do.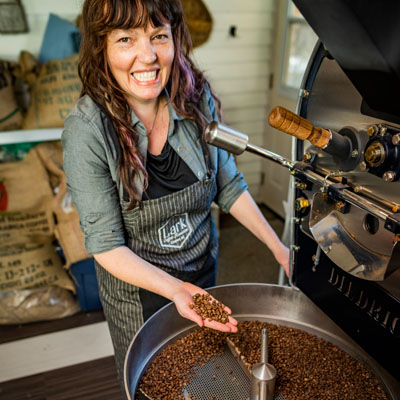 "I source my coffee carefully, seeking sweet and clean-tasting coffees and with an emphasis on female producers."
Cameron loves the roasting part of the process.
"When I found it, I just knew it was the thing for me. It uses all the skills I've gathered over the years and fits with my sensibilities. I used to play classical piano. There is a lot of repitition required to play piano, and it's the same with roasting. It's all about practice and repetition. For some reason, I find delight in that."
Lark Coffee can be purchased directly from her roasting studio, online through her website or in retailers in Creston and surrounding towns.
Home-grown award
Cameron's hard work was recognized by the Creston Chamber of Commerce earlier this year, when she won the Best Home-based Business award.
Her advice for others working from home?
"Plant seeds—I recommend fragrant sweet peas," Cameron said. "You can't eat them but they smell so delicious when they are blooming. I think it's important to appreciate beauty and bring luxury to your life in new and interesting ways."
So is a great cup of locally roasted coffee a luxury or a necessity (or both)?