Artisan handcrafted dog and cat tags (and one for a cow) from Robson, B.C.
Craftsman Dan Innis, owner of Kootenay Tags, makes each tag with heart and soul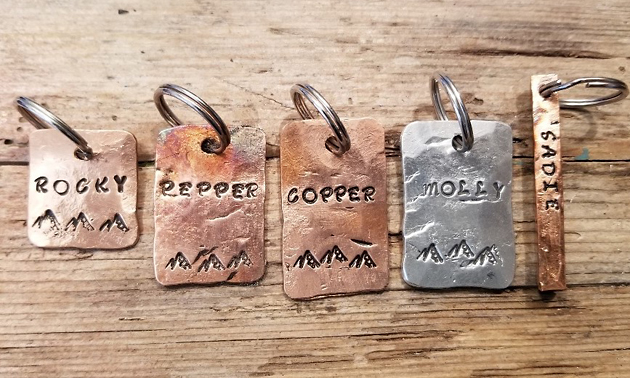 Dan Innis has a little shop in Robson, B.C., in which he pounds away at little pieces of copper and aluminum. His side hustle is making hand-crafted, Kootenay-inspired pet tags that allow his creativity to flow. His two dogs, Joey and Sadie, are often at his side.
Innis named his business Kootenay Tags, and he makes artisan rustic-looking tags for dogs and cats as well as memorial plaques.
The tags come in three sizes and are shipped via Canada Post free of charge anywhere in Canada.
Innis started the business three years ago. Last year, he and a business partner started another business—Selkirk Pest Control (see the story of this green business here).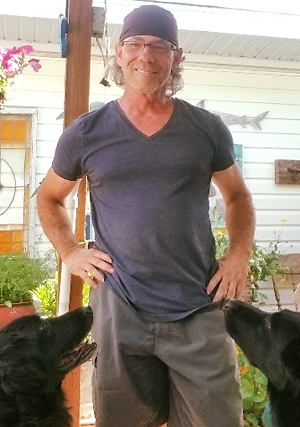 As many side hustles do, Innis's part-time passion turned into something more and now is part of this retirement plan.
"I made the tags for the love of dogs and as an artistic outlet that eventually turned into a small business," Innis said. "Every tag is very personal and special."
We had the chance to ask Innis a few questions about his small business full of soul in Robson, just outside of Castlegar, B.C.
Please describe your tags with your mountain design.
Each tag is made from scratch from heavy-gauge copper or aluminum.That is by design so they will last over time. Each tag is cut, annealed, hammered, drilled, hand-stamped then polished all by hand. Tags have to pass the eye test when I am done. If they don't look just right, I remake them.The three mountains represent the Selkirk, Monashee and Purcell mountain ranges and act as my logo.
Are most of your sales for dog tags? Have you done any tags for anything beyond dogs or cats?
Ninety-five per cent of the tags are for dogs and the rest for cats—once for a cow. I have also made some memorial tags, plaques and key tags.
What are some unusual names that you've made tags for?
It is endless the imagination people have for dog names like Bob Marley or Murray Brown, named after a grandfather. There are just so many great names. Someday I will have to make a list.
How's your business going?
Kootenay Tags has grown on its own with a lot of repeat orders from returning customers. I do have a website and social media but prefer to spend my time in my little shop making tags.
Kootenay Tags is not really a money maker nor was it intended to be. I wanted to make a tag that would last a lifetime and be one of a kind—no two tags are exactly alike. It is a passion, an artistic endeavour and for the love of animals plus it is fun to do. Nothing better than pounding out tags in my shop, hanging out with my own dogs—Joey and Sadie—in the peaceful confines of the West Kootenay. As I enter my senior years and eventually retire, Kootenay Tags is something I can do until I can't do it anymore, hopefully for years to come. Life is good.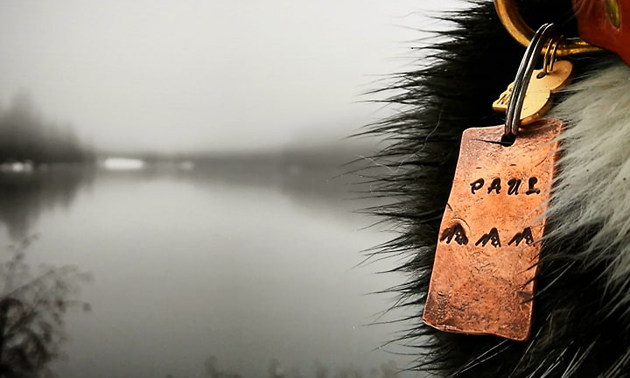 How do you advertise your business?
I seldom advertise but use Facebook to reach most of my customers.
Do you have any stories of how your tags keep pets safe?
The most rewarding aspect of making tags is getting pets home safely. I have been contacted and told stories how dogs were returned quickly because the dog had one of my tags on. A 10-digit phone number or two 10-digit numbers can be stamped on a tag. Most dogs these days are microchipped but have to be taken to a vet or local shelter to be scanned. A tag is a quick phone call and the puppy is home.