New CAO for Canal Flats
In August 2016 Heidi Frank became CAO of Canal Flats, B.C.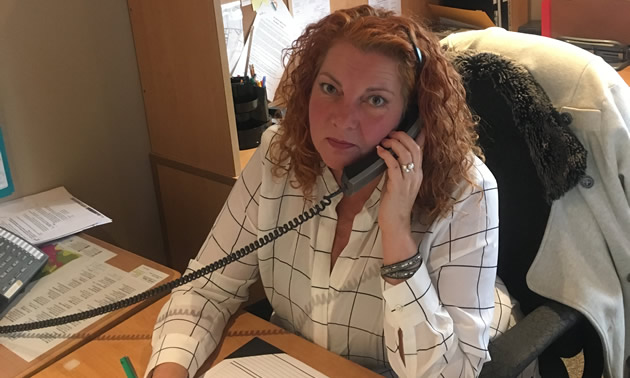 In the summer of 2016, Heidi Frank had her pick of CAO positions in three B.C. communities, and she accepted the position in Canal Flats.
"What I like about working in a small town is that I get to wear so many hats," she said. "In a bigger centre there are managers in place for the various departments, and often you're managing the managers. I prefer being hands-on. I like dealing with the public and I like problem-solving. In a village the position is less formal and more connected to the community."
This is Frank's fourth time being a municipal CAO in British Columbia. She held the position first in Clinton, then in Sicamous and then in Oliver. Before coming to Canal Flats, she spent some time doing consulting work in Honduras.
We asked Frank a few questions about what led her to a career in public service and about her accomplishments and plans.
Why did you choose this line of work?
I had the most amazing mentor in Williams Lake, Alberto DeFeo, who convinced me that I should do this kind of work. He challenged me and advised me and directed me very well.
What are some highlights of your past work?
Economic development and revitalization of the business community in Clinton. Then in Sicamous I was hired to facilitate the recovery work after a major flood. My greatest accomplishment was to acquire funding for a new water treatment plant for the community, and I got the project started before I left.
At present I'm trying to get some organization models in place. We have lots of part-time staff, and I want to make it smoother and easier to work here. I'm about communication and sharing information. Transparency is paramount.
Has anything changed in your approach to your job over the years?
I've learned to let things go and not take it personally when people don't agree with me. I trust that council has the best interests of the community at heart, and if we have a difference of opinion, that's OK.
On the flip side, what I really wanted to do when I came here was to establish a work-life balance, and I wish I knew how to do that.
Can you tell me a positive and a challenging aspect of your job?
On the positive side, I feel lucky to live in this beautiful area and I have a network of other CAOs that I'm in touch with frequently. We share our experiences and counsel each other, and as CAOs, about the only thing we compete for is funding.
What's tough is that funding for municipalities has strict parameters, and often our needs don't fit those parameters so we don't qualify. We cannot go into a budgetary deficit like the province can, and often the grants are conditional on the community matching the grant funds, so that can be a big challenge. You also have to factor in the cost of maintenance of the project and figure out if it's worth it. And we have to use the money within a certain time frame.
What's the biggest career risk you've taken?
I'm a bit of an adrenalin junkie and I classify things as exciting rather than risky.
What advice would you give to someone entering municipal politics?
Come and spend time with me. Come and see how the town runs and what your role really would be. Be willing to learn, be willing to make a strategic plan and to stick to it.
What's the greatest strength you bring to the table?
Openness and willingness to listen. I love problem solving.
What's on your immediate agenda?
We're still putting together a strategic plan, still putting processes in place. I'm following my own advice and learning about the community and its needs.
What's something interesting about you that we don't know?
I've enjoyed riding motorcycles for about 25 years. I have several Harleys and I like to ramble without a definite destination. I put my tent on the back of my bike and just go, mostly by myself.