Canal Flats champion
Karl Sterzer works to make a positive difference in his community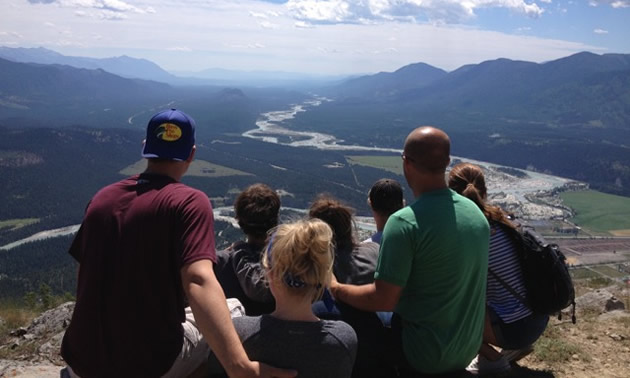 For Karl and Franci Sterzer, Canal Flats, B.C., was an ideal home base for their young family: it offered beautiful natural surroundings, a healthy, small-town lifestyle, and the possibility for them to contribute to making positive changes. The Sterzers moved to Canal Flats in 1999.
"I've always had a passion for Canal Flats," Karl said. "We want it to retain its small-town charm and also to live up to its capacity. I had worked in so many resort towns as a log home builder, I just thought Canal Flats had great bones for long-term, moderate growth and development."
Karl has done his part to improve the esthetic appeal of the heart of Canal Flats, acquiring a number of properties, removing or renovating derelict buildings and attending to neglected landscaping. These projects include building the Paddlers' Inn on Grainger Road, renovating the former high school on Burns Avenue where he opened Base Camp Coffee, and building another commercial office space for a gift shop across from the Columbia Inn on Grainger Road.
A new direction
Personal tragedy pushed the Sterzers' influence beyond the Columbia Valley. When Franci became a quadriplegic as the result of a motor vehicle accident in 2006, the Sterzers found that in Canada, post-discharge care was sadly lacking for people with spinal cord injuries.
"We took a path of being involved in spinal cord recovery and rehabilitation at The Miami Project in Florida and Project Walk in Carlsbad, California," Karl said. "We were involved in many studies at both U of A (University of Alberta) and U of C (University of Calgary), actively being involved to help people and to contribute to cures and so on and such forth."
With guidance from these organizations and close partnering from the Marty family, Uyen Nguyen and George Fink, the Sterzers helped to create Synaptic Health, a spinal cord recovery centre in Calgary. Synaptic works with people who have neurologic impairments, with a mandate to maximize clients' abilities through education and exercise-based therapy.
When Karl's intense involvement with Synaptic was no longer necessary, he returned his energy and attention to the support of his community, successfully running for council in Canal Flats in 2014.
"We continue to try to make a difference and lead by example," he said. "I know I can't change the whole world, but I can make a positive difference in the small world around me."