A new reservoir for Canal Flats
An upgraded water system will offer added security to the citizens of the village of Canal Flats, B.C.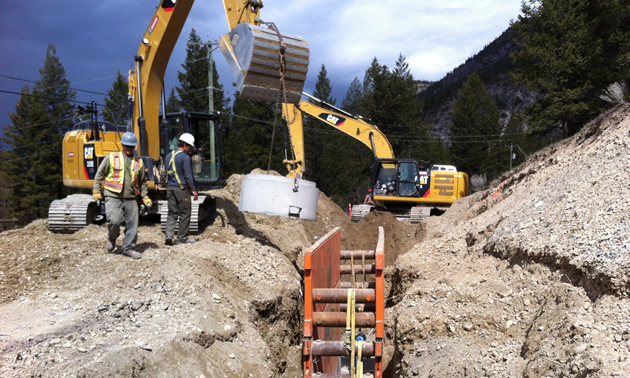 A new water reservoir is being built for the village of Canal Flats, B.C. If the project progresses as planned, the reservoir will be completed and functioning by the first of July 2014, providing the community of 701 citizens with adequate fire-protection service and safe, potable water just in time for summer.
Moving fast
Property owners in the village received notice of the proposed $2.7-million project in September 2013, and they were invited to express their approval—or not—of the project. By October 1 all of the responses were in and only 11 per cent of property owners were opposed to the project.
"In order to borrow money, municipalities have to go through a process similar to a referendum, and every property owner has the right to say they're not in favour," said Brian Woodward, chief administrative officer for the Village of Canal Flats. "We had all of the facts and figures in place before we went to the vote, so once we got the results we were able to get started right away finalizing the funding."
Canal Flats has received $400,000 for the project in a Towns For Tomorrow grant from the Province of B.C., and the $2.3-million balance has been borrowed, to be repaid over a 30-year period. Divided into a debt payment per lot, it comes to $275 per year per property that will be serviced by the water system.
"We call it our merged water project," said Woodward. "We're also running a water line out to the (subdivision) called Eagle's Nest, north of the village—about two kilometres of new line that connects with the old Eagle's Nest water system. There are about 40 lots that came with that subdivision in about 1970, and there are about 30 lots in the Painted Ridge subdivision. They will all be serviced by the new water system."
The players
The new system was designed by Focus Corporation, an engineering firm out of Kelowna, B.C., with a branch office in Cranbrook, B.C. The project manager is professional engineer Jean Horton; she works out of Focus's Cranbrook office. The work is being done by Dawson Construction Ltd. of Kamloops, B.C. A new well that was drilled two years ago is ready to be incorporated into the new system and will be the primary water supply for the reservoir.
The project's anticipated completion date is June 30, only 10 months from the time that the property owners were polled for their approval. That's an impressive time frame for a job of this size, and a testimony to the value of forethought and organization by the minds behind the plan.