Wine on the vine
The winemakers at Wynnwood Cellars believe in developing their products' quality and distinction out in the field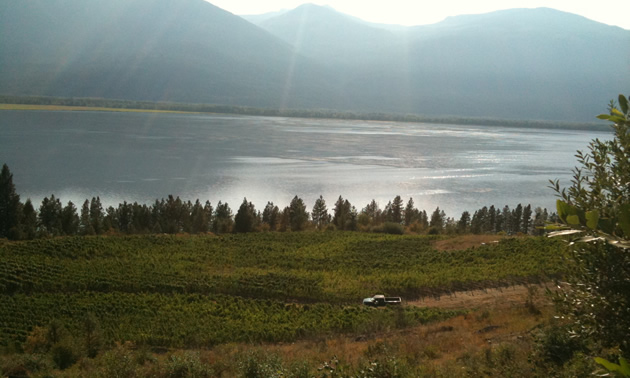 Back in 1999, Dave Basaraba moved from southwest Washington state to the Creston Valley in southeastern B.C., with a dream of growing wine grapes. His research told him that the valley's moderate climate and rocky, mineral-rich soil could produce very good wines.
"In Italy and parts of France, high levels of minerals in the soil, especially calcium carbonate, helps with developing thick skins on the grapes and makes a more intense flavour for the wine," Basaraba said. "We have that kind of soil here."
For seven or eight years, Basaraba grew grapes on his experimental, 700-vine vineyard, with vinifera varieties from France including classic Pinot Noir and chardonnay. During that time he continued his research. He found an ideal vineyard site in nearby Sirdar, where the reflection of light from Duck Lake onto the field slopes results in significant benefit. Had the property been for sale, he would have bought it.
Simply serendipity
Michael Wigen of the WynnWood Lumber family also dreamed of making wine, and he heard about Dave Basaraba and his experimental vineyard. In April 2007, Wigen contacted Basaraba and proposed that they join forces to build a winery. Basaraba was interested but stipulated that only if they found an ideal site would he consider this venture. When Basaraba described the Sirdar property he wished to acquire, Wigen smiled. "That's my property," he said.
"It was pretty shocking," said Basaraba. "Our business partnership was obviously meant to be. So within a week or two we had equipment on there and we planted vines that same spring."
That was the beginning of Wynnwood Cellars Estate Winery.
Why it's perfect
According to Basaraba, the Creston Valley might be the only grape-growing area in the world where growers don't need to spray for insect pests.
"They don't know we're out here, I guess," he said. "We're in the zone where there are predator birds, and they patrol the vineyard very well for us. Bears could be a big problem—a bear can eat a garbage can of grapes a night—so we fence to keep them out."
Survival of the vines depends on the winter minimum temperatures, and the fruit's ripening is determined by the length of the summer growing season. The proximity of Kootenay Lake and Duck Lake contribute to the Sirdar property's temperate climate through the winter and keep its summer nights warm. The growing season lasts roughly from the first of April until late October—about 180 days.
Wynnwood Cellars has gravity irrigation available from a natural stream off the mountain but irrigates minimally. Keeping the vines short of water right from the beginning makes the roots grow deep and strong.
The work of achieving excellence
There's a lot of technique involved in developing quality, intense flavour and body in a wine, and Basaraba said that those elements are best developed on the vine. Extensive handling is done in the fields, including gentle hand-removal of excess buds, shoots and some fruit to channel the vine's energy into the remaining grapes, and selective removal of leaves to expose the ripening grapes to sunlight.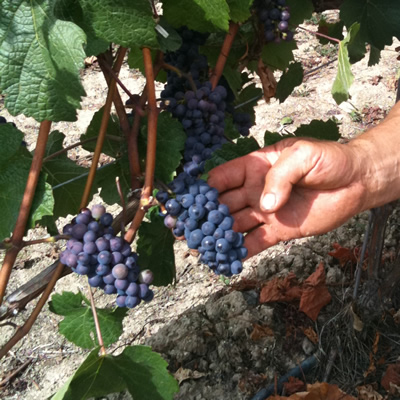 "We try to get a smaller vine with a smaller amount of high-quality fruit with concentrated elements," Basaraba said. "There are grapes in the world that will sell for up to $20,000 per ton because of the site and the technique applied to the vines."
This will be the sixth year of bottling at Wynnwood Estates.
"We planted in 2007 and our first bottling was in 2010," said Basaraba. "Pinot Noir is our special pride, because it can't be grown just anywhere. Our white that I like the best is our Sauvignon Blanc—it's nice and fruity and balanced. Our Pinot Gris is nice, too."
The four-hectare vineyard has the gift of rocky, clay-based, mineral-rich soil and adequate water, along with lots of sun. That and the Basaraba-Wigen partnership is the perfect combination for creating superior wines at Wynnwood Cellars.