Recipe for success: Putting dinner on Cranbrook's tables for over 20 years
Rick's Fine Meats & Sausage has been helping put dinner on Cranbrook's tables for 20 years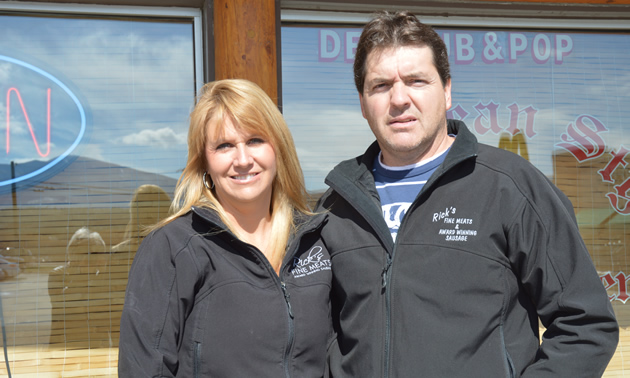 Rick Armstrong is a master butcher and sausage maker, trained and certified by a European master butcher and sausage maker. Rick was just the third person in Canada to finish this certification, and he has since won numerous awards throughout Alberta and B.C. for his specialty.
The deli department of his shop, Rick's Fine Meats & Sausage in Cranbrook, B.C., sells about 50 varieties of sausage and cold cuts, all made in-house according to Rick's own recipes. His products are made with organic spices and are free of nitrates, added colour and gluten.
Rick and his wife, Corine—co-owner in the business—grew up in Cranbrook. Rick finished his apprenticeship in 1988 and established the store in 1993. At present, the business has a staff of 10 to 14, depending on the season. This year, Cranbrook's only remaining old-fashioned butcher shop is celebrating its 20th anniversary.
High-quality custom cuts
"We specialize in (the) custom cutting (of) hanging sides of beef, pork and lamb," said Rick, "and over the years we have become the area's largest wild game processor, processing one animal at a time, ensuring that each animal is kept separate and packaged to each customer's needs. The game processing keeps us busy every single day from August to Christmas Eve."
The Armstrongs have consistently kept the quality of their products high and are willing to fulfil their customers' special requests—aspects that have enabled them to compete with the supermarkets and remain in business.
Catering to community needs
Rick said he wanted to provide the ranching community with 100 per cent customer service in the beef industry, to comply with the requirements of the B.C. Centre for Disease Control.
"We offer a government inspection plant for beef, pork and lamb," he said. "This gives the ranchers peace of mind for the health and safety of their customers, that they are selling a superior product."
When it comes to the shop's own products and retail offerings, Corine said they follow the trends and listen to what their customers want.
"We have the most extensive line of turkey products in the Kootenays, because people want a quality, good-tasting, low-fat product," she said. "We'll also provide meat and cheese platters for your corporate meetings and family celebrations."
A recipe for success
Dedication to their work is just half the formula for success, though. Corine is convinced that her husband's expertise—especially in sausage making—is the other half.
"Rick's typical workday is 12 to 14 hours long," she said, "but we know we turn out a superior product because we get great feedback from our customers, so it's worth it."
Customized, consistently high-quality, and—above all—delicious products keep Rick's Fine Meats & Sausage a favourite source of sustenance in this corner of the East Kootenay.