Wayne and Denise Harris
At Kootenay Meadows, organic milk comes in glass bottles and raw-milk cheeses are a gourmet delight.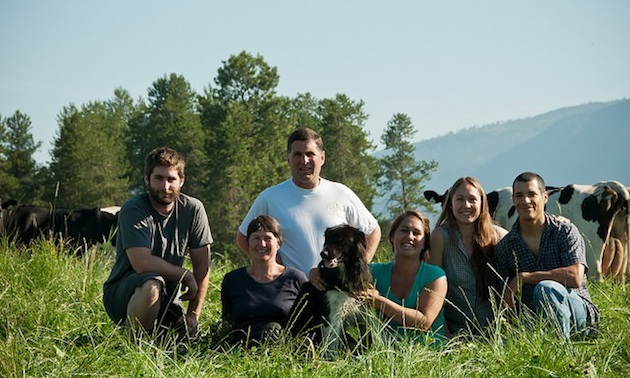 For Wayne and Denise Harris, expanding their once-conventional family dairy farm has been an ongoing evolution. Today the couple own and manage Kootenay Meadows, an organic farm in the Creston Valley that produces raw-milk cheeses and its own bottled milk. The farm gained organic certification and began making cheese in 2008. The milk processing operation was added in 2012. As it uses glass bottles, the main equipment used on the bottling side of the operation was sourced from a federal penitentiary in Eastern Canada. The milk can be found throughout the Kootenays, and the cheese is shipped as far away as Toronto. With their success as a value-added, sustainable business, Wayne and Denise Harris have been named among this year's Top 10 Business People.
How did you get interested/involved in your industry?
Wayne: We've always grazed our cows, so the farm is a grass-based farm based on managed intensive grazing, and that lends itself to cheese making because there are some special attributes and qualities to that milk. So we were just trying to add value to that, I guess would be a good way to describe it . . . The organic just kind of evolved from grazing. Reading more and travelling to other areas and countries and looking at agriculture and we just thought that organic was more sustainable in the long haul.
What life and work achievements are you most proud of?
Wayne: We have a nice family with some grandkids close, now, which is nice. Also the farm—we have developed the farm a lot since the time we bought it.
What most drives and/or inspires you?
Denise: Business is exhausting, right? I get frustrated that we've lost some of the enjoyment of just farming. In value-added you've gained a lot of the work of managing the sales and the staff and everything, so sometimes it's hard to be as carefree. But, basically, both of our favourite times is when the cows are out on the grass. You just look around and think that it's the best place to be. But because of that we have to do some of these other jobs that we don't necessarily like so much.
What has been your biggest obstacle and how did you overcome it?
Wayne: Developing the processing has been a big challenge, because it's something completely different from agriculture, really. Although we're processing our own agricultural products, it's a challenge and a steep learning curve. Learning the marketing and the plant operation and building the plant was a big challenge as well. I think we can say we have been (successful in achieving that).
Are there decisions or personality traits that you think have contributed to your successes?
Wayne: I'd have to say dogmatic stubbornness.
Denise: We also tend to leap—we don't spend a lot of time navel gazing before we start something. We took our gut instinct and went with it. So now we're doing some catch-up on learning some of the business things that would've been nice to have known ahead. But the thing is that if you don't do things when your gut tells you it's right and when the opportunity is there... That's what we tend to do.
What have you learned about what makes a quality cheese that you'd like to share with people?
Denise: A raw milk cheese is the best cheese, as it has got the most flora in it. It's got the most complex flavours. And naturally aging, I think, makes a huge difference too. Like, not being cryovaced, just a hand-rubbed, hand-turned cheese.
Do you still do all raw-milk cheeses?
Denise: Yes, because we still only do the ones we started with. That was our intent at first was to do a simple, straight, raw-milk cheese. Now we have a pasteurizer and we could do some other cheeses, but we just haven't had the time or the milk. Our milk is pretty well tied up, between the cheese we're making and the milk we're bottling. So we're happy with the cheese we make. Sometimes it would be nice to try something else, but that is our main goal . . . to keep the quality on the raw-milk cheeses and improve the quality all the time.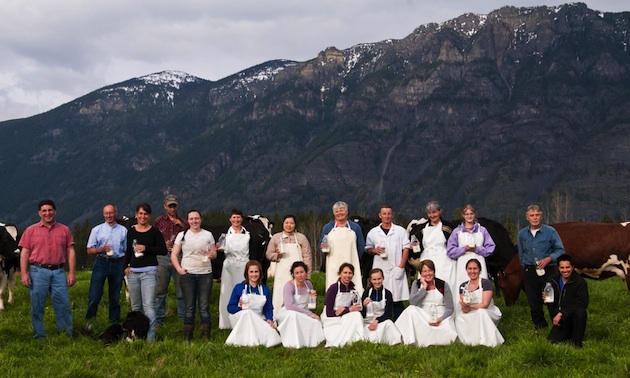 How many varieties of cheese do you produce?
Denise: We do three, but we only wholesale two of them, Alpindon and the Nostrala. The Mountain Grana we sell just from our shop. It's a Parmesan style and we don't make very much of it.
Tell me about what you most enjoy in your work.
Denise: Being outside at the dairy farm is what I like, with the dogs and the cows (laughs). I'm not a huge fan of the office side of the business on the day-to-day, but it is definitely satisfying to know that we've got a good product and people are happy with it.
Wayne: I think I probably enjoy the grass and the pasture and the management of the cows as much as anything.
Is there anything else you'd like to mention?
Denise: We have quite a few very good employees and that has definitely been key to our success, and good for the valley as well. We've got 17 (employees)—most of them work part time while a couple are full time.