Tracey and Bart Larsen
How do a nuclear physicist and a biology major make a living in Revelstoke? By starting a regional brewery, of course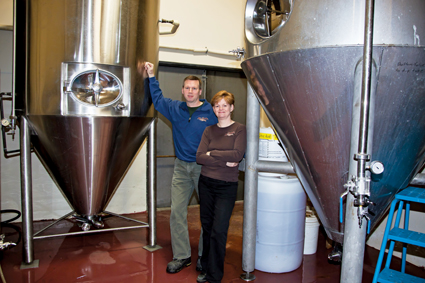 How do a nuclear physicist and a biology major make a living in Revelstoke? By starting a regional brewery, of course.
"It's one of those hobbies gone mad," said Tracey Larsen, who is co-owner with her husband, Bart, of Mt. Begbie Brewery.
The Larsens were looking for a lifestyle change. They were living and working in Vancouver and found that the outdoor activities they loved—hiking, biking and skiing—were difficult without travelling beyond the city. They decided to relocate to Bart's hometown, but careers in their particular streams weren't readily available in Revelstoke; so in 1996, they decided to build on Bart's hobby.
Bart focuses mainly on the mechanics of the operation while Tracey is responsible for administration and marketing, though she credits Bart with the creative and locally inspired brew names, such as Selkirk Stout and Powerhouse Pale Ale.
"We struggled a lot over the years," said Tracey. "There were some years that we just didn't think we would make it … and there were many times in the early years where we just should have shut our doors. But I think we're just two stubborn people who will keep trying."