Sydney and Taylor Salvador
These two sisters share a spot on our Top 10 list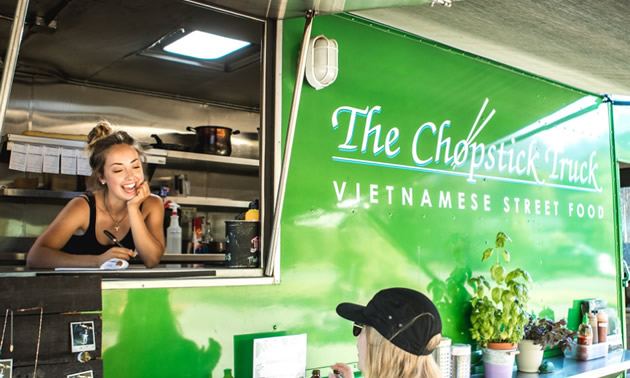 Sydney Salvador, winner of the Fernie Chamber's 2018 Entrepreneur of the Year award, and her sister, Taylor Salvador, are co-owners of The Chopstick Truck—the popular Kootenay Vietnamese food truck that took part in many local events over the past two festival seasons.
The Chopstick Truck got its start from the sisters' interests in entering the food truck scene. Their good friend Cam, of the Yama2Go Sushi food truck, recommended they work on his for a season, to see if they wanted to go through with their interest. After a season with Cam, the two decided to start a truck business all their own.
The sisters purchased an empty Canpar mail van and, hence, The Chopstick Truck was born.
Kootenay Business magazine includes the Salvadors among its Top 10 business people for 2019. Sydney answered a few questions for us:
What is your favourite thing to make for your customers?
Our vermicelli bowl is by far our best seller. It comes in a kids size, too, and can also be made vegetarian, gluten-free or vegan option for those with dietary restrictions. It's my favourite menu item to make because we can play around with different toppings and sprout options that we purchase from Three Crows Farms.
What practical advice do you have for other entrepreneurs?
I would tell them that if you have goals you want to achieve in your business or life, make a plan and get to it. Nothing will be ever be perfect, and trying to perfect a plan will only slow you down.
What has changed in your business since you two started out?
The biggest change would be that we've become a more stationary truck. The first two seasons we were travelling to three different cities every week and going to festivals like the Calgary Folk Fest and Canmore Folk Festival.
What are your hopes or plans for your business in 2019 and beyond?
We want to increase some menu items and bring in some rice bowl options this year. We also want to start hosting smaller markets where we keep the truck (1390 McLeod Avenue on Highway 3) in Fernie. One day, we would love to have our main location be a hub for multiple businesses and a great gathering space for everyone.
For more information about the Salvadors and The Chopstick Truck, visit the website.