Sonia Ratté and Olivier Dutil
In 2015, Revelstoke's La Baguette Catering and its owners scooped two prestigious business awards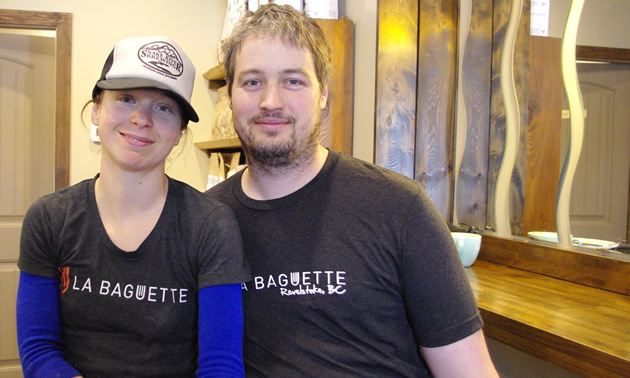 Sonia Ratté and Olivier Dutil of Revelstoke, B.C., are making an impression on the city's business community and on the personal economies of their growing pool of employees.
Ratté and Dutil opened La Baguette Catering in 2009, and very shortly expanded to two more locations. In June 2015 they partnered with Sarah Jeanne—who, like them, is from Quebec—to open a specialty grocery store, Le Marché Gourmet, at 670 Victoria Road in the downtown area. The newly renovated store features organic B.C. produce, meat and eggs, imported cheeses and much more.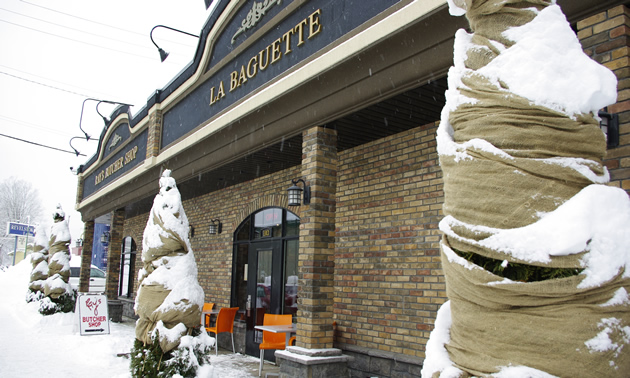 With the opening of Le Marché Gourmet, the number of people employed by Ratté and Dutil rose to about 60, making the business quite a significant employer in the community. The Revelstoke Chamber of Commerce named La Baguette Catering its 2015 Business of the Year, and Ratté and Dutil its Business People of the Year. Ratté said that she and Dutil regard the awards—particularly the Business People of the Year—as a great compliment.
Ratté and Dutil have been unfazed by the tough economy.
"We opened in 2009, when the economy was at its worst," Ratté said, "and that summer was really, really, really busy, and business has just been going up and up and up since we opened."
Ratté told us she thinks La Baguette is so successful because of its high-quality ingredients, including organic flour, organic sugar and other ingredients sourced from suppliers who are environmentally responsible. Composting, recycling, buying local and using biodegradable or reusable containers are standard practices for the La Baguette group.
"We don't tell everyone about that, it's just the way we believe it should be," said Ratté. "Our food might be a little bit expensive, but the price is for the quality, and the customers get their money's worth.
"We treat our staff well, because without them we couldn't be La Baguette."
We asked Ratté a few more questions, and her answers were often punctuated with her trademark laughter.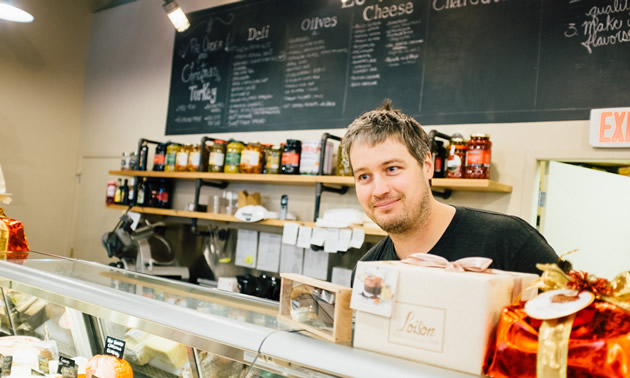 Who do you admire in business?
My boyfriend, Olivier. He's got some things that I don't have, so together we make the best team ever. He's good at innovation and new products, and getting the best prices and quality, and dealing with people. Sometimes I get excited to do things and I forget about how much it costs, so he's good at showing me the best way to do it. I'm more the creative one and he gives me the reality check and we meet at the middle point.
What do you do for fun?
We like to do mountain biking in the summer, and in the winter we fat bike. It's pretty fun. On our days off we'll go to the ski hill and ride our snowboards, but after work we'll use our headlamps and go fat biking.
Tell me about some good business advice that you received.
My friend who has a business in Gaspésie gave me advice about managing staff. She said everyone has qualities, and you have to put people in the jobs where they're strongest, so that they are successful. Then you have less problems.
Did you always want to be in the food business?
When I was a kid, I wanted to be a mechanic because my dad is one. On weekends I would go and help him and hang out at his garage, so that's what I wanted until I tried it for real. I realized that it smells and it's cold and it drips wet snow on you when you're under the car, and I said, "No, this is not for me."
All my childhood, I always was cooking, but I didn't think about it. As soon as I spent one day in a real cooking course when I was 16, I realized—of course, it's obvious, this is what I want.