Shawn and Leanne Tegart
Starting Arrowhead Brewing Company has opened a way for Shawn and Leanne Tegart to explore their creativity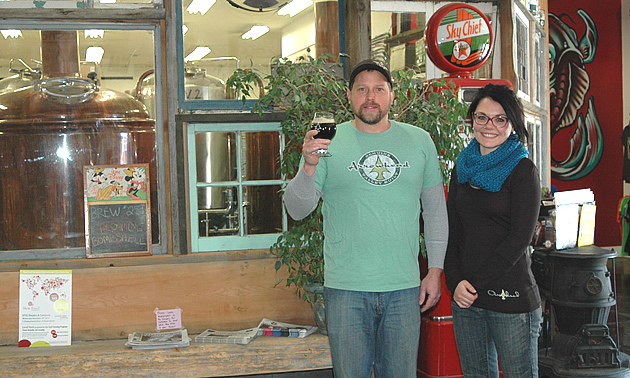 Brewing beer is a lot different than woodworking and interior design, but Shawn and Leanne Tegart have yet to feel regret for closing their former businesses to start Arrowhead Brewing Company in Invermere. The couple began this venture in 2012 and two years later, they received a Small Business Excellence Award and a New Business of the Year Award from the Columbia Valley Chamber of Commerce. Together, they work as a team, creating quality, all-natural beer while providing jobs for people living in the Valley and a funky place for the locals to gather. Big plans are in store for the brewery—but not too big because the ultimate goal for this Top 10 Kootenay Business of the Year couple is to make Arrowhead the "coolest little brewery anyone's ever been to."
Have you always been interested in the beer industry?
Shawn: I have. I spent 10 years in Oregon and got into craft beer when I was down there. And then I got into home brewing when I moved back to Canada. I was living in Nakusp so at that time, there wasn't really any craft beer around so I was making my own. Through a friend of a friend, I met a guy who had worked 44 years in the business and he decided to mentor me. So I decided I would go pro, so to speak.
Are there any character traits of yours that have contributed to your success?
Shawn: I definitely like to support local and that's what craft brewing is all about. The vision of the brewery is never to get huge and automated. It's to provide jobs. We went from one employee to as many as 12 in the summer. So it's providing lots of hands-on work. And the theme of the brewery is genuine. (The decor) is not a marketing ploy or tool or anything like that. It's all from my collection and from my passion for racing and motorcycles, cars and vintage stuff.
What do you enjoy most on a daily basis?
Leanne: To be honest, just coming to work and being in this atmosphere. It's pretty fun. Even when there are stressful times, you kind of have to remind yourself that you're stressing over beer. Just the energy at any brewery is fun and casual. Everybody just seems to be in a good mood, whether it's the customers or our staff. And there's definitely the creative side of things, whether it's coming up with events or being excited releasing a new idea to the community.
What life or work achievements are you most proud of?
Shawn: Any time you build something from the ground up, it's something you can look back on. It's pretty cool you left your mark. The brand itself is something I'm proud of. I really enjoy the creative part of things and designing the logos and all the different brands of beer.
What has been your biggest obstacle?
Shawn: It would be trying to get people who have grown up on Bud or Busch to see the value or benefit of craft beer. The cheaper brands of beer, they're made with corn syrup and stuff like that and they are profit-driven companies where this is quality driven. We have a long road ahead of us, but I'm looking forward to that.
Do you have any tips on how to choose a craft beer without knowing anything about beer?
Shawn: The first tip would be to choose whatever brewery is closest to you because that is going to be the freshest. Beyond that, I would say try them all. They pair with food just like wine but there are even more varieties of beer than wine.
Of the 10 beers you currently have on tap, what is your favourite?
Leanne: We get asked that quite regularly and like I've said before, it's as if you're asking a parent to choose their favourite child. You can't really pick one. It depends on the day and what you're eating.
Is there anything else you'd like to add?
Shawn: We will be expanding the seating area and looking to do more events, brewery tours and stuff like that.
Leanne: Thank you to everyone who has supported us. Asking people to try something different and change what case of beer they buy on the weekend can be pretty difficult but there have been a lot of people in our community and in surrounding communities that have really embraced the change and really accepted trying something new.