Pierre Dupont
Opening Le Grand Fromage has offered a way for Pierre Dupont to share his taste for quality cheese with Kootenay residents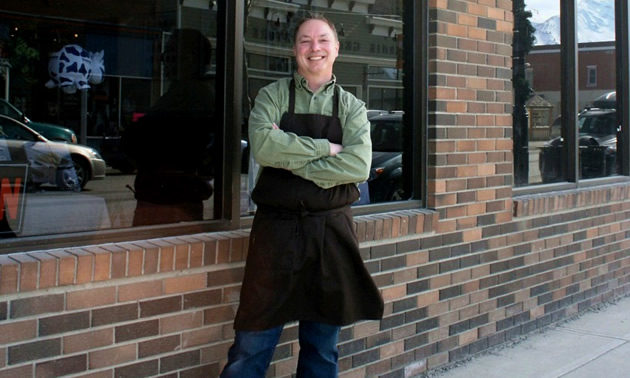 As with many Fernie locals, Pierre Dupont first came to the area for the skiing. When he later opened Le Grand Fromage, a specialty cheese shop, he was also making a significant career change, having previously worked as a software engineer and systems designer for Motorola. It turns out he also has an aptitude for owning a small business. Le Grand Fromage has recently opened a second location in Nelson, B.C. Dupont said the expansion will allow him to offer a wider variety of product selection of cheeses since he'll be able to leverage bulk purchases with two stores. Le Grand Fromage is currently Fernie's business of the year, and now Dupont has been named one of Kootenay Business magazine's Top 10 Business People.
How did you get interested and involved in the specialty food industry?
I've always loved cheese and I used to travel a lot. I worked as an engineer and I would often travel to Europe. I loved visiting the shops in Europe—especially visiting France a lot, I got to see some of the stores there. Some of the Nordic countries have a good cheese tradition as well. . . . I just thought, man, there are so many different cheeses that we've never seen in Canada. It would be great if we could bring in a few of these cheeses and let people try them. So it's really just an interest in providing a variety of different products that we just don't normally see in this neck of the woods.
Was it difficult getting established in a smaller town, or did you find that the market was there?
There are a lot of people who think that the only cheeses that are available are the ones you get in the grocery store, and they're quite surprised to discover the different types of cheeses. So it's fun to introduce people to the wide variety of cheeses that are available that they've never heard of. People are constantly amazed at how many there are. I only carry a few hundred cheeses, and yet there are thousands of cheeses that are out there.
Are there personal decisions and traits that you think have contributed to your success as a business owner?
I guess I'm passionate about the cheeses, so I like having people experience the products that we sell. I just like to sell products that I would buy myself.
What most drives and inspires you in your work?
I like bringing in new products and sampling new cheeses. I'm always keen when every order comes in, you know? What's new this week? Sampling cheeses and getting customers to sample cheeses that they've never tried before is always fun.
So you have frequently changing products at your stores?
Yes, I try to bring in a few different cheeses every month. We have the basics that we always carry, you know, the Parmigiano-Reggiano, those sort of things that are staples. And then some cheeses are in season during a particular time of year, so we'll bring those in. We just rotate the inventory a bit to give people some variety.
What achievements are you most proud of?
I'm proud to have started the Fernie Pet Society. I think that we do a lot of good work in the community in reuniting lost and found pets with their owners. We started the spay and neuter program recently, which is very successful, and we're working to get an off-leash dog park developed in Fernie. That's one of the accomplishments that I'm quite proud of. . . . I've always been quite passionate about pets—cats and dogs and animals in general. I have two cats and am currently fostering one cat and I have two Chesapeake Bay retrievers.
What has been your biggest obstacle in business, and how did you overcome it?
Funding is always a problem, getting credit from banks. They tend not to support small businesses that are just starting up. I find that if you have a lot of money, they're willing to lend you money, but if you don't have money (it's a catch 22). I basically self financed. . . . It's not cheap to start up a new business. I used my savings to start the Fernie store and to start this Nelson store.
What tips do you give to someone who comes into your shop to ensure that they find the right cheese?
We always offer free samples. We encourage people to try before they buy. That's one of the features that differentiates us from the supermarket where you have to buy prepackaged food. We're always willing to give you a taste of something and let you try five or six or even more different cheeses before you settle on the one that you want.
What are you most looking forward to with your future?
I'm looking forward to expanding my product line and hopefully seeing this (Nelson) location be a success. As I mentioned before, I've had people approach me about opening in different locations like Kelowna, so looking down the road I could see maybe a third store in the Okanagan somewhere.