Phil Gadd
Formerly a commercials editor in British film and TV, Phil Gadd is happy to be Fernie's new rising breadmaker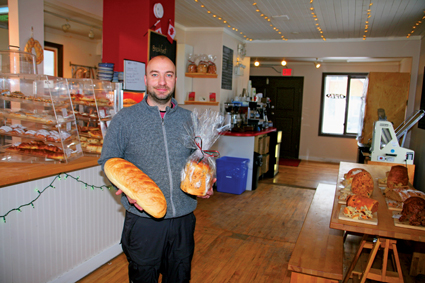 Phil Gadd's former job as a commercials editor in British film and TV might not seem a like an obvious background for Fernie's new rising breadmaker, but Gadd sees parallels.
"Stuff like time management and being organized is obvious," he said. "I've always been technology driven and interested in computers and costs and keeping control of costs."
Gadd and his wife, Claire, had been visiting Fernie for years for the skiing, but deciding to open a business happened over the course of an afternoon. They had heard of the opportunity to buy the bakery, and by the time evening came, the decision was more or less made. They immigrated in 2009, hired master baker, Arek Szewc, and opened Loaf Bakery six months later. When Gadd brought on Kelly Foster as an additional baker, he was able to add another facet to Loaf—café-style treats such as pies and pizzas.
"Since that, it's been a pretty full-on year," said Gadd, a real understatement, since the volume of sales necessitated a second location.
While the business rises like its namesake, Gadd is learning a lot about the artistry of breadmaking, though he knows enough to play to his strengths.
"I don't know what the key is—I'm still figuring it out—but running it as efficiently as possible and getting the best possible products to the shops is my goal," he said.