Peter Nielsen
Revelstoke Mountain Resort is Peter Nielsen's ideal environment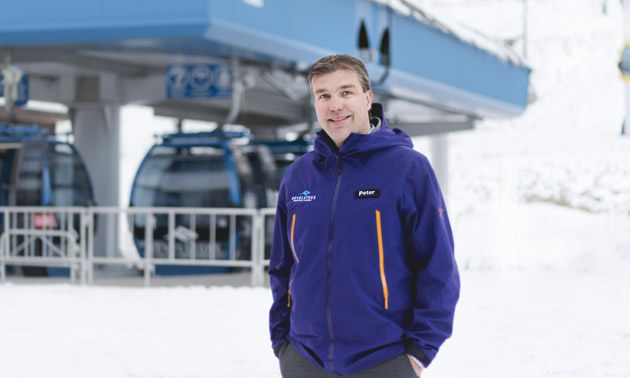 The hospitality industry has felt like home to Peter Nielsen since his childhood, thanks to his father's career as a hotelier. Nielsen has been in the industry for 25 years, specializing in opening hotels and resorts, and he was the general manager of the hotels at Revelstoke Mountain Resort (RMR) from 2008 to April 2015. At that time he took a step up the corporate ladder to the position of vice-president of RMR operations, responsible for accommodations, food and beverage operations, and the ski experience.
Nielsen said that for him, the two main attractions of Revelstoke were the people of the community and the opportunity to be part of the development of the new ski resort.
"It was a perfect fit on the professional side and for me and my young family," he said.
Nielsen found time to answer our questions, giving us a closer look at the methods and attitudes that have created his success.
What are some of your key career accomplishments?
Bringing a new product to North America and having it be as successful as it has been is really satisfying and I'm proud to be part of that. I've led teams for multiple hotel openings, and I'm proud of each one for different reasons.
What was your biggest career risk?
I've taken a series of risks joining new teams. With risk comes reward.
What's changed in your industry and what hasn't?
The biggest change in hospitality is guest expectations, and how they are shaped by the Internet. Online ratings and feedback forums really expose the good, the bad and the ugly about your product. It's a challenge, but it's also an opportunity.
Product quality (still) rules. Delivering on your promise, meeting and exceeding expectations will make you successful, but you're only as strong as the people who are operating your business. Recruiting and retaining high-quality people is of the utmost importance. You have to have a strategy and create a great environment so that staff and potential staff want to be a part of it.
How do you grow the business?
Product development. As a destination resort, the number one reason that people come here is our location. Maintaining and developing our product—mountain sports—and marketing it into the right segments is key to making it successful and keeping it that way.
What advice would you give to a new department manager at the resort?
Number one is that our guests pay our bills and our salaries. There are three pillars to how we operate our business: our clients, our employees and our financial responsibilities. Whenever we make a decision we have to consider those three pillars and honour each one of them.
What's your greatest strength in business—your superpower?
I'm a big believer in finding good people, getting out of the way and letting them succeed. I look at my role as being a support for the other managers and team members.
How do you challenge yourself in order to excel and grow?
I've always been self-motivated. I set goals and look to achieve them.
Who is a business person that you admire?
David Roberts was my GM at the Chateau Whistler, and I always admired how he could have his finger on all the business aspects and be genuine with all the clients. He created a great environment.
Is there a book or speaker or blog that you'd recommend?
Onward by Howard Schultz provides a really good insight into the core success of Starbucks—how they founded it, how they went off the path and then went back to the original commitments to make it successful again.
What's something that most people likely don't know about you?
I love to cook.
How do you define success?
When you achieve or exceed your goals. Success is not a static moment in time—you need to always be re-setting your objectives and goals and striving to get them. Even if you don't get exactly the success you want, if you put forth every effort to get to your goal, then you are successful.