Paula Sittler
Paula Sittler moved home to Greenwood, B.C., three years ago and purchased a commercial building—now home to Deadwood Junction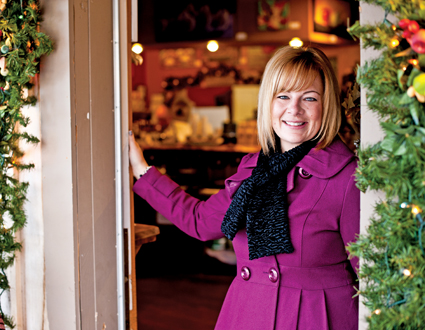 Paula Sittler started her professional career as a high school teacher in Cold Lake, Alberta, but her heart was always at home, in Greenwood, B.C.
Even though she had no prior business experience, when she and her husband made the decision to move home three years ago, they took a leap of faith and purchased a commercial building along with Sittler's parents.
"We kind of put the cart before the horse, buying the business before we had an idea of what we might want to do with it," said Sittler with a laugh.
She worked with Community Futures in Grand Forks, who helped her to develop a business plan, and she opened Deadwood Junction, a café and artisan gallery. She admits the learning curve was steep—she remembers having to try to project in April how many lattés she would sell in November—but her prior career skills have also served her well.
"One component of our business is espresso and specialty coffees, and believe it or not, there is a real science to creating a nice, espresso-based coffee," she said. "My analytical mind—wanting to take things apart piece by piece and understand them—and interpersonal skills (have helped)."
Deadwood Junction caters to travellers along the No. 3 Highway—location is everything—and has fostered not only repeat visits, but those who will make the trip specifically to visit.
"The best way to describe our visitors is pleasantly surprised the first time they come in," said Sittler. "I like to think we're creating an experience."