Laurie Goodlad
The stylish shop sells home decor, personal accessories, bath and beauty products and gift items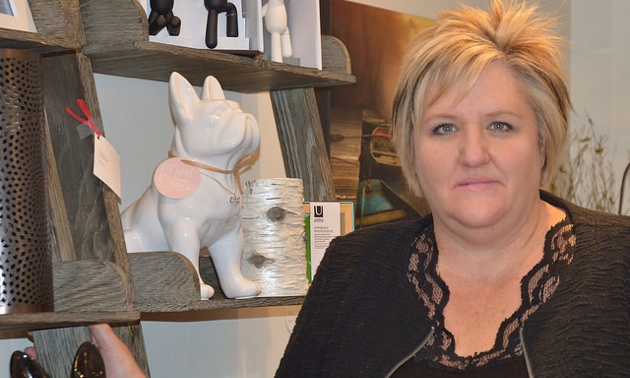 With a lovely boutique shop at a great new location in Cranbrook, B.C., Laurie Goodlad is enjoying life as the owner of Muriel and Jane's General Store. The stylish shop sells home decor, personal accessories, bath and beauty products and gift items. It may come as a surprise that Muriel and Jane's General Store was Goodlad's first experience in retail—she had previously owned a salon and spa in Cranbrook. It's been a good move for the city's retailer of the year, however. Goodlad finds that she loves every aspect of working with customers and keeping her store ahead of the curve. Now as one of Kootenay Business magazine's Top 10 Business People, Goodlad looks forward to another great year in business.
Are there personal decisions and traits that you think have contributed to your success as a business owner?
I grew up in Cranbrook and moved away and then came back to Cranbrook as a married adult. I want to be involved in the community. I'm currently president of the Cranbrook Rotary Club. It's a cliche to say giving back to the community, but I certainly do. When a community supports you, you should therefore support your community. For me that means more than just giving out donations—for me it truly is being involved.
I think that in a small community it's very much about the face behind the business. People choose to shop with people they know and trust and I think to be successful in a small community you have to build those relationships.
What most drives and inspires you?
I attend many industry shows, from the different gift shows to the home shows. And receiving orders in—that's exciting. We've just brought in a huge line of new jewelry. So, for me, I get inspiration from the new products and merchandising the product. I love to merchandise. That really gives me great inspiration. Then the other side of it is not knowing who's coming through the door. You don't know who your customer is going to be today.
What life and work achievements are you most proud of?
I'm proud to own a store that's named after my grandmothers, both of whom had great influence in my life. Muriel was my mom's mom and Jane was my dad's mom. They were huge inspirations for me. From the time I was young I was very fortunate to have my grandmothers in my life. They've both passed away now. Every day when people say Muriel and Jane's, the power in those names is very important to me, and I think it's a great memorial for my grandmothers.
(Also), my family relationships—I'm very close to my family. I'm married to a wonderful man who is so supportive in my business choices and is always here to help us. My husband's name is Joe. And I'm proud of achieving what started off as an idea—to see it come alive and transpire into things that I couldn't necessarily be prepared for. I think that is ultimately so rewarding in anything you do in life—just to start with an idea and to actually have an end result and see the idea become alive. I love that about business.
What has been your biggest obstacle and how did you overcome it?
I think one of the biggest obstacles of doing business in general in B.C. (was) the change in policy for GST. That absolutely changed the face of business. That, I think, is a huge challenge and I don't think we have overcome that as small business in our province.
I think another challenge that we face with small business on the grand level is our tariffing policy. When I import something from California that has been imported, say, from India—never mind the shipping cost, but those tariffs (make everything difficult). So when people talk about cross-border shopping, it's a bigger scale than that. When something lands in North America, what the Americans pay and what we pay when it lands in Canada is astronomically different. It's not that a small retailer is gouging their customer. It's our tariffs . . . and that has been a challenge. It's also hard as a small business to compete with the bigger stores because of those tariffs.
On a smaller scale, in day-to-day business, I would say it's difficult to build a brand. The cost of advertising is expensive, so you look to social media—but not all of our customers use social media. It's difficult to know where to spend your dollars and where you get the biggest bang for your buck.
What advice would you offer to someone who's shopping for the perfect item?
I'm driven on passion, which isn't always a great thing, but when I'm making a buying decision for my store I always say if it doesn't get me in the first ten seconds then I won't buy it. I think when you're making that purchase, whether it's for a girlfriend or for yourself, you have to love it. You should treat yourself in such a way that you love (your purchase), and if you're buying for someone that you love you should buy something that you're passionate about.
Tell me about what you most enjoy in your work.
It's always a challenge to find new and current inventory, and I love that challenge. I love the hunt and I love the end result when it sells and you know you've made the right choice. For me, that's huge. I love that every day is a new day. We can change our space and make our store look different every single week, and I love that. I thrive in that type of environment, where it's always different.