Kevin Maffoli
The pro at Christina Lake Golf Club has a lifetime investment in his sport and his community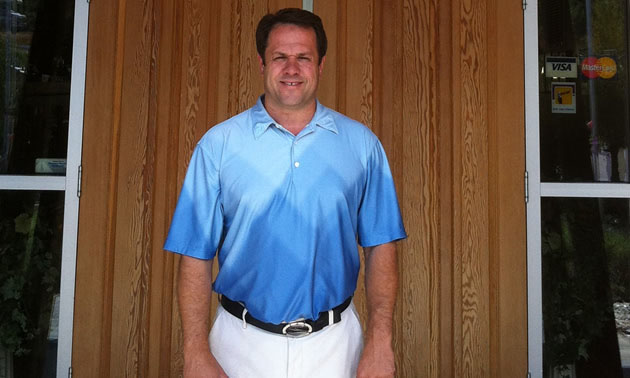 Kevin Maffioli, the manager and head golf professional at the Christina Lake Golf Club (CLGC), began his career in golf doing odd jobs at the Fernie Golf & Country Club at the tender age of 12. He continued to work at the club while he was taking the professional golf management program at Lethbridge Community College.
"I worked in Fernie under Doug Robb until 1997, and then came to Christina Lake as the head golf professional under Carl Yelland," Maffioli said. "I took over management of the operation when he retired in 2000. My entire work life has been spent at golf courses. It's been 32 years and I've never wanted to do anything else."
Kootenay Business is including Maffioli on its 2014 list of Top 10 Kootenay business people.
What do you like best about your job?
I like the people—nobody comes to a golf course to have a bad time. The Christina Lake Golf Club is a member-run non-profit society, so in effect, I work for the communities of Grand Forks and Christina Lake. That's an important part of my focus every day.
Does the Christina Lake Golf Club have a claim to fame?
We're the only golf course for Christina Lake and Grand Forks. Besides the lake itself, the golf course is the main tourist draw into the Boundary region. We see over 35,000 players a year, and that makes us the busiest golf course in the Kootenay region. We work with the chamber of commerce and the hotels and restaurants, and we run a lot of big tournaments here including the largest men's open in the province. They're a big economic boost to the community and allow us to show off our area.
We have 46 staff at peak season, including restaurant staff, the pro shop and the grounds crew. We employ a wonderful staff and my management team does a great job.
What's the greatest character strength that you use in this job?
I care. I do my best to do my best at everything in this job. It's important that everyone who comes in the door—staff or members or visitors—is treated really well and fairly.
What inspires you?
The staff and guests inspire me to be the best person I can be and do the best job I can for them. Generosity, honesty and kindness are at the core of how I want to be. I'm strong with numbers and organization, but without people you have nothing.
What's your most important achievement?
Besides being a dad, which is the best thing in my life, it's the success of this operation that makes me proud. We were named Kootenay North Golf Facility of the Year three times (2004, 2008 and 2014) by the BCPGA. Probably the biggest honour for me happened last year when I was named B.C.'s Golf Professional of the Year by the PGA of B.C. That's recognition that comes from my peers, so it's huge. I couldn't have won that award if we weren't all doing a great job here at the club.
Have you faced obstacles in your work?
Convincing the membership that it would be worthwhile going into debt to change from a strictly 18-hole course to two nine-hole courses, and that it would pay for itself, was not easy. We made that change in 2002 and it's been very good for business.
Can you offer some tips to someone aspiring to do what you do?
If you want a career as a golf pro, get your education. Take business courses and marketing courses—learn everything you can. Being a golf pro is a lifestyle that's built on a strong education and experience and love of the game.