Jim Ogilvie
Mayor Jim Ogilvie, first elected as Kimberley's mayor in 1972, has dedicated his life to public service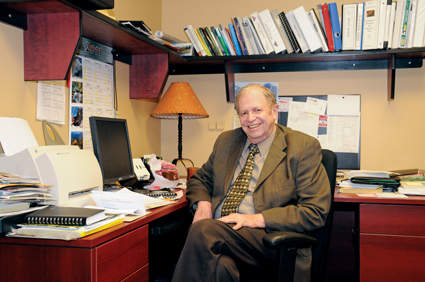 There are two types of people in politics: those who dabble and those who dedicate their lives to public service. Mayor Jim Ogilvie is definitely one of the latter.
Ogilvie was first elected to the mayor's office in 1972 and has only sat out one term since then. During that time, he has used skills he first honed in business.
"You have to run your community like a business," said Ogilvie. "You have budgets; you have to have ideas and pursue them."
Those ideas can take a lot of time and planning—sometimes years or even decades to reach fruition. Think of the decommissioning of the Sullivan Mine, which led to revisioning Kimberley's future as a tourism destination and the recent construction of the Kimberley Conference and Athlete Training Centre.
"We know that conventioners spend approximately four times what a tourist does so it will be good for business," said Ogilvie.
But Ogilvie emphasized that it's the people who dedicate their time and energy who are truly responsible for the community's profile.
"I always look at it this way," he said. "The person who works in minor hockey or minor ball or any volunteer organization is just as important or maybe more important than the mayor, because that's what helps your community to survive."