Jill Bentley-Lobban
The manager of Kimberley Centex Market is bringing the business her parents have owned since 1986 to a new level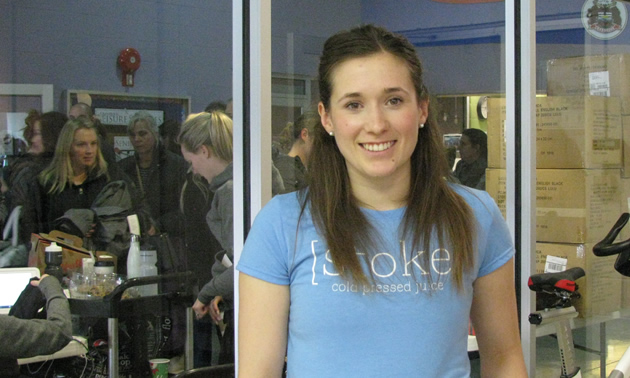 Jill Bentley-Lobban, 26, is a hard worker with passion, drive and a lot of ideas. That is probably the reason why the family business she has been managing for the last two and a half years is booming.
In 2014, Kimberley Centex received the local chamber award for excellence in environmental stewardship. More recently, this market and fuel station was named Kimberley's Business of the Year for 2016.
Eager to grow the business (organically, of course), Lobban is always on the lookout for new, locally sourced products. Her research into nutrition has led to the creation of Stoke Cold Pressed Juice, which is distributed in Kimberley and Cranbrook.
For 2017, Lobban has many more projects on the go. She wouldn't divulge any details, but assured Kootenay Business that her family's commitment to support local companies and supply fresh produce whenever possible will remain unchanged.
In a recent interview with this Top 10 businessperson of the year, Kootenay Business learned more about what makes her tick:
What's changed in your business over the years, and what hasn't?
People have helped changed our business. How important it is for people to eat local and organic, and how much more they care about health and what goes into their body has allowed us to develop our business. I think what hasn't changed is our passion for food. My family and I really care about good food. Everything that is on the shelves in our store are things we would eat. I think there is a level of trust that comes with that. And I think that has always been how we are and will be.
What practical advice do you have for entrepreneurs?
Make sure you are passionate about what you are doing because it's never going to be easy. So just make sure at the end of the day that you really love it so that you have that to fall back on. And surround yourself with good people.
How do you challenge yourself daily?
I really worry about becoming stagnant. I challenge myself by always trying to be better—trying to bring in new products or trying to spend time talking to people and listening to what people are asking for. Or just trying to be a better manager, like spending time listening to my staff. Above and beyond all these remedial tasks you do every day is the greatest challenge of trying to be better at your business and yourself as a whole.
What personal strength of yours has contributed to the success of the business?
I think just my passion for good food and for people. I really enjoy being around people and I think that's been a great asset for me.
What's the biggest risk you've ever taken?
I think the biggest risk I've ever taken is being self-employed and not going back to (university) because you have nothing to fall back on. It's do or die. You need to make it work. And I think part of the fun is having this opportunity to take risks every day with an educated guess that they are going to work out. Sometimes they don't and I guess that's part of the fun.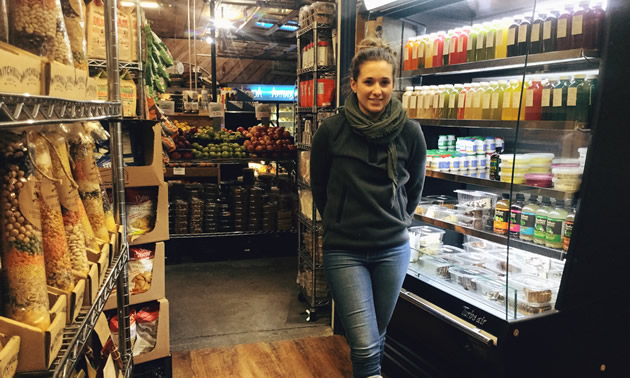 What's something interesting that not many people know about you?
I don't know if many people know that I rock climb. Before I broke my ankle, I was also teaching spin classes at Kootenay Life Cycle in Cranbrook.
Who do you admire, and why?
One of the ladies that works for me, her name is Brodie, and she helps me manage the store. She's amazing. She's just one of those people that helps keep me grounded through the chaos of having a small business, and I think she's one of the people I admire the most. And then my parents for how hard they work and how much effort they put in. They are incredible people and they are amazing at what they do.
What book would you recommend?
The manager of the ski hill here recommended it and it's called The E-Myth Revisited (by Michael E. Gerber). It's a book about why most small business don't succeed and what to do about it. It's interesting, a little dry, but it's definitely helpful.
What is your definition of success?
What I think of as a successful business is something that you can afford to support your family and do all the things you want to do while still loving your business and being passionate about what you are doing. It allows you to have it all.
Is there anything else you'd like to add?
How appreciative I am of my parents' support, because I have all these ideas, all these crazy things that I want to change all the time and they love being involved in it. And they are just super supportive of being a part of it. They could easily want to step back and retire, but they are amazing at what they do. They've had a small business for so long that I really respect what they do and all their knowledge.