Gord Demaniuk
Fernie Brewing Company's head brewmaster, Gord Demaniuk, has a passion for brewing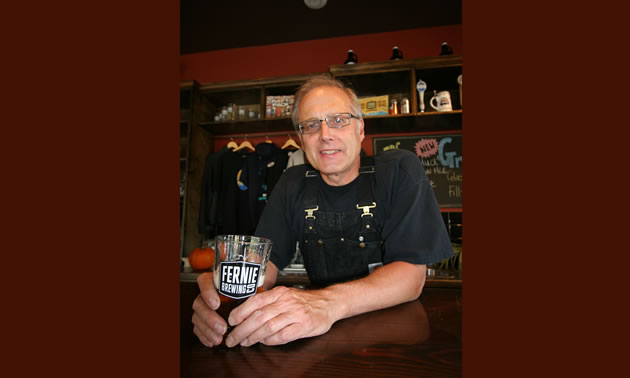 January 2013 officially marks 10 years since the first beer went out the door at Fernie Brewing Company (FBC), and this year is set to be another strong year for FBC, with a recent extension to the existing brewery, new tanks and seasonal brews in the works.
Gord Demaniuk is the head brewmaster at FBC. Demaniuk said brewing is his passion and he's been directly involved in the industry for over 35 years.
"There are really several aspects of the job I enjoy," said Demaniuk. "I have to say developing a new brew style really gets my creative juices flowing. I also really enjoy working with our staff and my role in mentoring them in their professional development. Implementing expansion plans and other improvements are also very satisfying, but finally seeing people enjoy our labours is also up there."
When we caught up with Demaniuk in mid-December, he was excited to tell us about one of his latest brews—the limited-release Black Mammoth Winter Ale.
"Our most decadent brew yet—a rich, strong winter black ale," said Demaniuk. "A healthy addition of chocolate malt, plus infusions of dark organic cocoa and curacao orange peel provide unique flavour. Extra aging on oak adds smoothness and complexity."
FBC also saw huge success in 2012 with winning the Fernie Business of the Year Award on October 25, 2012, at the Fernie Chamber of Commerce Community and Business Excellence Awards ceremony.
"We certainly couldn't do it without the ongoing support of local businesses and individuals," said Abi Moore, FBC's marketing guru.
As for Demaniuk, he's excited to keep on making the best beer he can in a community that he absolutely loves.
"I moved to Fernie because I really wanted to get involved with a first-class, growing craft brewing operation and contribute to its success," he said. "Fernie, and the Kootenays in general, is a great place to live."