Eric Scarcella
Guests of the Swiss Chalet Motel are inspired to post compliments online about the motel's high standard of service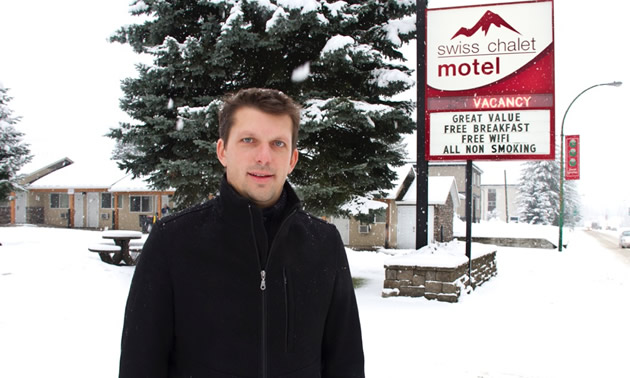 Eric Scarcella of Revelstoke, B.C., said that the experience of working long hours in his father's restaurant as a youngster was good preparation for him in his present business. With his father's encouragement, Scarcella bought the Swiss Chalet Motel in central Revelstoke in 1995.
Kootenay Business is including Scarcella in its list of Top 10 Kootenay business people for 2014.
What's one personal character trait that contributes to your success?
I really enjoy the social aspect of this business. I'm a people person—I enjoy communicating and interacting with people.
What most drives and inspires you?
My need to always improve, to be better and to grow, and to hopefully be a good example in the community. I have a lot of energy and I like to research and investigate what other successful businesses are doing and what the trends are. Those things get me excited and keep me on track and focused.
I also love getting to meet people from all over the world—it's always interesting and often reminds me to appreciate what we have here in Canada.
What are your achievements that you're most proud of?
My wife and two great kids are a huge part of what I'm proud of, and the fact that I get lots of support from the community is something that means a lot to me. When other businesses refer their customers to us, it validates what I'm doing.
Can you tell us about a business obstacle or challenge that you've faced?
Before Revelstoke Mountain Resort opened, things were a lot tougher—the business we did in the summer had to carry us through the winter as well. We had to lay off staff in the fall, and we ourselves had to pick up the housekeeping and other jobs. Now, with the success of the resort, things have improved a lot. We have two solid seasons that allow us to employ more people, do more marketing and research, build relationships in the community and have more of a family life.
What's your own criteria for picking a good motel?
I look for good reviews—feedback from the guests is important. The place certainly has to be clean and offer something worth a positive comment. I like to be a repeat customer and I like being recognized as a repeat customer.
Can you tell us a bit about your community involvement?
I sit on three boards—the local accommodation association, the infrastructure committee and minor hockey. Previously, I sat on the chamber of commerce board and the Revelstoke Snowmobile Club board. I'm also an RCMP auxiliary constable and I coach hockey. I know how important it is to help out in the community, and I strongly believe in doing that.