Dr. Rebecca Kolbenson
Dr. Rebecca Kolbenson supports vision in Golden, B.C.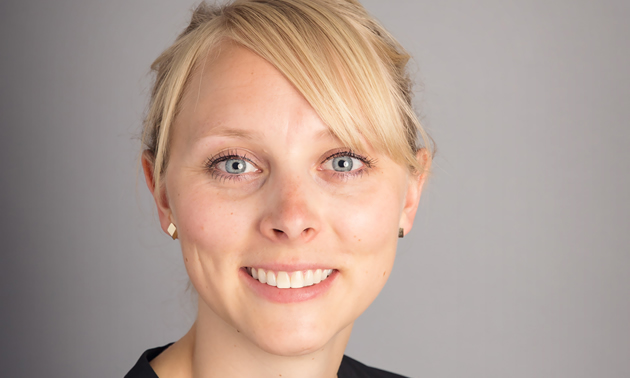 Dr. Rebecca Kolbenson, formerly of Tisdale, Saskatchewan, moved to Golden in 2013 when she bought the Golden Optometric Clinic. The clinic recently received the 2017 Professional Service Excellence Award from the Kicking Horse Country Chamber of Commerce.
Kootenay Business magazine lists Kolbenson among its Top 10 business people for 2018.
What attracted you to Golden?
I'm from a small town in Saskatchewan so I knew I wanted to work in a small town. The opportunity came up to own the practice in Golden and we jumped at it.
What personal trait do you consider to be your greatest strength?
I find optometry very rewarding. There's nothing better than seeing someone try out their first pair of glasses and realize what they've been missing out on. I care about my patients and people appreciate that because I'm always following up to see how they are doing. I'm also big on patient education. I think it's important to raise public awareness for eye health issues and their impact in our community and in places less fortunate.
What do you think is the main reason you received the chamber's Professional Service Excellence Award?
I think people enjoy coming into the clinic—they are always greeted with a friendly face. We try to go out of our way to provide excellent customer service. We have been known to deliver glasses to people's houses and contact lenses to the rink when people are in a pinch. We will stop in at the long-term-care home and clean glasses, change nose pads, tighten screws and do any repairs that are needed. The staff are a big reason why we received this award. They always do their best to solve issues and help everyone with their vision needs.
What's changed in your business over the past four years, and what hasn't?
We've upgraded a lot of the technology. The biggest changes have been moving to electronic medical records and we've added an OCT (scanner). This means that people from our community no longer have to travel three hours to have a five-minute scan done like they used to. It's saved people a lot of time and money. It's also allowed us to co-manage more patients with specialists in surrounding areas.
What hasn't changed is our commitment to patient care. We put our patients first and try to provide the best quality care.
What's one workplace accomplishment you're extra proud of?
I'm proud of our team. They are all certified optometric assistants or opticians who work hard to keep up with the industry's latest changes. They treat our patients with respect and make sure everyone leaves with a smile. They make every day run smoothly and never shy away from challenges.
I'm also proud of our community. Golden is full of people who like to give back. For the past couple years we have been going to provide eye care to people in less fortunate places like Africa, Nicaragua and Guatemala. The community donates old glasses, new reading glasses, clothes, toys, school supplies and so many other things. It's just amazing!