David and Corey Spring
Buying their own car dealership was an obvious choice for David and Corey Spring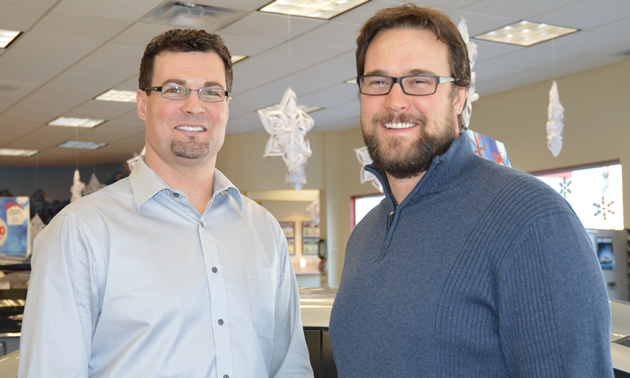 When Corey Spring left his career in pro hockey in 2004, he returned to Cranbrook. His dream of being a physiotherapist was just a memory, and he allowed his younger brother, David, to persuade him to try the car business on for size. He was pleasantly surprised at how much he enjoyed the business.
After working together for a few years at a number of dealerships—and weathering the economic bust of 2008-2009—the brothers purchased the local Honda dealership, renaming it Spring Honda.
"Honda had a great reputation and some exciting new products, so it was good timing for us," said David. "Our partnership was a great fit right from the beginning, because we have different strengths and we support each other. It's great having a family member as a partner, because each of us knows absolutely that our interests are being protected even when we're not at the office."
Important factors
The brothers agree that family life has become more important to them since their children came on the scene, and they spend pretty well all of their off-work time doing family activities and supporting community causes.
Corey said that his years as a hockey player in a team environment gave him training that is valuable in his position as sales team leader. The atmosphere in the Honda showroom is refreshingly pressure-free—no one is waiting to pounce on the unwary customer.
"The team attitude is what makes us all work together so well," Corey said. "Staying positive, doing continuous training and looking ahead is something that we all work at. Our staff is a really good group of people who work well together. They seem to have the same focus, embracing the customer service attitude that we encourage, and we're doing well because of it."
Receiving accolades
Doing well, indeed. The Spring brothers were jointly named Business Person of the Year by the Cranbrook and District Chamber of Commerce in April 2013, and also won the chamber's annual award for customer service excellence. It follows naturally that they would have a place on Kootenay Business magazine's annual list of top 10 businesses in the Kootenays.