Charmaine Richter
Tenacious ambition has propelled this sales and marketing director to be a Top 10 Business Person of 2019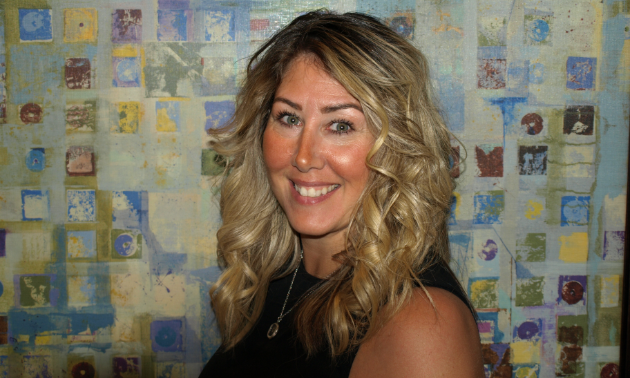 Copper Point Resort in Invermere is being sought out more and more by eager Albertans and British Columbians looking for a relaxing getaway. In the past year, it has been awarded the 2018 Business Excellence Award for Tourism and Hospitality at the Columbia Valley Chamber Business Excellence Awards and the 2018 Best of Business Bronze Award for Best Kootenay Getaway by Kootenay Business magazine.
Even in a down economy and having to deal with the past two summers of forest fires, Copper Point Resort's business is over $8 million and maintains an 85 per cent repeat group base and 65 per cent repeat leisure base while retaining year-round frontline staff during the shoulder season, which is now full on weekends.
If you're looking for a reason for this business's remarkable success, look no further than Charmaine Richter, Copper Point Resort's sales and marketing director. Under her guidance, the business has reached new heights of awareness and adoration. Richter's seven years with the company haven't been all sunshine and rainbows, but thanks to her dogged determination and fierce perseverance, she has managed to direct vacationers' attention to the tippy-top of the best-vacation-ever mountain—Copper Point Resort.
Why did you choose this line of work?
In 2011, I was headhunted by Atlific Hotels to be the area director of sales and marketing for their Rocky Mountain properties: Lake Louise Inn and Copper Point Resort. I built a sales team and oversaw both properties until 2014, when the decision was made for Copper Point to have it's own sales team and I chose to stay with Copper Point.
What is your proudest accomplishment?
Seeing Copper Point where it is today. Seven years ago, no one knew anything about this magnificent resort. During our first three winters, I'm sure we could've closed one entire wing of the resort. In the summer, you would have no problem finding rooms on any given weekend. For staffing, we pretty much let all frontline staff go right after the summer and our managers helped to keep us going over the winter. In the early years, it was tough attracting business, retaining staff and offering a positive guest experience.
No matter how hard it was to attract business, we never gave up. We relied heavily on grassroots marketing to raise awareness of Copper Point. Having a remote sales team working who is familiar in the marketplace (Calgary) gave us the advantage we needed to attend events, knock on doors of prominent businesses and have that face time to establish relationships that would ultimately raise the awareness of Copper Point to help us become a premier destination in the Columbia Valley.
Having a not-afraid-to-fail team attitude and throwing ideas to the wall to see what would stick have made Copper Point overcome large barriers of entry into the marketplace to make us the top resort we are today.
What's the biggest risk you ever took?
Career wise, deciding to just oversee Copper Point Resort and drop Lake Louise Inn, which is the easier sell. At that time, Copper Point was really struggling and our owners demanded results within a short period of time. It was the first time in my career when I felt if I could not produce results my job was on the line.
At what point did you have real, tangible evidence that your business was going to make it?
After the first year of being with only Copper Point and the owner called the team to say a simple, "You guys did great this past year!"
What's changed in your business over the years, and what hasn't?
What has changed:
Competition has increased with all short-haul destinations in Alberta and B.C.'s Interior in attracting visitors. With Alberta's down economy, we have to work harder to show why a family needs to chose us as the destination to spend their time and disposable income in. Families in the past may have taken three to five short-haul trips in a year or season. The last couple of years, that number has dropped and families are taking fewer trips.
They want one that is going to give them the most value for their money. Which is why value add and your authentic self are more prevalent than ever before. Price isn't necessarily the driver anymore. A low rate could just be that, a low rate where you pay for what you get. What we find our guests are looking for is an experience or value add. We need to sell the destination by showcasing all the wonderful things you can do year-round in the area and then sell them on staying at your property.
A business must be authentic to what it can offer to make it the best experience possible. You cannot say or show you are a Lamborghini when you are a Kia. You have to know your business, what you can offer and what your destination can offer. Then you must know your guest and create something they want. You cannot be everything to everybody.
What hasn't changed:
Knowing you have the responsibility of creating a memorable experience with each guest who walks through your door—no matter what.
What's something interesting about yourself that not many people know?
I love Halloween and anything scary or paranormal.
What is your superpower?
I could save you in a zombie apocalypse!
What book/podcast/blog do you recommend?
5 Habits of Highly Successful People by Stephen Covey. I have read it three times. Every time I read it, I learn something new about myself that I can apply to both my personal and business life.
Finish this thought: Success is . . .
Not being afraid to fail or share ideas when you are unsure of the outcome.