Bob and Heidi Evans
It's like a movie script: boy meets girl, they fall in love and get married, open up a burger shop and live happily ever after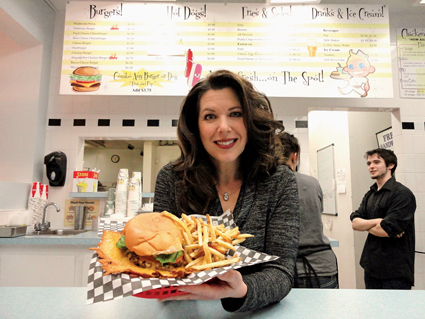 It's almost a movie script: big-city boy meets girl, falls in love and gets married, moves to small community, opens up a popular burger shop and lives happily ever after.
Bob Evans worked with Landmark Cinemas in Nanaimo as a senior manager. After almost 14 years, he and his wife, Heidi, decided they wanted to branch off in another direction entirely. They moved to Trail in 2009 and opened The Spot and Canadian 2-for-1 Pizza. While they had no previous connections in the city, they felt they were home in short order.
"Trail is very community oriented and so are we, so it's a nice fit," said Bob. "We've felt very welcomed since our first day."
Since arriving, their businesses have taken off. They spend most of their time in one or the other of the restaurants, and while their early success comes from hard work, Bob said there's no great mystery to keeping customers happy.
"I think you do your best to give 110 per cent on the product and the customer service," said Bob. "You need to have a clean, fun, happy atmosphere. Your staff have to be happy and well managed because if they're not, they're not giving good customer service and neither are you."