Partners in strength
Complementary abilities and interests combine to make a strong business partnership at Spa 901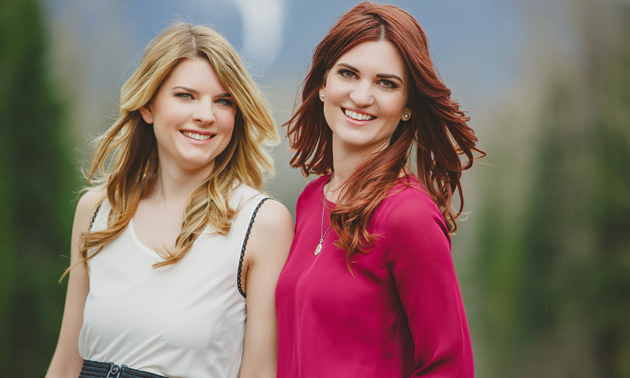 Laura Oleksow, who was born and raised in the Crowsnest Pass, and Jessica Riley of Queensland, Australia, are co-owners of Spa 901 in Fernie, B.C. The two were hired at the spa in 2013, Jess as a spa practitioner and Laura as the spa director. In the summer of 2014, they bought the business from Shelly MacGregor and they have already become a noteworthy business force in Fernie.
Riley and Oleksow share a 2015 Influential Women in Business Award from Kootenay Business magazine.
You've made a name for yourselves in the community really quickly.
Jess: We were blown away and very grateful for the nomination. The best part was the response from our team and Shelly, our mentor, when we told them the news. We have a team of 14 fantastic females to share our achievements with—they have kept us motivated and inspired along every step of the way.
Who were the influential people who shaped you as businesswomen?
Laura: I have two main mentors. When I began working at Spa 901 I had never been in the health and wellness industry before. The owner at the time, Shelly MacGregor, had faith in my management abilities and really guided me in a positive direction. She's such an inspirational and successful businesswoman, therefore learning from her was a pleasure. During my years in Toronto, my business skills were shaped by my immediate superior at the time, Craig Milne. He was one of the first people that I called when the proposition of acquiring this business was given to us, and he has always been a great source of advice.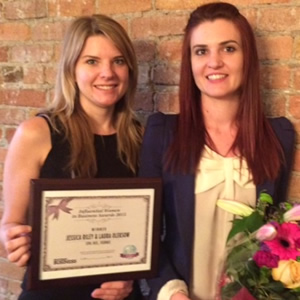 Jess: Shelly has played a huge role as a mentor to both Laura and I. She's a beautiful woman with an abundance of strength, guidance and advice to share. The other inspiring female in my life is Sue Collins, who was my beauty academy principal in Cairns, Queensland. I was very fortunate to have her educate me through the program that laid the foundation for my career pathway. It's been 10 years since Sue saw me graduate, and to this day we remain in contact. I can always count on her industry advice and guidance. She has inspired me to want to follow in her footsteps, to become a leader, educator and mentor in the health and wellness industry.
How are you influenced by receiving this award?
Laura: It drives me to want to do more within the community. I feel as though we've influenced the people that we work with and a few others within the industry, and now I'm looking for opportunities to expand, in order to contribute more from a collaborative perspective with other businesses and key organizations within Fernie.
Jess: With us only taking the initial steps into our venture, we are certainly overwhelmed with all the positive support from the community, our clients and team—it keeps us driven and enthused to want to stand out and provide the very best. On this journey Laura and I are always reflecting on our mentors' attributes and traits. We set out to be a 'Shelly' and a 'Sue' and have that kind of influence on our staff, clients and members of the community.
What's your definition of success?
Laura: Success means being able to do a job that I love—one that I can grow and support myself in. It is a great feeling to have found an industry that I want to keep advancing in, and I'm truly happy in my career. It's not so much about making a ton of money, it's about being happy in my work and my industry, and eventually being able to mentor others around me so that they can reach their definition of success.
Jess: Success is about finding happiness and fulfilment in your chosen path. In the pursuit of success all the people, opportunities, challenges and rewards encountered along the way act as special stepping stone to get you to where you want to be.
Laura: The partnership works well because Jess and I are so different in our skills and abilities and it's blended into a great operation. We complement each other 100 per cent and it's worked out great for us.