Katherine Spring truly cares
Katherine Spring of Arch Allure Microblading describes her superpower as empathy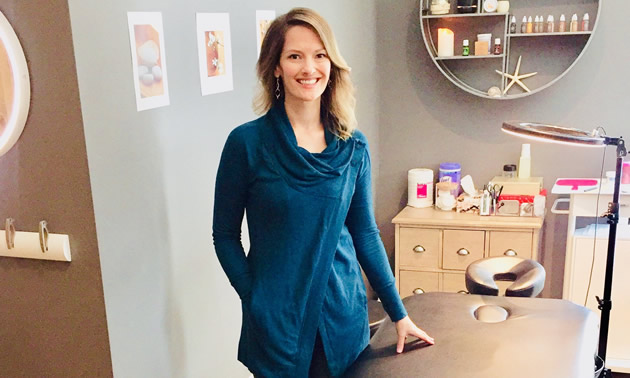 "I truly love what I do and do what I love."
That's microblading specialist Katherine Spring talking about Arch Allure Microblading, the company she started from scratch in Cranbrook, B.C., and which has been warmly welcomed by many satisfied clients.
"I am immensely proud of the many glowing reviews I have received from my amazing clients," said Spring. (Check out her Facebook page to read some of those comments.)
"I pride myself on being a detail-oriented, genuine and passionate person both in my personal life and in my business life," Spring said. "Helping others feel better about themselves brings me great joy and satisfaction—it is important for me to take time to understand my clients' needs and specific situations before engaging in any microblading work."
Microblading is described as a semi-permanent tattoo technique used to create the illusion of fuller eyebrows. Spring was pleased to tell us a bit more about her business.
What's something that happened in your business or career recently that was cause for celebration?
A recent cause for celebration is being nominated for both (Kootenay Business magazine's) Influential Women in Business Awards and the Cranbrook Chamber of Commerce Business Excellence Awards (Spring was the 2019 winner in the latter awards in the category of Professional Services Excellence). I am deeply honoured and humbled to receive these nominations.
How do you give back to your community and motivate others?
I have a soft spot in my heart for the plight of cancer survivors, alopecia sufferers and burn victims; this is why I donate my professional services to them free of charge. I am registered with the Canadian Cancer Society and the BC Burn Fund Centre.
I also give back to the community by donating microblading service certificates to many local fundraising events. (These include auctions, raffles and the like for such groups as Cranbrook Community Theatre, local sports teams, local businesses' ladies nights and the Believe in the Gold gala/fundraiser for cancer research.)
What's your superpower and why?
My superpower is empathy. Putting your face in someone's hands is not an easy task by any means, especially when that someone will be altering your face. I understand this wholeheartedly as I have experienced many surgeries and do not take (the microblading process) lightly. My passion and compassion are indeed strong roots of my empathy superpower.
In terms of your career or business, what are you most excited about for the future?
I'm excited to see if there's any way possible that I can somehow sprout or initiate this service being covered somewhat by medical insurance for cancer survivors, alopecia sufferers and burn victims. I know it won't be fully covered, but if I can help start some tiny piece of it, that will be a huge accomplishment to help people either province-wide or nation-wide.