Jakki Van Hemert defines success
Hard work, self-discipline and generosity have made Jakki Van Hemert an influencer in the community around Fruitvale, B.C.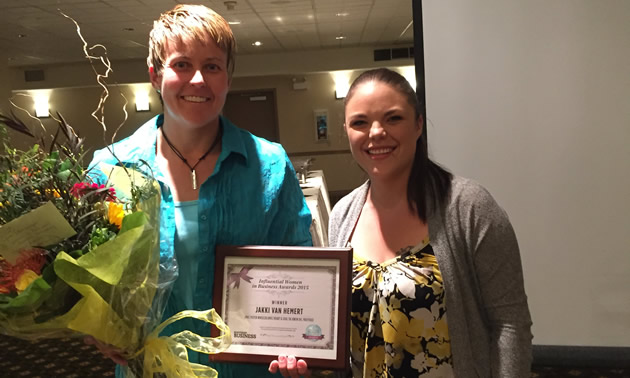 Jakki Van Hemert is the manager of construction at the Teck Coal smelter in Trail, B.C. She works for AMEC Foster Wheeler, an engineering firm in the mining and metals sector, and by any standards, Van Hemert has achieved success in her work.
Based on nominations from her community of Fruitvale, B.C., she has received recognition from this magazine, numbering among the Influential Women in Business Award recipients for 2015. Those nominations were primarily related to her after-hours business, Heart and Soul Tae Kwon Do in Fruitvale, where she teaches martial arts.
We spoke with Van Hemert about what she's learned from the discipline of martial arts and how she has become a person of influence.
Was there someone specific who helped to shape your career choice?
I grew up with brothers, and my dad is an electrician who owned his own business, so I've always done whatever the guys were doing. I've always had a knack for fixing things and being out in the field.
What attracted you to martial arts?
It's something that I took to easily and loved from the age of 15. It's the discipline and the individuality that I love, and it's what shaped me. I'm a fifth-degree black belt in Tae Kwon Do, Kukkiwon-certified from Korea, and a third-degree black belt in Hapkido. I also teach Insanity Fitness, a group workout program.
I don't do this to make money, in fact we've lost money for the two years we've been open. My day job pays the bills and I do enjoy it, but I do the martial arts because I love it.
What have you learned from martial arts?
You learn respect for others and for your body, to be humble, to not give up and to push yourself. My day job is super chaotic, and I have to maintain my composure and trust my knowledge and my people. The martial arts teach you to control your feelings—to be level-headed and respectful.
Which of those qualities contribute to your ability to influence?
I think the biggest thing for any leader is to have a level head, to maintain your calmness and be respectful of your workers. You have to be educated and know what you're talking about, you have to be empathetic and treat everyone with respect.
How does knowing that you're seen as influential influence you?
I think it drives me to work harder. Teaching martial arts is my second job, and there can be days when it's hard to show up for it. What drives me is seeing the kids learn and change and open up. Some of them used to be shy and isolated or have special needs, and now you'd never know it. Martial arts is a good place for kids who don't fit in with a team environment.
I did an anti-bullying seminar series recently at the Fruitvale school—Martial Artists Against Bullying—and I've had great feedback from the parents and from the school. We're hoping to roll that out into other aspects of the community.
What do you think it takes to become a leader or influencer?
Be willing to work your butt off. You have to be willing to get the education and training you need to get yourself to the next level. You have to be willing to take chances, to be resilient and flexible. You have to be thick-skinned and willing to make sacrifices. Having a supportive partner like my husband makes a great deal of difference. Often success depends on work ethic and attitude and your own definition of success.