Gina Medhurst follows her heart and her training
Her business training and love for the creative spirit combine to make Gina Medhurst a valued asset in her artistic community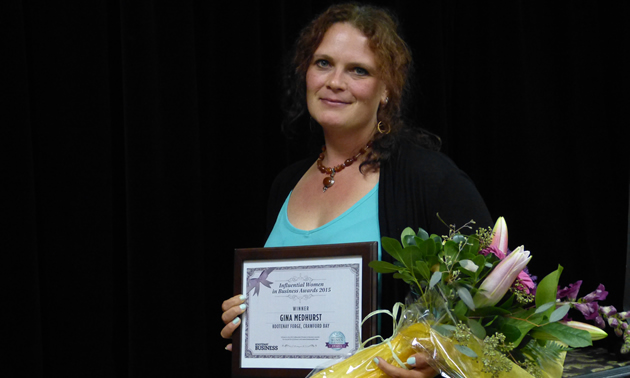 "This business looks much different from what my dad envisioned at the beginning," said Gina Medhurst of Kootenay Forge in Crawford Bay, B.C., "but it's a success, and we're proud of it."
Medhurst's close affinity for the creative spirit and her formal business training equip her to achieve success in her own business and to provide practical support for the artists and artisans in her community. Her support is certainly appreciated—she was named one of Kootenay Business magazine's Influential Women in Business for 2015. We spoke with Medhurst about the development of her role in her community.
How did you come to be a woman of influence?
I think our influence has been to demonstrate that if you want to make a living with your art, it is possible. Not easy, and not a million-dollar maker, but we do make a living and we're blessed to be able to do it here. We've created possibilities—not easy in such a small community.
Can you tell us a bit about how that came about?
In the beginning, there was only Kokanee Springs Golf Course and Kootenay Forge on the east shore of Kootenay Lake. We invited FireWorks Copper & Glass to join us, followed by Breathless Glass, Barefoot Handweaving, Dog Patch Pottery, La Gala Jewelry and others. They saw what we were doing and decided that if we could do this, so could they. From just four artists, we now have nine.
What do you think makes your influence valuable?
I love creativity, but I have more of a business approach. Other people come up with ideas, and then I implement them. Having a business perspective is useful. Compliance with business regulations, having a business plan and business bank accounts are all essential to business success, even in the arts. That's what I really enjoy—guiding that creative person through the administrative side of business, making sure they are operating legally and maximizing the tax exemptions and other things that might be overlooked.
Do you have a piece of advice for someone embarking on a business?
If you're passionate about something, keep going. Expect success, but if you have difficulties, learn from them. Keep the vision in mind but be flexible with your process.