Fantastic females
We salute the nominees in our 2019 Influential Women in Business Awards for their phenomenal commitment and energy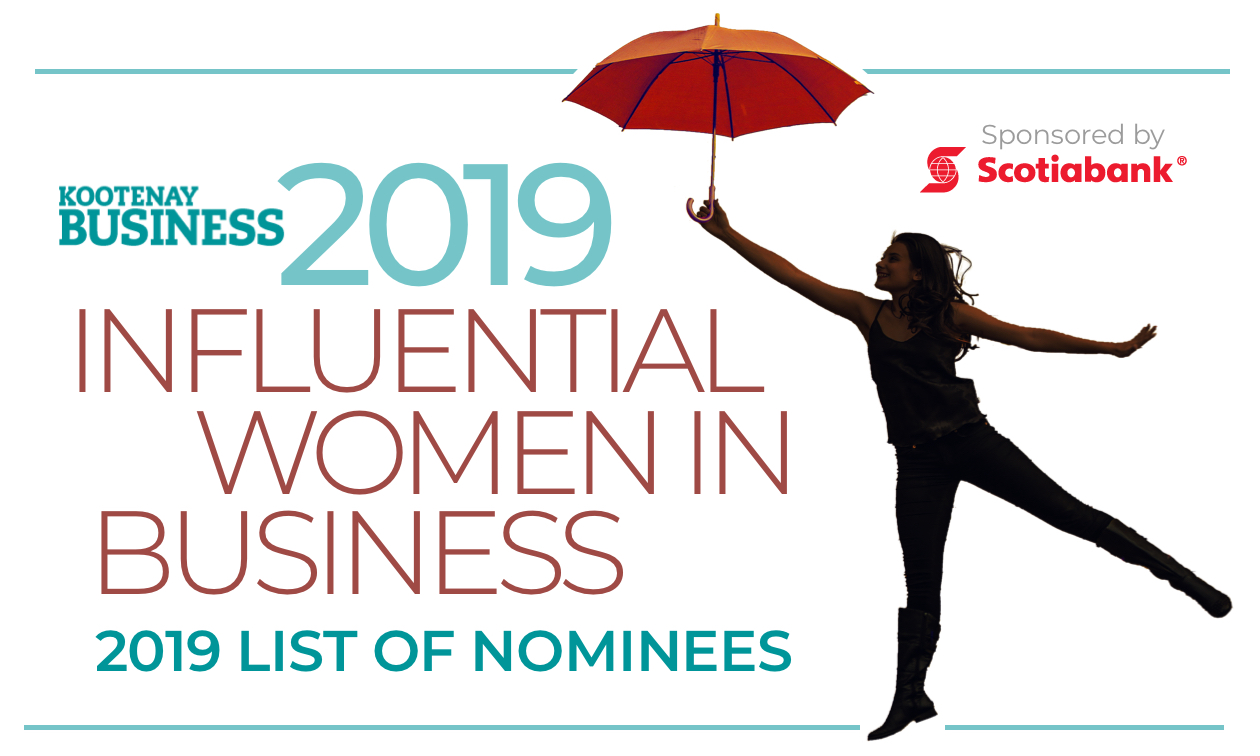 We are proud to introduce the Influential Women in Business Award nominees for 2019. These women are some of the brightest stars in their business communities. Each one goes above and beyond her call of duty, working to grow her own business venture as well as supporting and lifting up others in her community.
Here are our nominees for the 2019 Influential Women in Business Awards. The quotes, given in italics, are from enthusiastic people who nominated these women for our list.
West Kootenay
Trail
MARY AUSTIN,
co-owner
Austin Engineering
Reason for nomination: "In addition to running a successful engineering firm with her husband, Roger, Mary is also involved in many community activities. She regularly organizes and hosts networking lunches for local businesswomen and gives back to the community regularly both in terms of time and money."
Castlegar
NATALIA PACHECO,
owner
Gravi Tea Coffee & Toys
Reason for nomination: Natalia has built a business from the ground up and continues to excel in bringing her community up with her. She runs workshops, info sessions and events for other businesses, and brings in products from other local entrepreneurs.
Castlegar
MEREDITH MESSETT,
owner
Rest Assured Kootenay Floats
Reason for nomination: Meredith excels in helping others get healthy and has done so throughout her adult life. She has training in coaching, fitness leadership (aquatic aerobics and personal trainer) and the Yuen Method (energetic corrections), and is also a registered yoga teacher and Reiki master.
Rossland
ALICIA GRAY,
owner
Bombshack Apparel
Reason for nomination: "Alicia is a strong pillar in her community of Rossland. Alicia is always friendly and helpful! She works very hard and is full of current ideas. Her enthusiasm for the younger crowd is not only encouraging but contagious."
Trail
KRISTA GUDEY MARINO,
owner
Luca Hair and Esthetics
Reason for nomination: Krista owns a Green Circle Hair Salon that offers esthetic services, microblading lash extensions and more. Her business took home a business excellence "Go Green" award in 2018.
Grand Forks
REBEKAH TEBRINKE,
owner
PV Ranch Adventures
Reason for nomination: Rebekah is the manager and owner of an award-winning business where guests retreat to the backcountry for cozy escapes, fancy weddings and fun-filled adventures.
Nelson
LEA MARTIN,
co-owner
Marzano Pizza
Reason for nomination: Lea and her partner, Ryan, have flipped their previous restaurant on its head to create a brilliant new Neapolitan-style pizzeria in Nelson.
Trail
DARLENE ABENANTE,
Realtor
Fair Realty
Reason for nomination: Darlene establishes deep connections and commitments to her clients that enable her to help them achieve their goals.
Nelson
YUKI KIANNA CONNE,
ceramic artist, owner
Yuki Kianna Studio
Reason for nomination: "She is a ceramic artist born and raised in Nelson who puts her love of this community and the land around it in every piece she makes."
West Kootenay
LEAH RASMUSSEN,
owner
Master of Me
Reason for nomination: "Leah launched (her life coaching business) in 2018, and it's had an immediate impact on the lives and health of her clients. Leah is down-to-earth and dedicated to the goals of each of her clients. She does this all while raising four young children, hosting two international students and consulting for a premium freeze-dried foods company all from her own home."
Castlegar
CHARLOTTE FERREUX,
CEO
Thrive Coaching & Consulting
Reason for nomination: "Charlotte provides high-performance coaching, leadership training and inspiration to clients globally. She's managed multi-million dollar operations/teams for other companies like Lululemon Athletica and has created a six-figure organization that has pivoted to being primarily online. Charlotte sits on the boards of directors for the Castlegar Chamber of Commerce, Community Futures Central Kootenay and Community Futures British Columbia."
Fruitvale
JAKKI VAN HEMERT,
owner, master instructor
Heart & Soul Tae Kwon Do
Reason for nomination: "Jakki works hard at everything she does, at work or at play. She has a full-time job, plus working at the Heart & Soul Tae Kwon Do gym in the evenings. She is an inspiration to everyone she meets or who enters her gym. No matter what struggles she has, she is always working hard and is always there for her family, friends and the Tae Kwon Do family."
Nelson
VERONICA MACLEAN,
owner
The School House Early Care and Learning Centre
Reason for nomination: "She runs a private daycare serving over 100 families in Nelson and employs 10-plus people. She always makes sure the needs of her clients are met and does a great job of supporting her staff by hosting monthly meetings and offering workshops."
Castlegar
SUZIE LaROSE,
owner
Suzie's Designer Nails
Reason for nomination: "Suzy is the best nail technician I have ever seen. Her salon is absolutely beautiful. She has all the latest and greatest colours, glitter and Swarovski crystals. Suzie is an amazingly talented artist, and I adore her and her business. I am so proud of her!"
Nelson
RACHELLE HART,
owner
The Hair-A-Van
Reason for nomination: "Rachelle loves helping people and always goes above and beyond. Her work means so much more to our community than just a cut and colour."
Nelson
MONICA CARPENDALE,
founder, academic dean
Kutenai Art Therapy Institute
Reason for nomination: "Monica has made a remarkable contribution to the community for the past 25 years through her work at the Kutenai Art Therapy Institute, a non-profit charity. Institute students and graduates go on to work in many social service agencies, local schools, seniors facilities, in-patient psychiatric hospital programs, educational programs for adults with special needs, residential tertiary-care facilities and community-based programs to support marginalized populations in the Nelson area."
Nelson
ELEANOR STACEY,
executive director
Nelson Civic Theatre
Reason for nomination: "Eleanor is bringing our community theatre into the 21st century. She is the driving force behind the three-screen expansion, having secured a one-million-dollar line of credit from the City of Nelson to help make those dreams a reality for us all. She is also the lead on the Kootenays budding Screen Based Initiative, which is bringing together regional SBI groups to collaborate and educate."
Castlegar
STEPHANIE JONES,
co-owner
PropertyGuys.com
Reason for nomination: "Stephanie is one of the most successful franchise owners. She is regularly winning awards with her company and is known to be one of the best at Property Guys.com."
Castlegar
DAWN ENGLISH,
owner
Diggers and Daisies Children's Consignment
Reason for nomination: "Because she's a great young lady! She owns a business, is a volunteer firefighter and helps her community in any way that she can. She's on the Sunfest committee, and every time I see her she's got a huge smile on her face. I love going into her store to browse . . . but mostly chat. She's very knowledgeable, intriguing and has many great stories. Her business helps families as any clothing that doesn't sell gets donated throughout the community. She has so much strength, courage and confidence, anything she sets her mind to gets done with 110% effort!"
Nelson
GABRIELLE PLAMONDON,
sales and marketing manager
West Coast Grill
Reason for nomination: "Gabrielle brings some great events that enrich our community like the annual Appetite for Art fundraiser for the Nelson & District Arts Council and her annual Kutenai Oktoberfest. She is the president of the Nelson Ultimate Frisbee Association and co-ordinates the annual ultimate frisbee tournament, which brings 200 people from around B.C. to our small town. She is involved with the Taste of Nelson fundraiser for the MS Society. Even with her new baby in the house, she keeps searching for more ways to be involved in the community."
Rossland/Trail
LILINA LYSENKO,
owner
Lysenko Law
Reason for nomination: "Lilina is a young lawyer who already runs her own successful firm in the West Koots. She is also a community leader, contributing to community events and fundraisers regularly."
Rossland
ENZA BOUTRY,
owner
Butch Boutry Ski Shop
Reason for nomination: "Enza is someone everyone should want to know. She was born and raised in Rossland and together with her husband built a well-known ski shop. She has owned and run her business for over 40 years. She also makes countless contributions to our local communities. She is a hard worker and is definitely the most influential woman. She is someone to look up to and aspire to be."
Nelson
JUDY BANFIELD,
owner
Mountain Baby
Reason for nomination: "After 25-plus years of running Mountain Baby, Judy is retiring. She is a very hardworking entrepreneur, and she has provided so much love, support and amazing quality products for families, babies and expectant mothers for all these years. She is a great role model for anyone who has a dream and is willing to work to make it happen!"
Nelson
BAILEY BALDIN,
owner
UpWard Styles
Reason for nomination: "Bailey is something special! She pursued her passion for hair and has continued on in her education by taking courses in Kelowna including barbering, styling and colour."
Trail
SIMONE COMEAU-PARK,
owner
L'Bear's Natural Foods & Supplements
Reason for nomination: "Simone has worked at L'Bears for some time now. She made the plunge and purchased the business when the previous owner decided to retire. Simone always has a positive outlook, and her bright and shiny smile always makes you feel welcome in her store."
Castlegar/Trail
LETICIA NUGENT,
owner
Record Ridge Denture Clinic
Reason for nomination: "Leticia is a passionate entrepreneur. She has two offices, one in Trail and one in Castlegar, and works very hard to bring the newest technologies to our area in the denture field, such as 3-D printing. Not only is she driven to build her career but she is very caring and compassionate towards her employees and patients. She's definitely a person to look up to and is a great mentor."
Grand Forks
NICOLE McGREGOR,
co-owner
The Thyme and Plate
Reason for nomination: Nicole works hard to run her own restaurant alongside her husband, Stuart. She makes sure to promote and support local food suppliers for her feature dishes and regular menu.

Grand Forks
DIANE HEINRICH,
CAO
City of Grand Forks
Reason for nomination: Diane has been Grand Fork's corporate officer since 2009 and was appointed the city's CAO in January 2018. She continually empowers others in her community to begin and succeed at their own personal and community projects.
Nelson
ROBIN GALLANT,
owner
Patina'd
Reason for nomination: Robin sees the hidden beauty of antique items and uses her skills to make that beauty shine for the rest of the world to see. She enjoys spending her time painting and salvaging local finds, and creates products for her client base and store.

Nelson
ANDREA WILKEY,
executive director
Community Futures Central Kootenay
Reason for nomination: Andrea has the ability to inspire and lead others. Working for Community Futures has allowed her to use her strengths to help local entrepreneurs and those seeking her help to begin the next stage of their business journey.
Trail
MORAG CARTER,
executive director
Skills Centre
Reason for nomination: Morag has analytical and policy prowess, and is considered by many in the business community to be a formidable negotiator with incredible wit. She has a vision that makes her an ideal ally and teacher for budding business persons.

Nelson
JOCELYN CARVER,
executive director
Kootenay Career Development Society
Reason for nomination: Jocelyn is a professional coach and trainer who strives to provide an invaluable service to the new businesses in Nelson through her work at KCDS.

Grand Forks
VAL WRIGHT,
agent
Re/Max Home Advantage
Reason for nomination: Val is known for her strong ethics, experience and expertise. She has consistently shown the ability to satisfy clients in the buying and selling of their homes. Her commitment to customer service changes the real estate game into a stress-free negotiation for her clients.
Nelson
NICHOLA LYTLE,
owner
Pink Dog Designs
Reason for nomination: Nichola is the owner of a Nelson-based marketing agency that offers simple, beautiful design solutions. She caters to a range of clients, assisting local businesses, non-profits and municipal organizations alike.
Nelson
LORRI McCREADY,
co-owner
Thör's Pizzeria
Reason for nomination: Lorri and her husband moved from Strathmore, Alberta, to Nelson 17 years ago to start Thör's Pizzeria. She excels at empowering her staff to be creative and take ownership of their ideas and know that they have a place to be creative and be a part of Thör's success.

Nelson
HAILEY TROOCK,
land matcher
Young Agrarians
Reason for nomination: Hailey is the dedicated land matcher for the Columbia Basin and Kootenay region. Her professional background in public policy, bilateral negotiations, environmental advocacy and business coaching brings a level of expertise to the table that will help local communities within the Columbia Basin promote and strengthen sustainable and independent food systems.

Nelson
ANNE DeGRACE,
librarian
Nelson Public Library
Reason for nomination: Anne has been a shining star at the Nelson Public Library for the last 30 years. Her knowledge and literacy skills are appreciated greatly in her community, and she inspires readers of all ages.

Winlaw
RITA MOIR,
author, board member
Slocan Valley Seniors' Housing Society
Reason for nomination: Rita has been a key part of the Slocan Valley since the 1970s. Through her writing and community involvement, she has developed many deep friendships and positively affected many in the Kootenay region.
Nelson
BARBIE WHEATON,
associate
Re/Max RHC Realty
Reason for nomination: Barbie approaches real estate with a flair that makes the buying or selling process an enjoyable experience for each of her clients. She loves helping people on their way through one of the biggest processes of their lives. She has a natural talent and charisma that make her one of the top-producing Realtors in the Kootenay area.

Nelson
LAYLA PRECIOUS,
agent
Coldwell Banker Rosling Real Estate
Reason for nomination: Layla uses her love of the Nelson area to her advantage when selling real estate. The passion she holds for her community and the people in it are present in every business interaction she makes.

Trail
STEPHANIE CAMERON,
medical director, co-owner
Renew Medispa
Reason for nomination: Stephanie helps residents and visitors look and feel their best. Whether that means improving the overall condition of their skin or wanting their external appearance to more closely match the age that they feel inside, she uses her knowledge to make that happen from the Medispa she co-created.
East Kootenay:
Cranbrook
ASHLEY PEDERSEN,
owner
EK Freedom Business & Tax Centre
Reason for nomination: "Ashley is passionate about her work and helping business owners find success. She is busy raising boys, running a growing business and being active in her community. In the last two years, she has worked very hard in promoting growth and connection in the business community."
Golden
MAGI SCALLION,
owner
Magi Scallion Professional Services
Reason for nomination: Magi has a diverse and extensive background in event management and marketing, and her pursuit of excellence ensures she always meets the needs of her clients.
Revelstoke
MEGHAN TABOR,
marketing director
Tourism Revelstoke
Reason for nomination: Megan works hard to market and facilitate the development of a unique all-season resort community of Revelstoke. She leads her team's work with local stakeholders by facilitating and promoting high-quality visitor experiences that embrace the authenticity of her community.
Cranbrook
NIKKI VAN BOEYEN,
general manager
Gipman Kitchen & Cabinetry
Reason for nomination: "Nikki has taken the family business and brought it to the future by rebranding it as the locally built cabinetry maker. Her customer service, personality and knowledge in design in kitchen and bathrooms are epic!"
Cranbrook/Invermere/Kimberley
ANDRA LOUIE,
event organizer
PechaKucha, Invermere MusicFest, Cash Mob
Reason for nomination: "Andra is actively involved in the community and is the organizer of PechaKucha and Cash Mob events." She is also involved in organizing the Invermere MusicFest.
Creston
AMANDA MURRAY,
owner
AM Event Coordination
Reason for nomination: "Amanda strives to create unique events in the community and recently assisted the local radio station in creating a fundraising event raising over $20,000 for the local hospital."
Creston
BRITTANY TILLING,
owner
Brittany's Flower Farm
Reason for nomination: "She has brought new colour and life to the Creston area. Her bouquets and wreaths are beautiful—they are sublime examples of her creative spirit."
Invermere
MEGAN ADAMS,
owner
The Mountain Hub
Reason for nomination: "As a marketing instructor on LinkedIn, Megan is constantly sharing her knowledge with the world while offering regular Lunch & Learn workshops, and Master Classes on marketing in the Columbia Valley. In just over six months, she has created a new business networking community."
Kimberley
ERIN THOMPSON,
owner
Kootenay Kritters Pet Boutique
Reason for nomination: "Erin has been so dedicated to improving and helping those in her community. She raises funds for various causes, giving of her time and herself frequently and without much recognition. She is truly deserving of this!"
Kimberley
CHELSEA BOYD GIBSON,
owner
Meadowsweet Yoga & Wellness, Meadowsweet Photography
Reason for nomination: "Chelsea works very hard running two businesses. She treats people great and contributes to a community vibe."
Kimberley
KAREN REMPEL,
owner
Rocky Mountain Event Planners
Reason for nomination: "Karen is passionately involved in the community and is dedicated to organizing amazing community events that support local businesses, attract tourists to the area and bring joy to the locals."
Kimberley
BRANDI O'NEILL,
owner & founder
Paper and Cup
Reason for nomination: "Brandi is an incredibly driven young woman who is always striving for better and setting the standards high for all other Kootenay businesses."
Fernie
ALESHA THOMPSON,
owner
Lilac Media
Reason for nomination: "Alesha's strong work ethic and commitment to providing high-quality environmentally responsible print products is inspiring to me and many others in our community."
Fernie
KAREY PION,
owner
Soco Soaps
Reason for nomination: "Karey takes pride in what she puts her product name on. If it's labelled Soco Soaps, you can be guaranteed that all the ingredients were researched and lovingly chosen. This is Karey's passion and it shows in the quality of her products!"
Invermere
KYLA LAM,
owner
MountainTots Adventure Wear
Reason for nomination: "Kyla has built a wonderful homemade toddler and children's outdoor clothing business (now carrying women's stuff too)! She empowers and employs other women and moms to be able to work from home as well."
Radium Hot Springs
KRISTIN McCAULEY,
owner
Inn on Canyon and Kootenay Vacation Rentals
Reason for nomination: "Kristin is on the boards of directors of Tourism Radium and Radium Chamber of Commerce. She is an avid photographer of the Radium area. She had owned and operated two motels and now owns a condo management business. She is the mother of two who gives back by volunteering at the school on top of everything else."
Invermere
RHIANNON TUTTY,
financial advisor
Sun Life Financial
Reason for nomination: "Rhiannon is very knowledgeable and personable. She was incredibly helpful and cared about my well-being and the future of my family. I highly recommend her services."
Invermere
JOLAINE UNDERSHUTE,
owner/operator
Endeavor Fitness
Reason for nomination: "This woman has not only been running a successful business helping others improve their well-being for over a decade, but she has also worked hard to become a world-class athlete (taking bronze in the 2018 CrossFit Games) and is a single mama! She is an immense inspiration to so many people and groups of young athletes in our community, and her passion for her craft is obvious in the care and diligence she puts into every training session, nutritional challenges and coaching program she offers."
Kimberley
SUE BROWN,
owner
Flowers Galore Gifts & More
Reason for nomination: "This woman has been through so much in the last couple of years, but she is strong and continues to run her business with passion."
Kimberley/Cranbrook
RACHELLE LANGLOIS,
financial advisor
Sun Life Financial
Reason for nomination: "Rachelle is a very personable and easy to talk to business owner. She is excellent at educating her clients with financial tips and recommendations and is very knowledgeable in personal insurance and financial planning. She's also a great mentor to other business women in Cranbrook and Kimberley."
Kimberley
SHAWNA L'HEUREUX,
owner
Zen Mountain Float + Wellness
Reason for nomination: "Shawna is an expert in holistic skin care. She is so knowledgeable and provides the best experience a person could have at her spa. She has a gentle and welcoming approach and always make me feel so comfortable."
Cranbrook
CARRIE SCHAFER,
marketing & sales manager
e-KNOW
Reason for nomination: "Carrie assisted in starting a very successful company with her partner. She is very involved in our community and is always helping to promote and support other companies."
Kimberley
DARCIE PAWLICK,
owner
Roots to Health Naturopathic Clinic
Reason for nomination: "Darcie has helped a lot of patients as a naturopathic doctor over the last seven years."
Invermere
MIEL DUBIELEWICZ,
owner
Salome Naturals
Reason for nomination: "Miel is honestly and wholeheartedly living the entrepreneurial roller coaster. She is a light in the valley and one that needs some celebration."
Fernie
STEPHANIE BRYANT,
owner
Kootenay Chiropractic & Sports Performance, Birthfit Fernie
Reason for nomination: "Stephanie has worked extremely hard through adversity after losing her father suddenly in her hometown in the Fernia Arena accident shortly after starting her practice. She is now starting her second business, Birthfit Fernie, to help educate and support the women and their families of the Elk Valley throughout their childbirth experiences."
Invermere
KALISTA PRUDEN,
consultant, designer and educator
Avalily Permaculture and The Earthskills Institute
Reason for nomination: "Kalista has a wonderful artistic way of making your home and yard becomes a whole new useful symbiotic space."
Kimberley
ELLA HARRIS,
owner
Crème Cheese Shop
Reason for nomination: "She is a remarkably hardworking and innovative small business owner and deserves recognition."
Sparwood
KAREN SHEETS,
owner
Divine Anatomy
Reason for nomination: "Karen is an inspirational force in health and fitness. She's constantly undertaking new certifications to bring to her community of Sparwood. She challenges the idea that working out is about getting to a certain weight or looking a certain way. Instead, she encourages and inspires people to work out in order to feel great both mentally and physically while challenging themselves to create and reach their own personal best on their terms. She's amazing!"
Fernie
CHERYL SMITH,
owner
Little Me Playcare
Reason for nomination: "Cheryl has committed so much time and effort to her programs for three to five year olds. They are an excellent introduction to what a classroom setting will be like when those little ones get to school."
Cranbrook
PAM PINCH,
executive assistant
East Kootenay Community Credit Union
Reason for nomination: "Pam's knowledge and skills in terms of facilitating good governance are second to none. Pam's excellent work is a key component in the success of EKCCU. She is a leader in her peer group of individuals. Pam is a busy mother of two young boys and volunteers as the board president of the Cranbrook Boys and Girls Club."
Cranbrook
JEAN-ANN DEBRECENI,
board chair
East Kootenay Community Credit Union
Reason for nomination: "Jean-Ann's knowledge of the credit union system is amazing in its breadth and depth. She deeply values EKCCU's significant community giving. Jean-Ann has many other volunteer roles in the community, in addition to her long service on the EKCCU board. These include Cranbrook Community Theatre and the Cranbrook Garden Club, just to name a few."
Cranbrook
SHANNON FISHER,
owner
Top Crop Garden, Farm & Pet
Reason for nomination: "Shannon owns and operates Top Crop, which is one of the key businesses in our community. She does an excellent job of managing her complex business, which includes a large staff, greenhouses, various locations and a wide variety of products. Shannon is very generous in ensuring that Top Crop supports a variety of community initiatives and projects."
Cranbrook
SHELLEY BALFOUR,
president
Cranbrook District Teachers' Association
Reason for nomination: "Shelley does an excellent job of leading the CDTA. She provides excellent service to her members and is a passionate advocate for quality education. In addition to her very busy job, Shelley also generously volunteers her time as a member of Cranbrook Sunrise Rotary, where she leads the monthly film series and annual film festival as well as supporting the Sam Steele Sweetheart program."
Cranbrook
RHIANNA EMBURY,
owner
Kootenay Farm to Folk
Reason for nomination: "Rhianna personifies kindness and generosity for other small businesses in the East and West Kootenays. The growth of this business is astounding, and with the way this lady works with the community, she can only go up from here! She does food hampers for the less fortunate as well as helping over 50 other businesses and small farmers to grow. A definitive worthy contender!"
Cranbrook
KATHERINE SPRING,
owner
Arch Allure Microblading
Reason for nomination: "Katherine has had an amazing first year in business, truly changing people's lives! She even offers services for free to cancer survivors."
Cranbrook
MANDY LAWSON,
practitioner
Fruition Wellness
Reason for nomination: "Mandy is an incredible registered massage therapist who goes above and beyond for her clients. She has built up a solid clientele in our community and always has an attitude of service."
Invermere
KARIN OGILVIE,
senior executive
Copper Point Resort
Reason for nomination: "Karin is a strong female role model for all our junior employees and department heads. She has branched out into the community and taken on a part-time instructor role at the College of the Rockies within its hospitality program. Her commitment to excellence and her passion for the Valley is now being taught to up and coming students who will enter the workforce to hopefully call the Valley their future home. Day in and day out, Karin's selflessness and dedication to the success of the entire team at Copper Point Resort make her more than a deserving recipient for this year's Influential Women in Business award."
Invermere
CHARMAINE RICHTER,
director of marketing & sales
Copper Point Resort
Reason for nomination: "Charmaine has worked determinedly here since 2011 to improve occupancy and grow top-line revenue with proven success year after year. During her time with the resort, Charmaine has sat on, chaired and been involved with multiple tourism and destination committees as a champion for the Kootenay region and all the magical reasons to live, work and play here. Charmaine's enthusiasm for the 'playground' we call home is infectious and has truly impacted the way we recruit new business and even new colleagues. We are so proud of everything that Char has accomplished and feel that she epitomizes the definition of an Influential Woman in Business."
Cranbrook
MELANIE RUDZINSKI,
co-owner
The Bearded Flamingo Barber Shop
Reason for nomination: "Melanie had created a thriving and growing business in a short time. Her daily operating procedures, along with expanding clientele outside the Cranbrook area and good business reputation, showcase her hard-working ethics."
Cranbrook
DANIELLE EATON,
owner
Brook Public Relations
Reason for nomination: "Danielle continues to influence the direction of businesses and marketing of the City of Cranbrook even now, although she is not a city councillor. When you are around her, you feel the energy she has for the promotion of businesses and the community. She embodies what a good citizen is."
Invermere
LORENE KEITCH,
editor
Columbia Valley Pioneer
Reason for nomination: "Lorene is a leader in our community who works diligently to inform and educate through her words in the paper, but also through genuine interactions in our community. She's the unsung hero behind the print that has a big part in our community."
Kimberley
KARA CLARKE,
owner
Tumbled Earth
Reason for nomination: "Kara has recently moving into a storefront in Kimberley's Platzl area. She hires local high school students not only to work at the store but to mentor them on how to make jewelry. Kara donates her beautiful pieces to many local events/fundraisers and also brings in many different items, made by local artists, to sell at her store—making Tumbled Earth a hub for locally made things. She is making huge strides to expand her business, including a multi-page write up in an up-and-coming fashion magazine in Toronto, Ontario, which will be released this coming May."
Invermere
SAMANTHA GERNHART,
owner
Clarity Marketing & Design
Reason for nomination: "Samantha has been a driven entrepreneur for over 13 years with her business, Clarity Marketing & Design. She has taught courses and workshops through local chambers and colleges. She is an ambassador for The Mountain Hub co-working space in Invermere and a mentor with Women's Enterprise Centre of BC. What makes her business special is that she takes time to teach her clients how to use their marketing technology."
Fairmont/Invermere
TANYA DuBOIS,
music instructor
Tanya DuBois Music Studio
Reason for nomination: "Tanya provides a great service teaching children to love and play music. I know most children love going to their lessons."
Cranbrook
LAURIE DICKSON,
owner
Aspire2bfit Training Services
Reason for nomination: "Laurie influences her clients to live a better life through her personal training, but more than that, she is genuinely happy to see others succeed. She is an entrepreneur of a thriving business and has won many awards in the fitness and bodybuilding world. But, if you ask her what her greatest accomplishment is? She will say her two children. She was a single mother who is now an outstanding business woman."
Cranbrook
JACK ROLLER,
sales
Sherwin-Williams Paint
Reason for nomination: "Jack is excellent at customer service. This girl rocks the floor."
Fernie
LAURA OLEKSOW & JESSICA RILEY,
co-owners
Spa 901
Reason for nominations: "Laura and Jessica are the absolute epitome of Influential Women in Business. I nominate them together, because they really are a dynamic team and run Spa 901 together with confidence and courage. They create the most amazing team environment for our staff, lead by example of what strong women in business look like, and are personable and relatable to everyone who comes into the spa. These women go above and beyond to run a successful business, keep their team motivated and positive, and support the community however they can. I cannot say enough good things about these women."
Cranbrook
LEANNE JENSEN,
partner
New Dawn Restorations
Reason for nomination: "Leanne is a great business leader in her profession and has the knowledge to do a great job for her clients. She is a Rotary member who exemplifies what it means to be a good community member."
Invermere
ANDREA TUBBS,
owner
Swansea Communications
Reason for nomination: "When Andrea moved to the Columbia Valley in 2011, she took no time to establish herself as a community leader. Her marketing and communications business filled a gap in our business community. She didn't hesitate to collaborate and partner with other specialists in the community such a web developers and other digital media consultants. Andrea also immediately joined the local chamber and stepped up as a volunteer on the committee to overhaul its website. It wasn't long until she was on the tourism marketing committee and would eventually come to chair that committee for four years. Andrea is a straight shooter and can be relied upon to keep a confidence, to listen and to support others to be successful. Today she not only runs her own very successful business but she is also going into her second year as the Columbia Valley Chamber of Commerce president."
Revelstoke
IMOGEN WHALE,
editor-in-chief
The Revelstoke Current
Reason for nomination: "Imogen is an inspirational woman who keeps the town up to date on current and relevant news regarding our community."
Revelstoke
L'TEARA DAWSON,
owner
Pure Image Salon
Reason for nomination: "L'Teara is an inspiration in the salon industry. She is a selfless business owner who gives to the community."
Revelstoke
AIMEE SCHALLES,
barrister & solicitor
Mackenzie Peak Law Group
Reason for nomination: "Aimee is innovative, hard working and an asset to the Revelstoke community. She took the helm of Mackenzie Peak Law Group and has worked hard to create an accessible, modern and effective law firm. She is a passionate advocate. Aimee ensures that all matters she handles are given the depth and respect they deserve. She is an innovator and a role model."
Christina Lake
CORINNE OLSEN,
personal trainer
Christina Lake Health & Fitness
Reason for nomination: "Corinne is a driving force within our community, inspiring everyone to get healthier. She shares daily fitness and nutrition tips online, which helps others to achieve their goals. One can even see local residents going to the market with Corinne's shopping list and instructions in hands. She's a true source of inspiration for all."
Cranbrook
ZENA WILLIAMS,
publisher
Cranbrook Townsman/Kimberley Bulletin (Black Press)
Reason for nomination: "Zena has brought new and innovative ideas to our community, resulting in additional support for local non-profits. She has started the Christmas Village event in Cranbrook, resulting in one year of support for the Cranbrook Boys and Girls Club and two years of support for the United Way. For the past two years, Zena held the event at the Cranbrook History Centre to provide support to that organization as well. In addition, Zena created the 2019 Community Calendar to support the Community Foundation of the Kootenay Rockies, involving 24 corporate sponsors and daily prizes."
Kimberley
KIRSTEN DAVIES,
owner
Simplified Bookkeeping Solutions
Reason for nomination: "Kirsten has worked hard to build her business, Simplified Bookeeping, by becoming a Certified Professional Bookkeeper and an expert in QuickBooks. As a female entrepreneur, Kirsten provides excellent service to her clients, including businesses of various sizes as well as non-profits."
Fernie
CRYSTAL PARKER,
owner
You're Worth It Hair & Nail Care
Reason for nomination: "Crystal is an extraordinary person and business owner. She always goes that extra mile for her clients and community. She has worked very hard to attain her dream of owning her own salon and is constantly taking new courses to broaden her skill set and offer the best quality services to her clients. I've never met anyone as dedicated and hard working as she is!"
Fernie
CORALEY LETCHER,
co-owner
5 Gen Construction
Reason for nomination: "Coraley is the mother of three small children and runs the behind-the-scenes operations of her family construction business."

Fernie
LYNN HENDERSON,
manager
Birdhouse Roofing
Reason for nomination: "Lynn is exceptionally hard working and an organized, knowledgeable professional. She is a leader in a predominately male industry and is a trusted source for discussing everything from analysis to growth to dealing with the healthy dose of sexism that comes with working in construction trades. Her managerial guidance has catapulted Birdhouse to the next level. The Kootenays are lucky to have her!"
Golden
JAYNE BAUN,
owner
Baun Bon
Reason for nomination: "Jayne is an extraordinary example of a successful and talented business woman in the Kootenays. Her art is unique and while some is centred around pop culture or playful puns, much of it is deeply rooted in place, showcasing activities or iconic landmarks in and around the Golden area. Baun Bon Illustration has over 19,000 followers on Instagram, showcasing the popularity of her product. Jayne is a shining example of a woman who was able to take her passion and talent and turn it into a successful business. Jayne also continues to support community projects by participating in local farmers markets and donating pieces for projects like the Golden Women's Resource Centre annual fundraiser."
Sparwood
EMELYN PASCUT,
Causeway Bay Hotel
Reason for nomination: "Emelyn's passion, friendliness and drive make all her co-workers strive to be their best."
Kimberley
KATHRYN ARBIC,
veterinarian/owner
North Star Veterinary Clinic
Reason for nomination: "Dr. Arbic provides an amazing level of service and care to families and their pets in the Kimberley area."
Kimberley
BRENDA BANNISTER,
co-owner
Timber Hitch Coffee Shop, Rustic Hutch Consignment
Reason for nomination: "Brenda is an amazing businesswoman. She prides herself on consistency and honesty. Not only that but she becomes your friend, mother and confidante. She is easily the best employer I have ever had. She pours her heart and her soul into her business and it shows."
Invermere/Kimberley
JILL BENTLEY-LOBBAN,
co-owner
Circle Health Food and Café, Centex Market, Stoke Cold Pressed Juice, fullfill
Reason for nomination: "Jill works incredibly hard; she is passionate about her businesses and about giving back to the community. She is not afraid to pursue her ideas and excels at her endeavours."
Kimberley
CHANTEL DELANEY,
owner
Sprout Health Market
Reason for nomination: "Chantel has worked tirelessly at successfully purchasing and owning Sprout, while simultaneously promoting the arts, music and culture acts in Kimberley through Salt Water Sessions. She is also an active member of Kimberley's Chamber of Commerce and a mentor for women entrepreneurs."
Golden
PEGGY CHALMERS,
owner
Moon River Gift Gallery
Reason for nomination: "Peggy has been running her business for more than 30 years. She is in her 60s now and still loves working and focuses on ethically made items."
Cranbrook/Fernie
LAUREL DOEHLE,
chief financial officer
Isosceles
Reason for nomination: "Laurel in her role as the key manager has been a leading reason why Isosceles was able to double their revenue since 2016. And she still manages to volunteer around town and basically be a super mom."
Cranbrook
ANNA LAMB,
co-owner
Pro-Fitness Gym
Reason for nomination: "Anna has a wealth of knowledge and has volunteered her time for many needy events throughout our community over the years."
Cranbrook
SHARRIE PAULSEN,
commercial account executive
Hub International Insurance Brokers
Reason for nomination: Sharrie is making a name for herself in what is normally a male-dominated industry. She is looked to by the business community as the person who knows and is trusted for insurance.