Everyday law, exceptional lawyer
Lilina Lysenko helps her clients with some of life's big decisions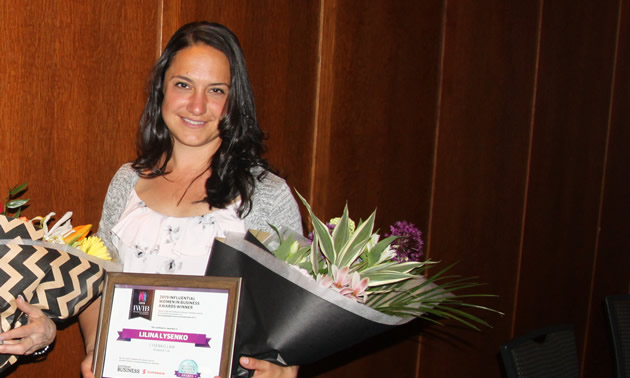 Lysenko Law addresses everyday life issues: real estate and conveyancing, wills and estates, small business matters and environmental law. Lilina Lysenko founded the law practice in Trail in 2012 and through her legal work has become a woman of influence in both the business community and the community in general.
In the spring of this year, after she was nominated for both our 2019 Influential Women in Business list and our 40 Under 40 list, we contacted Lysenko to learn more about her. Here is a recap of our questions and her answers.
Please give us a brief description of your business.
We are a full-service law firm that has recently expanded to include another lawyer, a law student and an office in Rossland. Shortly after the birth of my first child, I decided to open my own practice in order to be able to have a more flexible work schedule. Originally, my sole office was in Trail, but in December of 2017 I purchased Judy Griffiths' notary practice in Rossland as she was retiring.
What's something that happened in your business recently that you were especially proud of?
In September 2018, we added another lawyer with additional practice areas so we could continue to provide exceptional service to our expanding client base.
Tell me about something you struggled with to get your business established and how you overcame it?
I practiced law in the area for a number of years before opening my own practice, but owning my own business has been a challenge, albeit a very rewarding one. In the beginning, I struggled a bit with staffing and balancing all my obligations. Shortly before my second child was born, the lawyer I had hired to cover for me took a job opportunity in a different location and so I was left with the decision to close temporarily or to not take any maternity leave. I had just built my client base up and was loath to leave them without legal representation, so I chose to bring my newborn to the office beginning at nine days old. I was very lucky to have had an extremely office-friendly baby.
What's your superpower or your spirit animal, and why?
My spirit animal is a butterfly because I am not afraid to see an opportunity for something better and start new. Change can be risky, but it can also create something truly beautiful.
In terms of your business, what are you most excited about in the future?
I am most excited to continue to expand and grow with new clients as well as alongside my existing clients.