Christie Kennedy, fit to influence
Christie Kennedy brings something special to Cranbrook's business community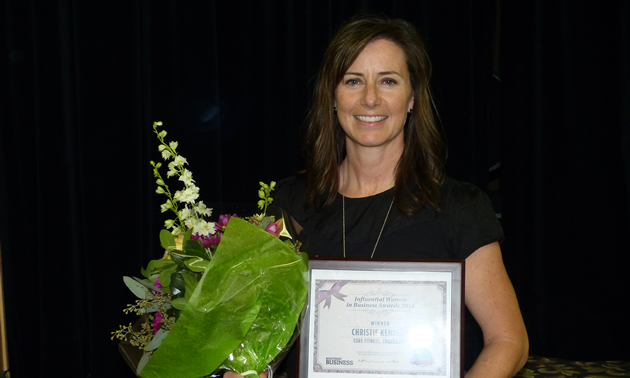 "I was floored to be nominated (for an Influential Women in Business award)—just amazed," said Christie Kennedy. "My husband was really pleased for me. When I was named as a recipient, I almost fell off my chair. I'd love to know who nominated me. It means a lot and it feels great."
Kennedy is the operating force behind Core Fitness Inc. in Cranbrook, and she is one of three winners of Kootenay Business magazine's 2015 Influential Women in Business (East Kootenay) Awards. We asked Kennedy a few questions about herself and her business.
What kind of training do you have in the field of fitness?
I have a degree in human kinetics from U.B.C. (University of British Columbia), a diploma in recreation management from College of the Rockies, as well as certifications for personal training, yoga and group fitness.
What do you think is special about your gym compared to others?
When I worked for a couple of municipalities in the Vancouver area, I got into the programming side of fitness, designing programs for all different ages and abilities. That's what I brought to Cranbrook. We don't have a community centre here, and that programming was missing. So at Core Fitness, we offer mom-and-baby boot camps, programs for seniors and those with chronic health problems, dryland training for sports teams, corporate fitness programs, run groups and a huge variety of group fitness classes.
We also have highly qualified staff and we focus on customer service. We're into our sixth year in business, so it's working.
Was there someone specific who helped shape you as a businesswoman?
Donna Savage from the corporate office of BC Tel (now Telus) had been in the industry for many years, and she had a lot of influence on me—probably far more than she knew.
What advice would you give to someone embarking on a business?
Get some experience first. Know your market and try to bring something different to it. Have a business plan. Hire qualified staff and also focus on customer service and creating a welcoming centre.