Building the dream
Rachel Ross, vice-president with Mandala Homes in Nelson, B.C., is a caring as well as influential woman in business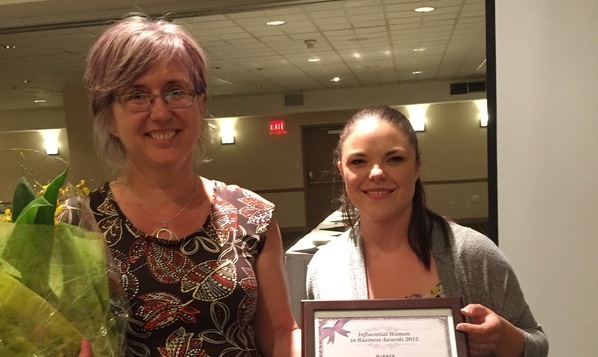 Mandala Homes in Nelson is a company that aspires to integrate sacred spaces into everyday living in an environmentally responsible fashion. To that end, this eco-conscious business focuses on pre-building engineered homes that are both beautiful and energy efficient.
It's not hard to guess from the company's name that it specializes in round homes (a mandala is defined as a symbolic circular figure representing the universe in Hindu and Buddhist traditions; the mandala can also represent a dreamer's search for completeness and self-unity).
It's also not surprising that Mandala Homes uses B.C. wood in all its products, given its location within a forest of cedar, spruce, pine and fir. The business has an upmarket global reach, shipping to clients anywhere in the world; the Energy Star-qualifed prefab homes are assembled and finished on-site.
Mandala Homes was created in 2000 by Lars Chose. Now, in 2015, Chose's wife and part owner, Rachel Ross, has been named an Influential Woman in Business in the West Kootenay by Kootenay Business magazine. Ross is skilled at marketing, especially on social media, and at keeping employees happy (think paid meditation breaks and snow days!). We caught up with Rachel Ross to find out a bit more about this influential businesswoman and the business she takes pride in.
Can you tell us a bit about your business training or background?
Before joining the Mandala Homes team in 2009, I was the owner of a successful curriculum business, The Art of Learning: Creative Educational Resources, since 2001.
What's special about your business?
Our business is special for a number of reasons.
Learning. We love to learn and we seek constant improvement through being open to learning moments, taking interesting courses, encouraging round-table discussions and hiring consultants, like building scientists, to work with us.
Culture. We strive to create an incredible company culture. An example of this is: We turn off the power tools, shut off the computers and unplug the phones for a paid mediation as a group at 11:45 most weekday mornings. Another example: We have a "20-centimetre rule"—If it snows 20 centimetres or more, everybody who wants to heads to the ski hill (which happens to be 12 minutes away from our parking lot.) We believe that daily work can be enjoyable and satisfying when people are working in their area of genius, so as much as possible we assign people to do tasks in areas where they have passion and talent.
Social Media. We have a community of over 74,000 fans on our Facebook business page. This is a vibrant place of inspiration, information and interaction for people from all over the world. It's a great way to stay connected with people in real time. Plus, we've landed a number of interesting projects in such far-flung places as Hawaii and Norway through our Facebook page.
Triple Bottom Line. We have a "triple bottom line" in our business, which means that we equally value the needs of the environment, the needs of people and the needs of the financial health of the company. We hold all of these values in equal importance.
Product. And, of course, there's our unique product! Round homes (and commercial buildings), made of the best B.C. wood. Homes that are warm in winter, cool in summer and embrace you with a sense of quality and well-being. We prefab and ship our homes from Nelson to all over the world. For example, we've shipped homes to Alaska, Massachusetts, California, Washington, British Columbia, Alberta, Saskatchewan, Hawaii and—in 2016—we'll be shipping the first of many homes to Norway
Was there someone specific who shaped you as a businesswoman?
My life partner, Lars, the founder of Mandala Homes. He is an experienced businessman with heart who reminds me to enjoy the journey of this adventure called "running a business" in a relaxed and easy manner and in a positive and healthy way. He teaches me and others by example, every day.
What advice would you give to someone embarking on a business?
Choose a service or product that you feel passionate about. Gather a team of smart people around you. Treat them very well. Always go the extra mile with your product or service. Find unusual and interesting ways to market your product. Running a business is a lifestyle—make sure that it's a lifestyle that you enjoy.
As an Influential Woman in Business award winner, what would you like your lasting impact to be?
Collaboration and camaraderie with other established business owners and mentorship for those newcomers starting out in business.
How does knowing that you're seen as influential influence you?
I love this question and hope that I addressed it somewhat in my impromptu acceptance speech at the (Influential Women in Business Awards) banquet. I think that if, in our lives, we should find ourselves in a position of influence—as employers, as a company with a global reach or perhaps as a strong voice in social media—that this influence gives us a responsibility to make choices that are closely connected to our values. I have strong values for family, for good communication, for creativity and for actions of peace and respect. Being in a position of influence, I can use my influence in staffing decisions, in meetings, in business decisions and in business relationships to embody and give voice to these values.
Do you have a favourite inspirational quote or motto (words to live by)?
Our company purpose! "Make Life More Wonderful"—we find hundreds of opportunities per day to make life more wonderful for the planet, for future generations and for our staff, friends, clients and vendors.
Anything else you'd like to add?
Lars and I are working on co-authoring a business book that outlines the principles that we use at Mandala Homes—stay tuned for a release in 2016!
RESOURCES:
www.mandalahomes.com