Take to the water, and don't forget to bring a paddle
Here's what to keep in mind when planning a company-bonding paddling adventure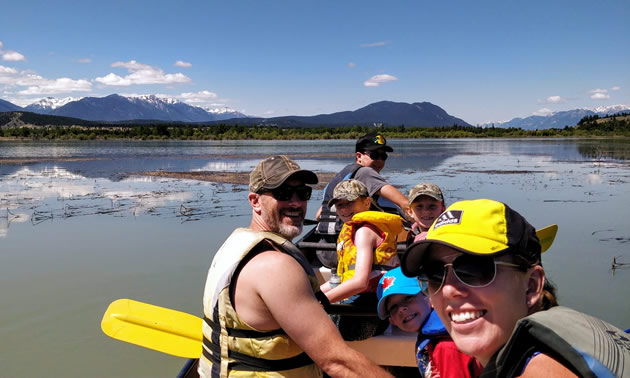 Summertime is a great time to get outside and bond with those who share your home or your office space. A popular choice of outings is getting out on the water by booking a paddling adventure. What better way to learn how to work as a team than being in the same canoe?
If a good paddle is what you're after, Columbia River Paddle of Invermere, B.C., is here to answer all of your bracing questions.

"Our first piece of advice would be to get advice," said Chris Veen, manager of Columbia River Paddle. "Talk to people who have paddled and talk to people with experience. Ask about the current conditions. Get as much information as possible to be prepared. If it's your first time, consider going paddling with a guide. That way, you can learn as you go."
Veen advises to be prepared to learn a lot if you have no previous paddling experience going in.
It's helpful to take a lesson beforehand and learn the basics on which you can build.
Use quality equipment, and ensure you know what equipment you are required to have, such as a good-fitting personal flotation device, a rope bag and a bilge pump.
What to bring
"Bring an open, willing attitude," Veen said. "Bring a hat and sunscreen as there's no shade on the water. Bring lots of water so you don't dehydrate, and bring snacks. Wear shoes that you don't mind getting wet, and shorts are a great idea."

It's also a good idea to bring an extra layer of clothing in case you get wet or cold. Checking the forecast and bringing waterproof clothing if it's forecasted to rain are essential. Binoculars are also fun to bring along too.

Cameras and cellphones are great ways to capture memories or create blackmail material. The company can supply each customer with a dry bag, if needed, to keep electronics safe. Or you can choose to bring a ziplock bag to keep your essentials such as your phone, keys and wallet dry.
Paddlers can choose a variety of options when planning a tour. There is a guided tour, a self-guided tour or the ability to rent a kayak, canoe or paddleboard for two hours, four hours or the entire day.
"Think about what you want to get out of the trip," Veen said. "Do you want a team-building exercise for your group or do you want a leisurely paddle?"
The main event
Columbia River Paddle's most popular option for excursions are its DIY or guided trip from Invermere to Radium. This 17-kilometre (10.5-mile) trip starts in Invermere with a safety and navigational talk, and a paddling lesson on the beach if required. Then, paddlers head off into the wetlands to see beaver lodges, bald eagles' nests and other wildlife. The tour leaves the wetlands and journeys into the river channel where Toby Creek joins in and the current picks up. This is where paddlers head down the river.
"It's class-one flat moving water all the way, making it accessible to a wide range of paddling abilities," said Veen. "The directions are simple, and there is signage to indicate your timing and where the cell-phone signal is if you need to call us or check Google maps."
Kayaks are the company's recommendation for first-timers. If you're looking to learn a lot in a short amount of time, then a canoe is the option for you. Canoes that fit several people are the best option if you want to keep all the children (or feisty co-workers) together.

Be sure to plan ahead and use different resources to check what trip is right for you.
For more information about Columbia River Paddle and its adventure options, visit the website.