Six golf stops not to miss on your swing through the Kootenays
Avid golfer or recreation player—these Kootenay courses are a must stop on any vacation agenda.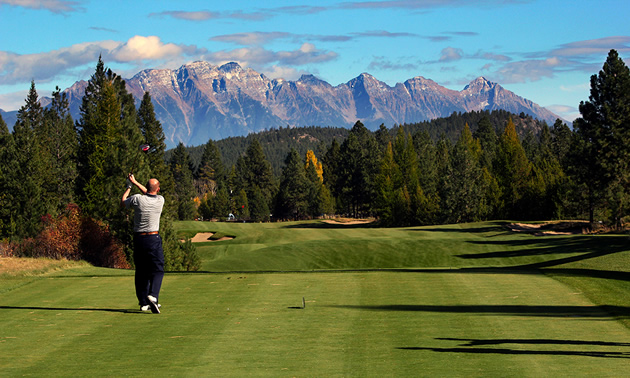 The Kootenay Rockies region is home to dozens of golf courses from 9-hole hidden gems to the most challenging championship mountain courses. Whether you choose to play a nine-hole facility, a municipal course or one of the many championship courses — you are guaranteed a great golf experience.
Make a circle tour of it, and play golf all along the way. It is not uncommon to hear of avid golfers playing half a dozen courses over the span of weekend or a few days. We encourage you to visit all these participating golf courses over the summer and into the fall.
So make this your summer to pack up the clubs and enjoy a swing through the Kootenay Rockies region — with the only required stop being the next golf course.
Remember to relax and enjoy the mountain vistas, the beautifully manicured courses, the friendly staff and, of course, the incredible golf!
Here's six golf stops not to miss:

Edgewater Hilltop Golf Course — Edgewater, B.C.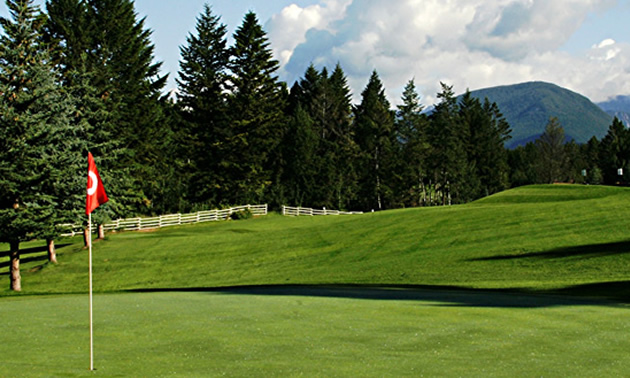 Sharpen your short game and have fun too. Edgewater Hilltop golf course is good for the beginner but also good to sharpen your short game. The short game is 80% of your total strokes, so your short game is very important to achieving a lower handicap. Edgewater Hilltop Golf course has all the amenities of any 18-hole golf course in the Columbia Valley, they have just concentrated it all into a fabulous 9 hole par 3 course. And there is an adjoining RV park as well.
Website: www.edgewaterhilltopgolf.com
Windermere Valley Golf Course — Windermere, B.C.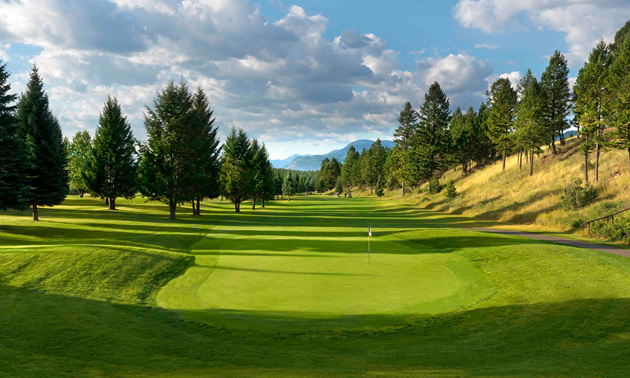 The Windermere Valley Golf Course comes with an excellent teaching program, a fully stocked pro shop, a restaurant and a friendly, laid-back atmosphere that will definitely win you over. Best of all you can expect a memorable, relaxing, and shorter-than-average round of golf at Windermere Valley Golf Course. Many people are beginning to realize that a shorter round on a family-friendly course makes for the perfect golf experience. If you're the type of golfer who enjoys great bang for your buck on a challenging, beautifully-maintained course then Windermere Valley Golf Course is the perfect place for you.
Website: www.windermerevalleygolfcourse.com
Revelstoke Golf Course – Revelstoke, B.C.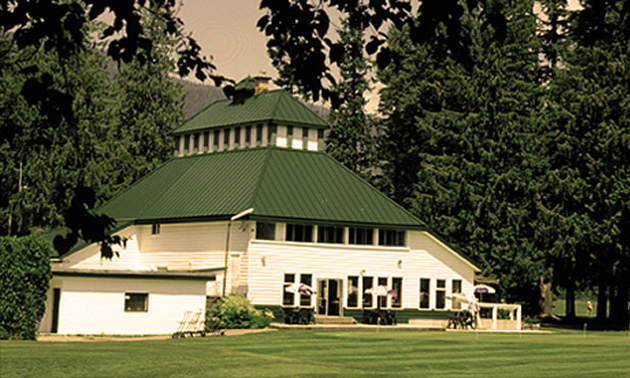 Real golf is played here – at the Revelstoke Golf Club. It all started back in 1924 with a vision to create a course that would stand the test of time. A balance of risk reward weaving its way through some of the finest scenery in the Monashee and Selkirk Mountains. The Revelstoke Golf Club is truly a classic layout which sits on the site of an old equestrian racetrack. In fact, the one-of-a-kind clubhouse (circa 1911), served as HQ for the races and now is a magnificent setting to reflect on a great day of golf. PAR 72 – 6,537 yards from the Tips, Full Range, 3 practice greens and practice bunker, 4 sets of tees for players of all abilities. Featured Tournament: 86th annual Labour Day Event (Men's, Ladies and Junior divisions) September 3rd to 5th.
Website: www.revelstokegolfclub.com
St Eugene Golf Resort – Cranbrook, B.C.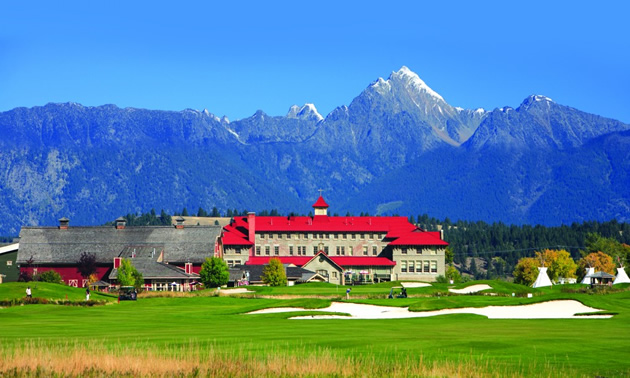 Designed by acclaimed architect, Les Furber, and rated by Golf Digest as one of the top three new courses in Canada in 2001, the St. Eugene golf experience features spectacular views of the St. Mary River and the majestic Fisher Peak as our championship course winds its way through open links and rolling woodlands. Smartphone GPS access course layout and player coaching. Golf lessons for individuals or groups by PGA-certified professionals. 19th Hole Restaurant & Bar open very early to very late.
Website: www.steugene.ca
Mountainside, Riverside and Creekside Golf Courses – Fairmont Hot Springs, B.C.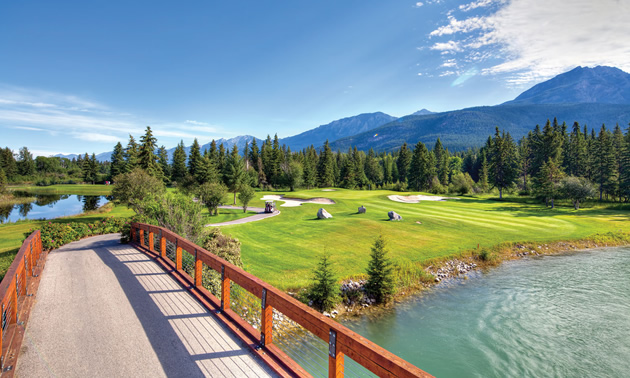 Riverside Golf Course lives up to its name, this 18-hole championship course crosses back and forth over the headwaters of the Columbia River a total of six times. Its undeniably scenic setting attracts golfers of all ages and skill levels. Mountainside Golf Course is set against a stunning Rocky Mountain backdrop and this historic course has been testing golfer's skills for more than 50 years. It is a classic – one of the must plays in the Columbia Valley. Creekside Golf Course is a "big hole" course – with 8 inch cups. It features unique fairways with ponds, cascading creeks and sandy bunkers, all delivered on a fun nine hole Par 3 layout.
Website: www.fairmonthotsprings.com/golf
Christina Lake Golf Course – Christina Lake, B.C.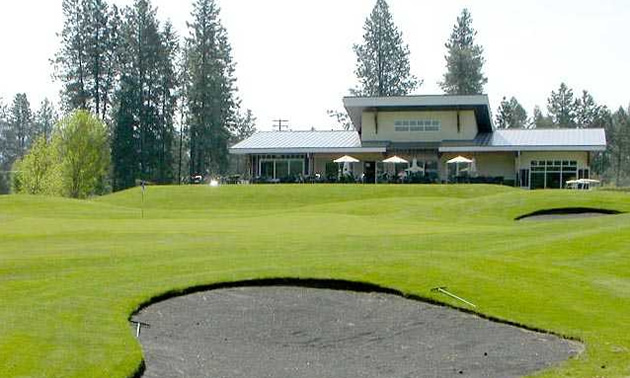 Established in 1962, the Christina Lake Golf Course was expanded to an 18 hole 6785 yard course in 1986. The course expansion was designed by Les Furber and shows off his signature architecture with elevated tees, strategically bunkered greens and fairways, multi-tiered greens and four holes featuring water hazards. This is the first course in Canada to offer the unique feature of black sand traps. The course is regarded as one of the top 25 in British Columbia.The signature hole on the course is the 9th, a 215 yard par three. An elevated tee box looks down upon a green bordered by two sand traps on the right and a large lateral water hazard along the full length of its left side. Located on the scenic Kettle River, the course is surrounded by ponderosa pine and fir trees, with the Monashee and Selkirk Mountains providing a beautiful backdrop.
Website: www.christinalakegolfclub.com/