Winners stoked at Revelstoke's annual Business Excellence Awards
Celebrating excellence and outstanding service, this year's award gala saw 16 winners.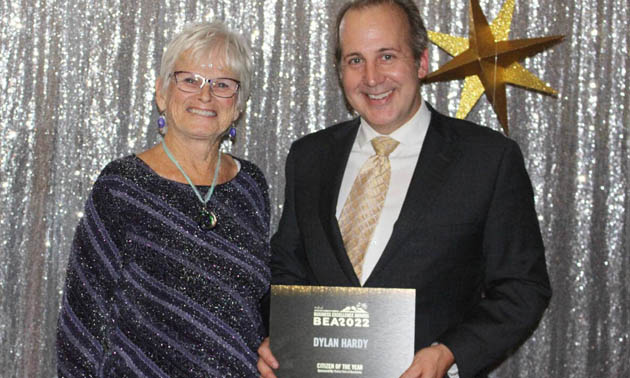 It was a spirited evening of sparkle and shimmer as the 29th annual Revelstoke Chamber of Commerce Business Excellence awards got underway on November 5, 2022. It was also the first in-person awards ceremony since 2019.
Hosted by chamber president Maggie Spizzirri and local volunteer extraordinaire Tyler Maki, the night consisted of a catered dinner, fine wine and beer, a silent auction fundraiser and dancing well into the wee hours of the evening. There were 16 Business Excellence award winners, including a category not seen for a few years: Citizen of the Year.
Read on to find out the deserving recipients at this year's awards gala:
Joanne Gawler is the co-founder and executive director of the Revelstoke After School Society. Her passion is getting children outside, into nature and experiencing outdoor adventures. She has over 20 years of experience designing and implementing outdoor education programs. Congratulations on your Entrepreneurial Excellence award, Joanne!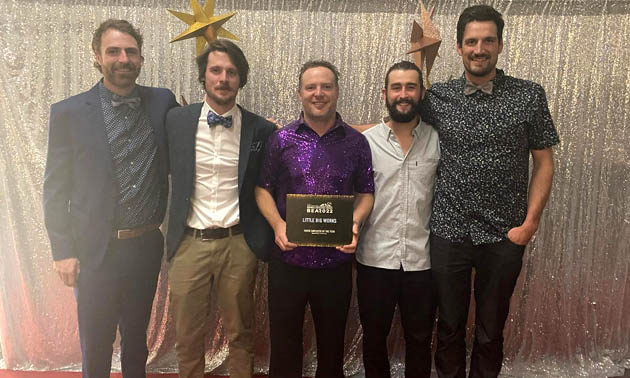 The gang over at Little Big Works may work hard, but they also play hard and have a lot of fun too. This landscaping and trail building company—in business since 2007—carves out multi-use trails for recreational adventures. The team also does snow removal, roadside brush clearing and residential and commercial landscaping projects.
Tourism Revelstoke's "Sustain the Stoke" campaign is a partnership with the region's environmental non-profit organizations and showcases their sustainability goals. The campaign outlines ways in which visitors to the area can keep Revelstoke authentic and amazing, such as shopping local, sticking to marked trails when out exploring and respecting nature and wildlife.
Home to a championship-level 18-hole course, the Revelstoke Golf Club boasts a wealth of natural beauty to enjoy. The club, situated along the meandering Columbia River with a backdrop of majestic snow-capped mountains, has been in existence since the turn-of-the-century and continues to offer world-class play.
FOOD AND BEVERAGE EXCELLENCE - Dose Coffee
If you're looking for your daily dose of community, you'll find it at Dose Coffee—the great coffee is just a bonus. Opened by an Australian couple in 2016, this fun and funky cafe sends out plenty of friendly vibes—staff make a point of remembering your name and music is custom-curated by the team. Congratulations to the gang at Dose Coffee on your win!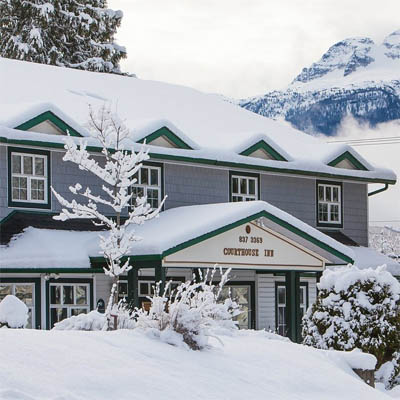 Recently renovated, the Courthouse Inn is a bed-and-breakfast style accommodation filled with beautiful rustic touches. Canadiana art, antiques and hand-crafted furniture fills the warm and welcoming space. A 3-course gourmet breakfast is offered to guests and the location is a short walk to downtown Revelstoke.
Backcountry and outdoor adventures require the optimal gear—a stop at Revy Outdoors fills that need. Known for their exceptional customer service and fair treatment of customers, Revy Outdoors carries a wide range of clothing, gear and accessories for outdoor enthusiasts. Products designed for hiking, biking, backpacking, camping, skiing, climbing and more can all be found at this popular store.
INDUSTRIAL & MANUFACTURING EXCELLENCE - Integrated Apparel
Integrated Apparel specializes in custom-branded clothing for businesses, sports groups, special events and more. The team behind this family-owned business has been producing quality-made products for over 12 years. Services include screen printing, custom embroidery, vinyl heat press designs, stickers and banners, as well as graphic design services.
As Revelstoke's largest home builder and general contractor, the team at Absolute Contracting has been behind many successful residential and commercial projects in the region. The company is also a BC Housing Licensed builder. They recently completed work on the Humbert Street affordable housing project, providing much needed accommodation for Revelstoke's tourism workers.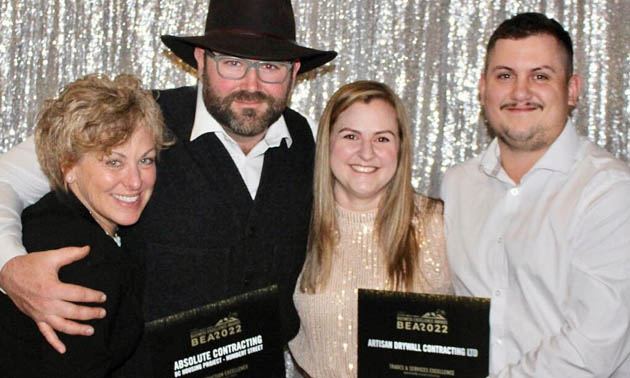 In business since 2019, Artisan Drywall has played a hand in some big projects in Revelstoke, including professional work on the new A&W building. Masters of installing, texturizing and finishing drywall, the team has completed work on a variety of commercial and residential projects, including local hotels, schools and custom residential homes. Congratulations to Artisan Drywall Contracting on their award win!
TECHNOLOGY AND INNOVATION EXCELLENCE - Adaptive Homes Ltd.
The team at Adaptive Homes Ltd. takes a unique approach to custom homes. By utilizing a prefabricated building method and embracing the values of environmental sustainability, energy performance and affordability, the company strives to make the process of creating a home easy and stress-free. Each home built by the company is carefully engineered for structural integrity and thermal performance and uses locally-sourced and salvaged materials.
The Community Connections Society has been supporting the needs of Revelstoke citizens for over 20 years. The organization provides accessible and responsible social services for everyone—from babies and youth, to adults and senior citizens. Services include food programs, infant and child development programs, housing support and individual, family and group counselling sessions.
A popular destination for visitors to the region, the Revelstoke Museum and Archives details and preserves the rich history of the area. Permanent exhibitions include an exploration of the Sinixt—the region's indigenous people, the history of skiing in Revelstoke and stories about the early settlers in the area.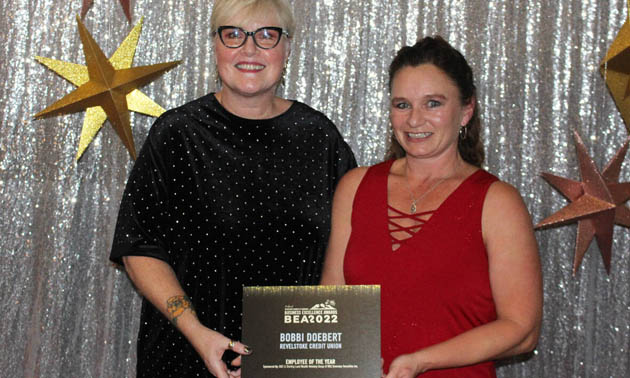 Congratulations to Bobbi Doebert, winner of the 2022 Employee of the Year award. Doebert has been employed at the Revelstoke Credit Union for over 29 years and is a crucial and valued member of the credit union team.
The Revelstoke Optometry Centre is a patient-focused company that provides comprehensive eye examinations, urgent care, pre- and post-operative care and a trendy and fashionable selection of eyewear and frames. Congratulations to the staff at Revelstoke Optometry Centre on being awarded Business of the Year for 2022.
CITIZEN OF THE YEAR - Dylan Hardy
Dylan Hardy is one busy fellow in Revelstoke. This avid Star Wars fan is also a dad, skier, board member, health tech entrepreneur and investor. His community contributions include involvement with the Economic Development Commission, Revelstoke's Recovery Task Force, the Revelstoke Idea Factory, Community Futures Revelstoke and more.