Record-setting growth in Revelstoke
Revelstoke has City departments working at a flat-out pace, trying to keep up with development requests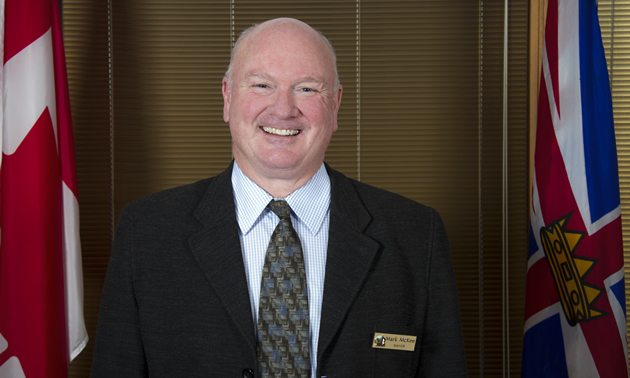 The City of Revelstoke's development services department is having a tough time handling the number of development permit applications that are being submitted. In mid-October 2017, there were about 25 applications waiting for approval, and the City was considering hiring more staff to handle the demands.
"A couple of years ago, we issued about $13 million worth of development permits for the year," said Revelstoke's mayor, Mark McKee. "Last year we had $19 million, this year we'll probably hit $30 million, and the indications are that this will happen again next year. I've lived here for 40 years and I have never seen this town as busy as it is now."
The potential developments are mostly commercial and residential projects. The City's development services department is expanding, but apparently not fast enough to meet the demands of the development community.
Discussions at UBCM
At the Union of B.C. Municipalities meeting in Vancouver in September, McKee spoke with Bruce Ralston, minister of trades, training and technology, about the lack of housing faced by service workers in Revelstoke.
McKee sees the change in government as an opportunity to re-introduce Revelstoke to a whole new ministerial staff and acquaint them about the way of life, the goals and the aspirations of his community. McKee was selected to do a presentation to the minister of tourism, arts and culture on the significance of being a resort community and the impact of tourism on his community.
Improved highway flow
The completion of Revelstoke's first traffic roundabout has effectively dealt with the problem of congestion in the city's services-dense section of the Trans Canada Highway. Traffic is flowing more freely and safely now, and McKee said that the City is moving ahead with plans for a second roundabout for the eastern side of town.
"We've done design work for it and presented it for infrastructure funding when we met with the minister for transportation and infrastructure," McKee said. "Being on the Trans Canada Highway, one of my pet projects has always been to upgrade the safety along our stretch of that highway."
Ticking along
"I like to find solutions to problems—it's what makes me tick," McKee said. "I look at the level of development that's been happening over the last few years and the projects that are being finished: the Thomas Brook water system, the Big Eddy water system, the roundabout and getting planning processes in place for upgrading of liquid waste.
"I think there's a positive energy in the community. This is a place where people want to be, and they're trying to figure out how to get here. People are looking for a better quality of life than the cities have to offer, and they can have that in Revelstoke."