Books, music and community come together in one special business in Revelstoke, B.C.
Fable Book Parlour is a cultural hub with three smart business women at the helm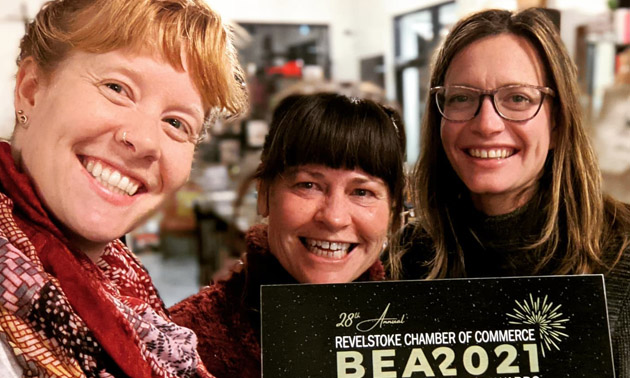 What type of business writes its business plan in chapters? A bookstore, of course!
The first chapter was a mobile bookstore made from an old RV; the second chapter was the opening of a bricks-and-mortar storefront, and the third chapter was adding a cafe—all pages in the story of the Fable Book Parlour in Revelstoke.
Three extremely creative women make up the Fable family and all three are co-owners: Stacy Batchelor is the manager; Kristin Olsen is head of operations; and Allie Bruni takes care of marketing and music.
That's right, music is part of this bookstore. These savvy owners have a multi-faceted business strategy, and this diversification includes:
a variety of music accessories like guitar strings and drum sticks as well as ukuleles, guitars and vinyl records
a diverse, handpicked selection of new and used books
a bookmobile, a book club, a book bin, a rewards program and an exchange program
a small cafe with cookies and beverages
live shows of music or poetry
They even offer a Book Subscription service in which books are hand selected by the Parlour team to meet your bookworm profile.
But most importantly, this diversification has an important goal in mind—building community.
"What we offer is something that all three of us have longed for—books, music and community in one inclusive place," said Batchelor.
The great ideas of these hard-working small business owners have not gone unrecognized. In late 2021, Fable Book Parlour was given the Entrepreneurial Excellence award by the Revelstoke Chamber of Commerce.
KootenayBiz was impressed by these three entrepreneurs and so we interviewed Stacy Batchelor about their fledgling business.
You have some unique business concepts, which seem to encourage active engagement with book and music lovers in numerous ways. Where do you get your ideas and which are most popular?
Dreaming up ideas is one of our favourite parts of being business owners. We take inspiration from everywhere: other small businesses, photos online/social media, and the far reaches of our imaginations. As a trio of co-owners, we have the advantage of always having a sounding board for our ideas. One of us dreams something up, we bounce it around, let it grow and then refine it. Essentially, our approach is "wouldn't it be cool if …."
It's difficult to say which of our offerings is most popular. We got a lot of positive feedback about the accessibility (and fun) of our Bookmobile, and people constantly comment on the ambiance and selection of our storefront. Overall, I think the community is just very excited to see us filling a gap by providing books, music and culture in an interactive and fun way.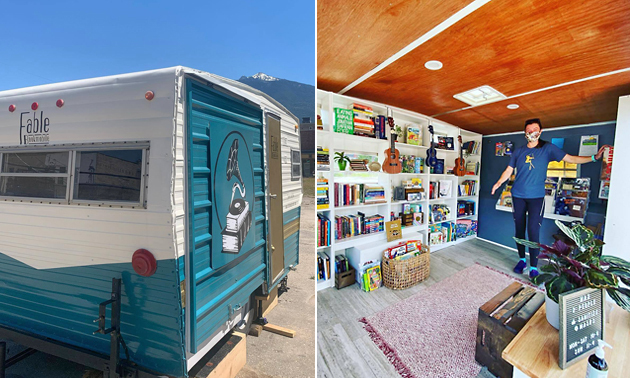 Please describe the travels of your Fable Bookmobile last spring and summer. Where did it go?
The Fable Bookmobile was a blast! We rotated between being parked downtown, at the skate park and near the farmers market. At first people were pleasantly surprised to find us popping up around the community, but after the first few weeks our customers were seeking us out to get their book and music fixes. There were moments in the heat of summer when we felt we were baking in a tin can, but it was well worth it.
For the spring/summer of 2022, we'll be rolling and reading on a more casual basis, but you can definitely expect to see us at festivals, events and (hopefully) campsites.
How popular is your music section?
Depending on who you ask, we are either Revelstoke's bookstore or Revelstoke's music store. We offer a variety of music accessories (guitar and ukulele strings, drum sticks, slides, rosen, record player needles, patch cords and much more, including special orders) as well as some beautiful ukuleles and guitars. We have solid support from local musicians and music lovers, and it feels great to hear people expressing their appreciation for us filling a need when it comes to access to music supplies.
How does your Book Bin work?
Revelstoke is full of readers. We are lucky to have a solid base of customers looking to pass along books. Our aim is to sell only used books in excellent shape, but sometimes a great title has been loved and it shows. Our Book Bin is where we put books that are either duplicate titles or slightly worn. We like to filter through the books first, but anyone is welcome to drop off donations. We have a cash jar and use a "pay what you want" model. Each quarter, we donate the proceeds to a different local charity. This quarter is our local radio station StokeFM.
Customers can also get credit for books they drop off that we go on to sell. Credit is applicable towards future used book purchase or it can be donated to our new Fable Fund. The Fable Fund is a community account that customers can donate their credit to. We then work with local organizations to connect awesome titles with deserving readers.
Was your Fable Book Club well received?
The Fable Book Club has been a lot of fun. The first meeting saw 17 participants. There have been some challenges around in-person meetings due to COVID-19, but at the moment we've adopted a hybrid model with some of us meeting in person and some of us Zooming in. So far, we've read a variety of genres and had some excellent discussions.
What are the rewards and the challenges of an independent bookstore nowadays?
It is so fulfilling to not only be part of a business that involves our passions but also offer a service so many of our patrons express gratitude for. Undoubtedly, there are challenges—competing with Amazon, finding the right distributors for quick turnaround times and simply running a small business during uncertain times—but it seems as though the pandemic has reminded people of the importance of localism. Being able to put books in the hands of people wanting to shop locally feels fantastic.
For us, the biggest reward is connecting with our community. Conversations often start with people looking for a book recommendation, pass by how they are currently feeling (genre choice often depends on mood), circle back to the challenges of the past year, and arrive at excitement over a new read or personal endeavour. Our aim has always been to create a community hub, a place where people feel welcome for a short or long time, a quick or deep conversation and to give access to services, products and events that people wouldn't otherwise find locally.
You also have a small cafe and even live music sometimes. It seems that with your cafe and all your other programs, you believe that building and fostering community is important. Why?
We are passionate about our community. Each of us has been involved in different local non-profits over the years and we want to keep collaborating and building on the intimacy of the local network of creative people in Revelstoke. What we offer is something that all three of us have longed for—books, music and community in one inclusive place.
How has your business been received so far by tourists and locals? How did the pandemic play into this?
The response has been fantastic. We continue to receive praise and encouragement from locals and visitors alike. We opened mid-pandemic so we don't really know differently, but if nothing else it has proven to us what we knew was true when we embarked on this endeavour—Revelstoke is a community full of readers and creative souls who want to support and encourage local businesses.