The business office and its location have changed, and Traction on Demand is leading the trend
CEO Greg Malpass knows the value of businesses moving to rural locations like Nelson in the Kootenays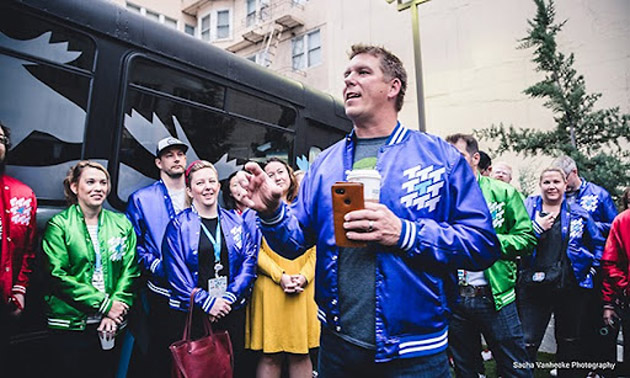 Editor's note: Traction on Demand's services business has been acquired by Salesforce. Traction on Demand's product companies will continue to be offered separately under the brand Uncommon Purpose.
This is our second story on Traction on Demand. In the first story, CEO Greg Malpass discusses the origin, mission and growth of the company as well as its global team of Tractionites.
When Greg Malpass, CEO of Traction on Demand, is asked about the number of offices of his wildly successful and fast-growing global company, he asks a poignant question of the interviewer: "Define office."
Welcome to the new and growing world of business in the 21st century. The very definition of a workplace has changed, and Traction on Demand has been at the forefront of this evolution. The new business model is partially about remote work, resulting from a global pandemic, but it's much more than that as it includes other issues such as quality of life, affordable housing and sustainable small communities.
Let's go back to the beginning, as this story starts in the age-old tale of the city versus the country. Urban centres have traditionally been drawing talent—especially tech talent—away from rural locations, and Malpass's life is the perfect example.
He moved away from his hometown of Nelson, B.C., for his education and to launch his career. He started Traction on Demand in Port Moody 15 years ago, and as it grew and grew, he opened offices in Vancouver, Winnipeg, Toronto, Montreal, Seattle, Auckland and Jaipur.
He missed his hometown and so he opened a satellite office in Nelson in 2019, which recently went through a major renovation.
"We have about a dozen Tractionites based in the Kootenay area now, and we are actively recruiting more," said Malpass. "[Worldwide,] Traction on Demand will create about 1,000 jobs over the next 12 months."
Currently, his global team of 1,200 Tractionites gather to work in places like coffee shops, living rooms and small satellite offices. Traction on Demand is one of North America's largest dedicated Salesforce consulting and app development firms.
KootenayBiz had the pleasure of interviewing Greg Malpass about these new business trends, and he offers an admirable example for other tech businesses that want to relocate to rural locations like the Kootenays.
You have seven offices worldwide. Are you starting any new offices this year?
Define office! We have our pre-COVID locations and are now moving to our future vision. Rather than big offices for everyone to come to daily, we are bringing the workplace to the people. It is our vision to make it so that Tractionites around the world can walk to a place where other Tractionites will be. This could be an office, learning centre, a "shop" (which could be a dedicated coffee shop, brewery, karaoke bar, Legion Hall or what we call an "everywhere space") or maybe even the living room of one of our Tractionites. Work has changed. The workplace has changed too.
As you were born and raised in Nelson, why did you decide to open an office there?
Nelson holds a special place in my heart. Having grown up there, I experienced firsthand the forces that draw tech talent away from rural areas. That's what inspired the creation of Traction on Demand's Small Town Initiative. We recognize the need for B.C. residents to have tech employment opportunities where they want to be and not where tech companies are often located. That's why we launched the Small Town Initiative—to create employment opportunities outside of traditional tech hubs and urban centres like Vancouver. The Nelson team is the embodiment of this initiative.
You decided to not hold a grand reopening of your renovated Nelson office—the historic Nelson Legion building. Tell me about that.
We had originally scheduled the official open house ceremony to take place in early August. As much as we wanted to celebrate this new home with our Nelson Tractionites, the timing was not right with the wildfires and provincial state of emergency.
We postponed the event and redirected the funds for the opening to support the local community's wildfire efforts. The office is still open and our Tractionites are using it regularly, but "revealing it to the world" will happen when it's safe to do so.
What are some of the major features of this remodelled office? Who was the architect and who was the main contractor?
Before we get into the remodelling, I have to share some of the incredible history of this building. The Legion building was originally the YMCA. Upstairs was a place where young men returning from the war could refind their footing. It was a means to reconnect them to the community. The building was bustling. It was host to the first indoor pool and bowling alley in Nelson. As things went, the Y moved to another location, and the Legion purchased the building. Due to resource constraints, the upstairs was eventually decommissioned and sat idle for some 40 odd years.
What is most important about this building to me is its connection to the community. It's a place that has always been filled with purpose. It has been there for the community to help it transition. When we took this project on, what was most important to me was the Legion itself. How can we honour the history and embrace the organization for all it has done for us? It has been a place for our first responders and heroes to collect, share stories and maintain a humble and proud connection to the community. As part of our initiative, we ensured that the Legion was set up for success. We also retained the current health-care tenants, ensuring we did not cause any disruption to entrepreneurs that were there well before Traction on Demand.
In regards to the building, I worked with three incredible people: Dan Maglio, who had planned to retire but was kind enough to join me for this project; David Dobie, a long-standing resident and architect/local designer; and Thomas Low, a structural engineer who is trusted by the City itself for heritage restoration projects.
The mandate for the building was to make it something we would all put our names on. I wanted every person that worked on the Legion to have the opportunity and time to do their best work.
As you walk in, it is so apparent. And it's not just the face—it's all of the systems that operate the building. In fact, this building is of higher quality than any office you would walk into, even in San Francisco. It is remarkable and can only truly be appreciated in person.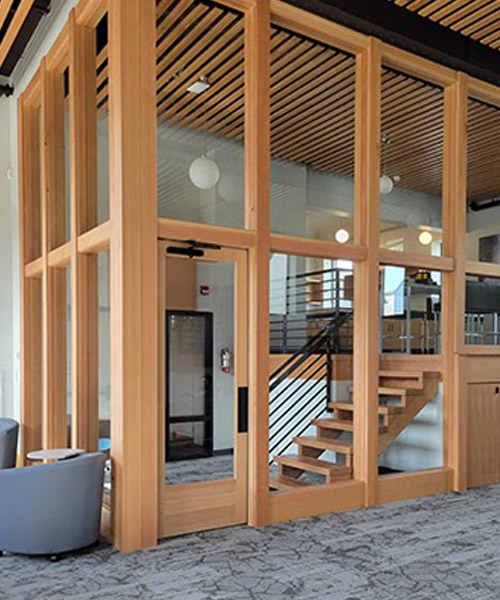 What can other tech companies learn from Traction on Demand when looking to expand to smaller towns?
With more people working remotely and moving to places they want to live and can afford, small towns have never been more relevant. Partnering with local organizations like the Kootenay Association for Science and Technology (KAST) and Selkirk College, we're proud to lead the way in the technology industry with our Nelson team. Not only do we want to create career opportunities for the local community, but we also aspire to open up employment to those living in surrounding communities. We're culturally investing in the community by providing access to programs like Traction Access.
Nelson, Trail and many small towns are seeing traditional labour jobs like forestry and oil and gas shrinking because of automation. This is the chance for local people to have great jobs. It will attract more families to these communities, who will pay taxes and contribute to the communities with their money and their time.
We're committed to opening more offices in small or rural communities that have traditionally depended on natural resources. These offices create alternative career opportunities but also generate a more diverse workforce and support the revitalization of small towns.
"I hope our effort in Nelson helps amplify the light on the great people in the Koots to attract more companies, and more importantly, more opportunities for the great people that make up the Kootenays." ~ Greg Malpass
I left Nelson because I had to for my education and career. I tried to get back, but there was no "traction" for me to have access to. I stayed in the city. I tried to fit into other companies but never quite fit in, so I started Traction on Demand. I invested in Nelson and built this Legion office because I want that story to change. Selkirk College offers incredible education opportunities. In fact, they have become incredible partners to us in building world-class educational content right in the Koots.
Beyond that, there are opportunities for kids to realize their potential. This is well beyond Traction on Demand—it is about all companies looking for incredible, intelligent, values-centered and good people to help them grow. I hope our effort in Nelson helps amplify the light on the great people in the Koots to attract more companies, and more importantly, more opportunities for the great people that make up the Kootenays.