The Big Green Egg is a very green barbecue
Here are five eco-friendly reasons to buy this nifty cooker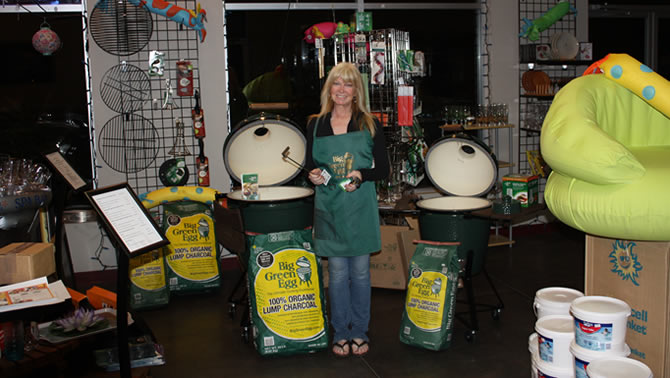 A green barbecue? Yup, it's not only bright green—it's environmentally friendly too.
It's called the Big Green Egg because it looks like one, and moreover, it embodies the rebirth of the ancient kamado cooker. A kamado is a traditional Japanese cook stove fueled by wood or charcoal.
With thick ceramic walls, this green beauty maintains the temperature you set, whether you are slow cooking ribs at 150 F or searing a steak at 600 F.
Here are five reasons why this barbecue is eco-friendly.
The Big Green Egg is versatile—it's a barbecue, smoker, sear grill and oven all in one. It cooks literally anything outside so you only need to buy one contraption.

With a Best-in-Class limited lifetime warranty, this barbecue will be the last one you will ever need. No planned obsolescence here.

The company is committed to being environmentally responsible. The barbecue has the highest standards certification level (ISO-14001) from the International Organization for Standardization.

The Big Green Egg uses natural lump charcoal. That's organic charcoal that contains no fillers, nitrates, chemicals or other nasty additives that are in many charcoals and briquettes on the market today. This charcoal is 100 per cent organic oak and hickory hardwood. It is easy to light, burns hotter and produces less ash. Once you cook your meal, you can snuff out the coal and reuse it for your next barbecue.

The food tastes better because there are no chemical tastes or smells from those additives. So you'll eat every bite and have nothing to waste!
In the Kootenay region, one of the few stores where the Big Green Egg can be purchased is Kootenay Valley Water & Spas in Castlegar. "They sell very well all year round," said owner Margeaux Bauman. "Our customers love being part of the Egg Head Community."
Visit the Big Green Egg website for additional dealers.